In the last two decades, a tense debate has risen over membership policies of the Boy Scouts of America. The organization moved to allow openly gay Scouts in 2013 and troop leaders in 2015. And just this year, a new transgender membership policy drew supporters and critics alike, while also renewing discussion over girls joining the ranks.
At the core of this membership debate lies the heritage and values of an organization whose roots stretch back to 1910. The Boy Scouts of America (BSA) was founded to train young men and boys in modern character, work, and citizenship. New child labor laws and compulsory schooling were removing adolescents from the paid work force and public community spaces. As a result, early Scouting became a sort of apprenticeship, giving boys the skills needed to succeed in a rapidly urbanizing and industrializing world.
Thus, the debate over membership inclusion highlights a fundamental problem of both identity and history: Which side can claim the mantle of Scout heritage and values?
As a historian of 20th-century Scouting, my research on the BSA's early years demonstrates that the answer is not simple. However, some of the organization's early methods for reaching out to marginalized groups provide potential solutions for better incorporating gay and transgender boys and inclusive troop sponsors.
Current state of membership
Before we turn to the history of the BSA's early efforts at inclusion, let's take a look at the most recent controversies surrounding BSA membership.

In February of this year, nine-year-old Joe Maldonado of New Jersey rejoined the BSA following the national office's decision to formally admit transgender applicants. He had been a member of a Cub Scout pack before being removed two months earlier, reportedly after some parents complained about him being transgender.
The shift in policy – and Joe's welcome back into Scouting – has brought renewed attention to the issue of girls joining its ranks. For over a year, Sydney Ireland, a 15-year-old New York girl, has been petitioning the Boy Scouts to accept female members into its all-male adolescent division.
The National Organization for Women has been supporting Sydney's efforts, stating that the BSA's leadership opportunities and coveted Eagle Scout rank represent a final frontier of women's long efforts to break the gendered glass ceiling. The Girl Scouts of the United States of America and some of their feminist supporters, on the other hand, maintain that Girl Scouting offers equal opportunities and status and is therefore the best place for all girls.
Conservative groups argue that the recent gay/trans-inclusive policies – and the proposal to open the BSA to girls – betray the organization's values and founding principles.
Supporters of these new membership policies insist that the decision fits well with the organization's tradition and purpose of universal character building and civic training.
While Joe's experience centers on the controversy over whether birth biology or gender identity constitutes boyhood, Sydney's story challenges what it means to be a Boy Scout – regardless of gender.
A history of diverse boys
It may surprise debaters on both sides to learn that public conflicts over membership policies – and contradictory claims over the nature of Boy Scout heritage – are as old as the organization itself.
Before the emergence of the Girl Scouts of the United States of America in 1913, some girls clamored unsuccessfully to join Boy Scouting or formed their own troops. BSA national leaders held firm and, in fact, initially rejected the emergence of the separate Girl Scouts organization. Some BSA officials encouraged the feminist Girl Scouts to merge into the domestically oriented Camp Fire Girls. By the late 1920s, the BSA gradually came to accept the presence of the Girl Scouts organization, but held fast in its policy to exclude girls.
During these same formative years, BSA national leaders were working to encourage participation from marginalized groups of boys. Boy Scout administrators defied conservative critics by permitting willing local councils to admit African-American and other nonwhite boys in the 1910s.
In the mid-1920s, the BSA created a new Inter-Racial Service to actively encourage the creation of more African-American troops in the Southeast and Native American troops at reservation boarding schools. The number of Scouts of color rose quickly, although some BSA troops and camps remained segregated into the 1960s.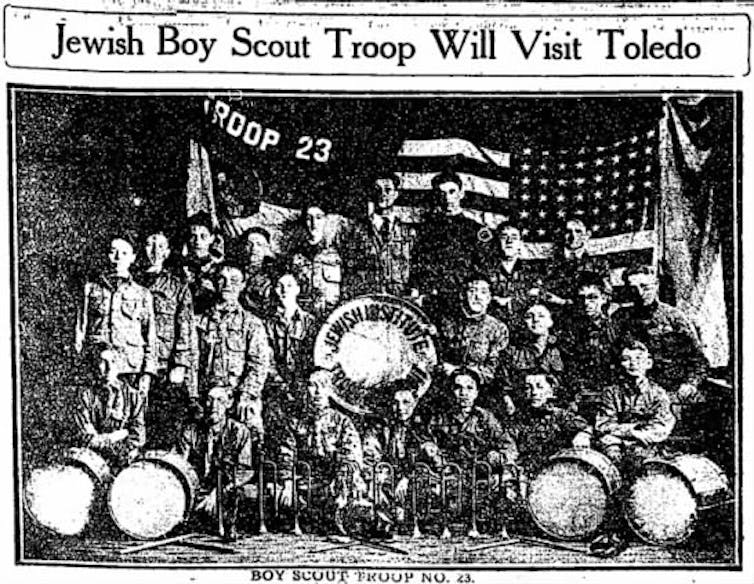 In the early 1910s, a range of competing Scout associations emerged in the United States, including organizations for religious and immigrant minorities.
Fear of these competing groups taking away potential members – and a desire to further spread the message of BSA's universal appeal – led to the implementation of successful outreach programs to boost membership. These programs targeted other groups that faced discrimination in American society, including new immigrants from southern and eastern Europe, Catholics, Jews and Mormons.
To assuage parents' concerns that participation in Scouting might result in their sons' religious conversion or undercut cultural traditions of their country of origin, BSA national leaders agreed that each institutional sponsor could limit its BSA troop's membership and leadership as it saw fit.
As a result, thousands of troops have formed around shared religious views or cultural backgrounds.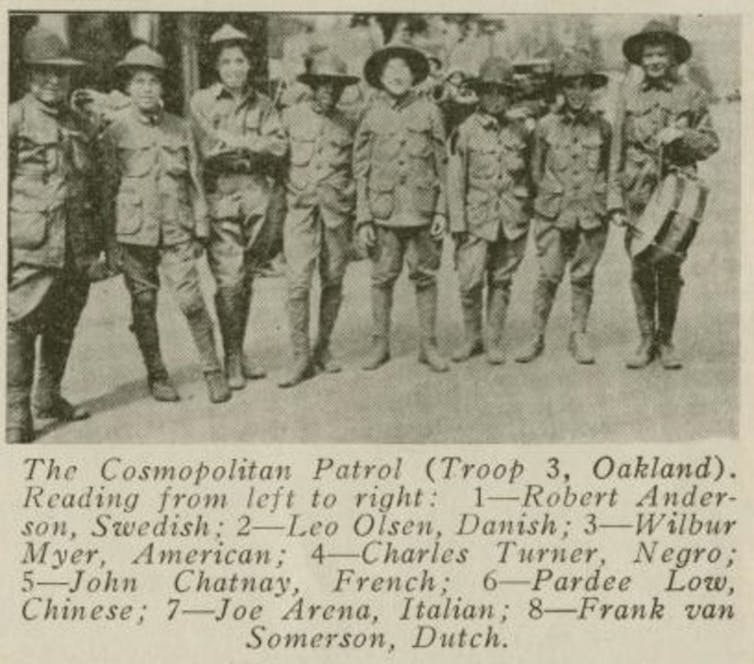 Belonging and outreach
It turns out, both critics and supporters of the new membership policies can claim ownership of Boy Scout heritage.
For more than a century, the BSA has allowed each individual troop to limit its membership according to the sponsoring institution or church. And so, the Boy Scouts have traditionally permitted exclusion at the troop level.
Yet, nationally, the BSA has repeatedly defied critics by encouraging local councils to welcome a growing range of culturally marginalized troops and boys – from non-Protestant, immigrant and African-American boys in the 1910s to transgender and gay boys 100 years later.
A week after the new membership policy was announced, Joe Maldonado put on a Cub Scout uniform again, proudly declaring that "I am accepted, and I'm actually in Boy Scouts." His pack leader reassured Joe that "This means you're the same as Scouts all over the world."
Both statements, I would argue, demonstrate that Scouting continues to guide boys into full citizenship and the cultural mainstream.
When the BSA announced its new trans-inclusive membership policy, Chief Scout Executive Michael Surbaugh stated that the organization's efforts to serve a broader constituency through its new policies are consistent with its core values, as expressed in the Scout Oath and Law.
The statement also indicated that the organization's local councils would "help find units that can provide for the best interest of the child."
While this help may include placing children in troops that make their parents more comfortable, it also can include a systematic outreach, modeled on BSA methods from the 1910s and 1920s.
What might that outreach look like? The BSA could draw on its own traditions to create new recruitment committees for transgender and gay youth, publish educational media on how Scout training can help meet their needs and interests, and ensure their representation on local councils.
While these efforts would still not address the issue of female Scouts, they would meet the organization's goal to "bring the benefits of Scouting to the greatest number of youth possible" – efforts that BSA national leaders made for religious and ethnic minority groups a century ago.