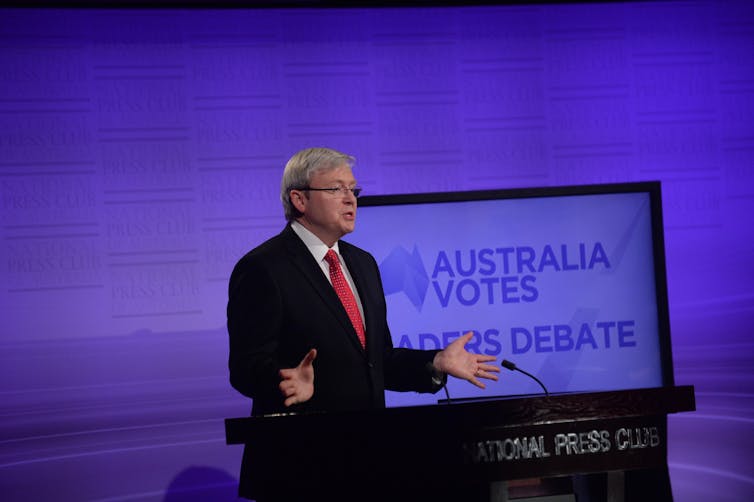 In my August 8 article I asked: "Do election promises matter?"
It was prompted by Western Australian premier Colin Barnett saying he did not think "people study the promises" – in response to stinging criticism for breaking key promises in the WA March state election.
The question is beginning to raise ramifications in the current federal election campaign in WA.
The Sunday Times news site PerthNow has launched the Candidate Promises Tracker, allowing users to track what their candidates and the parties are promising and spending.
In announcing the Tracker's launch ST/PerthNow said politicians:
…love to throw around promises worth millions and even billions of dollars. With some of those promises, they bank on voters not having the means to keep tabs on them if they eventually get elected.
WA's The Weekend West in a front page lead story reported that the Barnett Government could be "hit with a barrage of lawsuits" over its decision to halve the subsidy for rooftop solar panels after a backlash from furious householders and industry groups.
The Sunday Times in its front page lead story reported that Budget papers show projected electricity price rises will lead to average household power bills of $2000 a year by 2016 "despite a promise" from the premier to ensure much lower rises.
Voters, stung by potential harm resulting from looming broken solar panel subsidy promises, are fuming. The debate lexicon contains expressions such as "legal action", "class action", "misrepresented", "materially worse off" and "gross breach of trust".
Can election promises be enforced? Should they be enforced? But first, what is an election promise when the term promise bears different meanings?
Webster's Everyday Dictionary defines promise as "a declaration that something will or will not be done". A legal dictionary defines promise under contract law as the undertaking of responsibility for a state of affairs or the occurrence of an event and can give rise to a claim for damages.
Wikipedia describes election promise as a promise made to the public by a politician who is trying to win an election and as being "notable for often being broken once a politician is in office". Enough in the last-mentioned definition to provide escape routes from honouring a promise.
Election campaigns produce a fusion of puffery, rhetoric and credible undertakings. Too often the latter bypasses critical examination. Voters discover too late, as is turning out to be the case in WA, that the fine print provides the party forming government with escape routes. WA treasurer Troy Buswell indicated so much when he said the government had legal advice that the solar subsidy cuts could be made within the provisions of the subsidy contract. It might turn out that the voters did not read the fine print.