David Cameron has announced his aspiration for the UK to become a nation of "full employment", promising that Britain will have the highest employment rate of any major world economy. This is not the first time a UK leader has had such lofty ambitions – it was also a goal of the previous Labour government. Although this might sound like a sensible aspiration, on its own it fails to tackle the problems that characterise a growing proportion of UK jobs.
Many analysts agree that the most challenging issue for the labour market is the quality rather than the quantity of employment. The UK's relative over-reliance on casualised, low skill employment, has been exacerbated during the recession that started in 2008 and subsequent period of recovery.
"Full employment" was defined as an 80% employment rate in a series of policy reviews in 2006 and 2007. Then Secretary of State for Work and Pensions, Peter Hain, described this as achievable "within a generation". At the time, the UK employment rate was around 73%. It is now back up to this rate, according to the latest Labour Force Survey for August to October 2014. But what about quality of work?
Rise of part-time and temporary workers
For several quarters from late 2011, the increase in part-time employment significantly exceeded the increase in full-time work. In some Labour Force Survey periods, full-time work actually contracted even while total employment increased.
As a consequence, the overall proportion in part-time work is higher than before the recession, with 27% of the employed workforce working part-time in August to October 2014, up from 25% in the same period in 2007 (equivalent to an additional 820,000 people working part-time). Some of this growth may be due to individual choice, facilitated, for example, by the right to request flexible working, but we have also seen record-breaking proportions working part-time who say they are doing so because they cannot find full-time work.
Although the latest data now shows a strengthening recovery in full-time employment, it also indicates a very significant increase in temporary employment - with a 6% rise in the number of temporary workers between August to October 2014 and the same period a year earlier (triple the 2% rate of increase in all types of employment over the same period).
Large increases in self-employment
Alongside part-time and temporary work, the increase in self-employment has been a consistent story in the UK recovery, accounting for the largest share of the total increase in employment experienced since 2008. However, analysis from the ONS suggests that much of this new self-employment is far from job-generating and entrepreneurship - with those recently becoming self-employed more likely to be working in low pay, low skill, low hours activities. This has been particularly the case amongst older males.
The TUC describe this phenomena as the "rise of the odd-jobbers". Though classified as employed, many of these people may not have the earnings to match full-time employment.
Stagnant wage growth
Through much of the recovery, while overall employment rates were increasing earnings grew at a rate that was well below general price inflation. This indicates a fall in earnings in real terms between 2007 and 2013. Only in the most recent months has the rate of earnings growth exceeded price increases, and this is more due to low inflation rather than a recovery in earnings growth.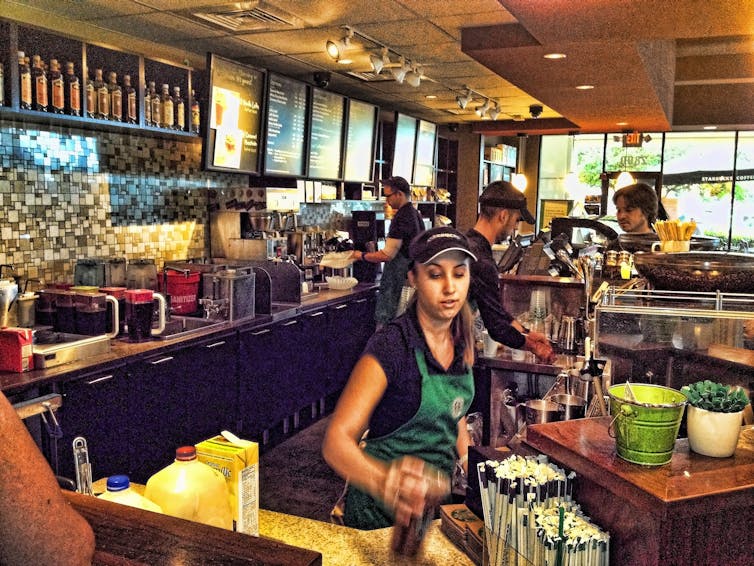 Rise of employment in low-skilled jobs
Compared to before the recession, there is an increased share of employment in lower skill and often low pay occupations in the service sector. Conversely, the proportion of jobs in the middle of the skills hierarchy has contracted significantly.
An analysis of the Labour Force Survey shows that the long-term decline in the Skilled Trades - intermediate-skilled jobs associated with Manufacturing and Construction (and a key route into the labour market for young Apprentices) - appears to have accelerated whilst relatively low-skilled service-sector occupations have grown.
Although the share of employment in occupations associated with a degree, such as managers and professionals, has grown - it is the availability of quality jobs for people with intermediate, vocational skills (especially college leavers and Apprentices) that appear to be particularly squeezed.
Regional differences
There has been a widening of the north-south divide in the UK. Cities in the North and the Midlands like Nottingham, Birmingham, Manchester and Liverpool experienced far greater falls in employment and earnings than areas in the South East, and have recovered less strongly.
Nottingham for example now has one of the lowest earnings levels in the UK and one of the highest concentrations of workless households, which was not the case pre-recession.
The recent study from the Centre for Cities supports this picture of a widening north-south divide due to both the recession and the nature and distribution of the recovery.
A different target needed
David Cameron has avoided a specific target or definition but he has linked his aspirations for employment to the government's Start-Up Loans Scheme for potential entrepreneurs. Based on the kind of self-employment we have seen post-recession – out of necessity as opposed to entrepreneurial opportunity – the lack of other government initiatives and employment support schemes may well mean more people trapped in vulnerable, low pay self-employment and a failure to address the need for quality employment.
Any aspiration for full employment must recognise that this is not sufficient to raise or maintain living standards. Pay, level of skill, hours of work, and nature of work are all equally important, and should be part of a wider national economic development or industrial strategy.