On Sunday, April 2, and for the third time in four years, Serbian citizens will vote on a general election — this time to elect a new president, as current president Tomislav Nikolic is not running for reelection.
According to the country's constitution, the president has a secondary role, and the real executive power belongs to the prime minister. But this election is critical for many reasons.
Nikolic desired to run again but was stopped from doing so by his own Serbian Progressive Party (SNS), which instead endorsed the current prime minister, strongman Aleksandar Vucic.
Vucic was also endorsed by nine smaller parties from his current coalition, including the Socialist Party of Serbia (SPS), founded by the autocratic Slobodan Milosevic.
While Vucic had earlier stated that he wasn't interested in running, he ultimately chose to do so, and with a few goals in mind.
First, while he had called the 2016 parliamentary snap elections, his victory wasn't as broad as he had expected, thus weakening instead of strengthening his position. Consequently, he wants to consolidate power on his own name.
Vucic also expects to be the president who will lead Serbia into the European Union, which is a plausible hypothesis around 2022, the end of the next presidential mandate. He has been presenting himself as a pro-European ever since he took power, and gave significant signs of his involvement, such as the 2013 Belgrade-Pristina agreement.
But with the aim of a balanced diplomacy between Brussels and Moscow, he also advocates a close relationship with Russia, including on a personal level with President Putin, whom he visited on March 28.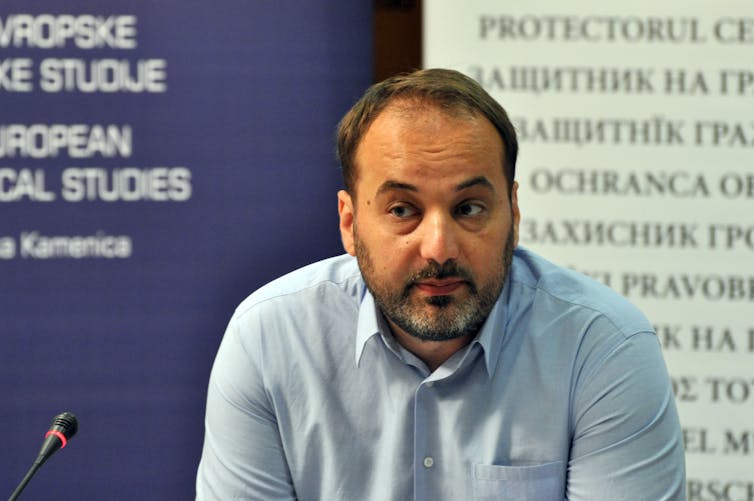 Last chance
Lined up against Vucic are 10 other candidates, including the former ombudsman Sasa Jankovic, who positioned himself as the last chance to save Serbia from authoritarianism. Also in the running is the former minister of foreign affairs from the Democratic Party, Vuk Jeremic; the leader of the movement Dosta je bilo ("enough is enough"), Sasa Radulovic; and the leader of the League of Social Democrats of Vojvodina, Nenad Canak. Canak even pledged to recognise the independence of Kosovo.
On the other side of the political spectrum, the historic leader of the nationalist Radical Party (SRS), Vojislav Seselj, is running again after he was acquitted last year of war crimes by the International Justice Tribune.
Also worth highlighting is the candidacy of the clad-in-white Ljubisa Preletacevic Beli, a parody mafia-style character created by the 24-year-old humorist Luka Maksimovic to mock the political scene. Using social networks, on which he is quite popular and which are less government controlled than traditional media, he hopes to mobilise young people and those who haven't voted before.
Maksimovic first used this method during the last municipal elections in his city of Mladenovac, in which he managed to become the first opposition movement to the SNS.
That his character, Beli, now appears to be second in the polls with 11% support – far behind Vucic (53%) but ahead of other "change" candidates such as Jankovic (10,5%), Jeremic (7%) and Radulovic (1,7%) – is significant. To many citizens, especially youth, the political scene has nothing to offer, hence the success of a grassroots movement based on irony and cynicism.
Beli is also benefiting from the fact that so many candidates are advocating the end of Vucic's order. This fragmentation looks like it could scatter votes, instead of uniting them behind one candidate in the way the democratic opposition did with Milosevic in 2000. At best, it may help shrinking abstention, which would make it mechanically harder for Vucic to reach 50% of votes at the first round.
An authoritarian trend
This election is thus crucial from three standpoints. First, the question is not who will win, but whether Vucic will manage to secure an outright victory by getting 50% of the votes in the first round, which he failed to do last year. Being forced to go to a second round would constitute a failure for him and his personalised exercise of power.
In a short 30-day campaign (too brief for the Organisation for Security and Co-operation in Europe to set up a full electoral observation mission), the traditional media overwhelmingly covered Vucic, including his insults to other candidates, while the tabloid press under his control invented plots and risks of civil war waged by his opponents.
Second, what is at stake in this election is whether the illiberal and authoritarian trend witnessed in the last three years under Vucic's rule will go on, with its so-called "fight against corruption", attacks on press freedoms, scandals, strong clientelism, failed economic recovery, historic revisionism and mass youth emigration.
In fact, Serbia's illiberal political elite follows the same pattern as that of other countries in the region, relying on strict control of the press, cronyism and massive emigration of educated people to keep the power through nominal rather fair elections. This was already Slobodan Milosevic's playbook in the 1990s.
Whether a political alternative can emerge from the divided and weak liberal opposition is very doubtful in the short term.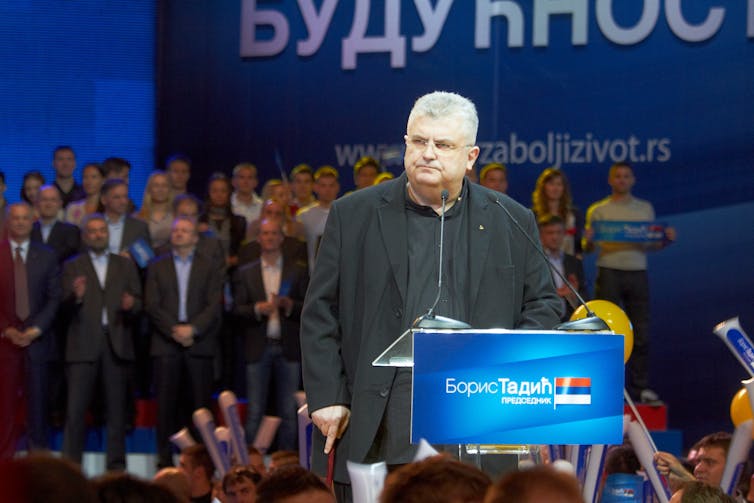 The EU's blind eye
Finally, this election should be scrutinised carefully not only in the Balkans but also in Brussels. As the Balkans in Europe Policy Advisory Group argued, for too long the EU has turned a blind eye to the region's lack of democracy and rule of law, hoping for a stability that has never appeared so artificial as now, not least of all because of Serbia and Vucic himself.
Vucic likes to present himself to the EU as a guarantor of the regional stability. But from an arms race with Croatia to the Serbia-Kosovo railway fow, he has been jeopardising it for months now, along with other political leaders, following their respective local agendas.
It is therefore no small matter that his opponent Sasa Jankovic, who was three times given the "European of the Year" award has threatened to return his prizes if the EU does not stop endorsing the same political practices that are at the root of the despair and emigration among youths and liberals.
The EU needs to have its eye on this election, especially now that Brexit could break the bloc. As European Commission President Jean-Claude Juncker reminded the US last week, the EU's fall could trigger a new Balkans war.
All in all, when it comes to how power is exercised in Belgrade these days, it looks much more like Moscow than Berlin.