For many sports fans, the final week in June signals the start of a fortnight to be spent enjoying the annual feast of entertainment, heartache and ecstasy served up by the world's best tennis players as they grace the lawns of Wimbledon. Buoyed by the success of Andy Murray, last year's Wimbledon final was the 6th most watched UK TV event of the year, with 17.3m UK viewers (a 79.6% audience share) at its peak.
Wimbledon may be a fixture in our sporting calendar, but every four years it faces a stiff competitor for public attention: the World Cup. Indeed, England's loss to Uruguay was the most watched TV programme in the UK since the London 2012 Olympic Games, with a peak audience of 19.8m. Even when England aren't playing, viewing figures may be lower but there is still a huge appetite for the World Cup.
So the question arises, how can Wimbledon compete with the World Cup for the share of audience, media coverage and interest among not only the die-hard fans but also casual spectators?
England's World Cup exit is sure to bolster interest in Wimbledon among those who were wondering how they were going to juggle tennis, football, cricket, F1 and other events. However tennis has so many assets of its own that it doesn't need to rely on the demise of other sports to achieve top billing on the front and back pages, social media and broadcast figures.
Going social
While the BBC will broadcast more than 150 hours of live tennis from Wimbledon, along with on-demand and comprehensive radio coverage, fans are increasingly consuming sport online. It is here, in the social domain, where much of the battle for attention will take place. But if Wimbledon wants to compete for audience and interest with the World Cup then its organisers should also think cleverly about how they communicate with fans themselves.
Tennis' core fan base cannot compete with football's, and for many casual spectators the sport does not really register on their radar outside of the two weeks of Wimbledon. This means the All-England Club can't afford to rely solely on its own social channels (which are albeit very good) because to like or follow such channels implies that fans already have a significant interest in the sport.
A good strategy would be to use these social channels to create engaging, interesting, funny and novel content that fans and followers will share, bringing Wimbledon into the social spaces of those not directly following the event themselves. Tennis' fantastic rivalries, among both men and women, make for a tournament ripe for upsets and epic battles. Wimbledon can tell (and fans can share) these stories, and the tournament has created a new Social Command Centre to manage its digital activities and gain insight into fan reactions.
New faces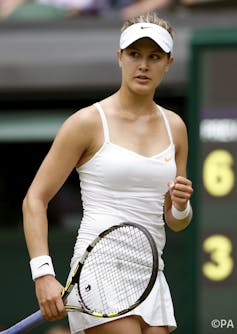 While fans and casual spectators are familiar with the big names, Wimbledon fortnight will begin with 128 men and 128 women battling it out. It's not just about the megastars; some of these players are exciting young talents with appeal to a newer audience, and they will be turning out on Centre Court for years to come.
Rising stars such as Eugenie Bouchard and Grigor Dimitrov should be brought to the fore, if the organisers and marketers are clever. Dimitrov also just happens to be dating Maria Sharapova, which doesn't hurt his appeal.
Paint it white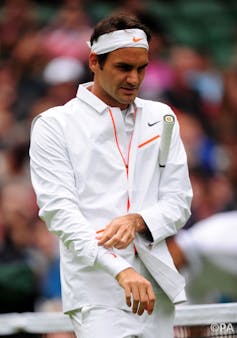 Whenever the topic of Wimbledon and marketing is raised, we are inevitably drawn into a debate about the somewhat "stuffy" perception of the Wimbledon brand, for many embodied by its traditions such as the "prominently white" clothing rule.
Rather than competing with the brightly coloured spectacle of the Brazil World Cup (which I don't for one moment think it would ever want to do), Wimbledon must celebrate its uniqueness. The traditions are part of Wimbledon's enduring appeal so I for one do not believe that in order to compete the All England Club should look to relax its clothing rules or stop traditions like having bands playing on the Tea Lawn. In a world where sporting events are becoming increasingly homogenised, one of the keys to Wimbledon's appeals lies in these points of difference.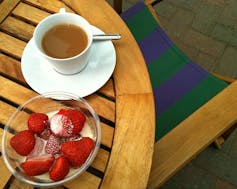 Of course, in a reverse of the impact of England's World Cup performance, one sure fire way for Wimbledon to gain audience share is if Andy Murray (or indeed one of the other British players) has a successful tournament. That's the dream for the organisers and promoters, but there's not much they can do to make it happen.
What they can do is concentrate on what makes Wimbledon so unique. There's no need to pretend Andy Murray is a footballer, to swap Cliff Richard for Pitbull, or to ask Roger Federer to ditch the preppy look for a snazzier outfit. Traditional Wimbledon can stand alongside the World Cup and become the talking point for sports fanatics and casual spectators alike.