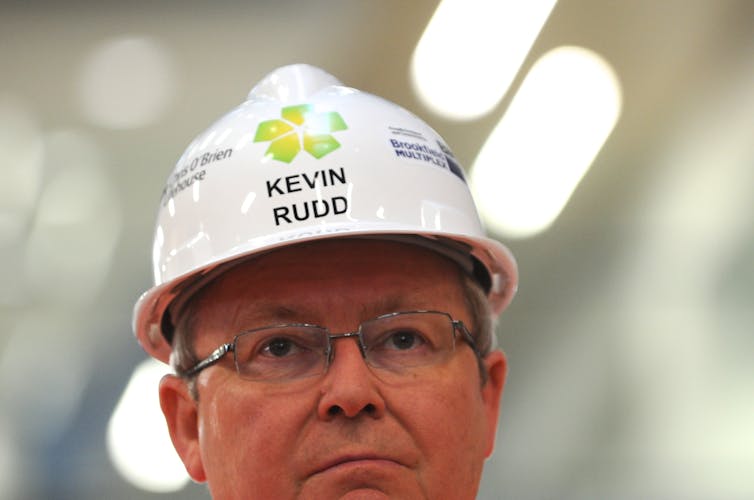 The government is already making a virtue out of one of the "hits" that will raise billions in its economic statement. And it's got a good case.
Tobacco excise will go up. Of course the government would not be thinking about such a measure if it didn't desperately need money to cover extra spending and a write-down of revenue. But given it has to find funds, this is an excellent source of them.
Forget the whinges about a price rise for cigs hurting the poor more than the better off. No doubt it's true. But if the poor – and anybody else – can be discouraged from smoking, that can only be a good thing. Given the size of its savings task, there are likely to be worse measures in the economic statement.
The government will spend a day or so selling the tobacco measure, which it expects will be accepted by the broad public.
If it then brings down its statement on Friday or Sunday and Kevin Rudd follows that by immediately calling an election for September 7, there will be a lot of rush in the air.
But expectations are building and not to meet them could slow his momentum. How would he fill in next week if he didn't call an election? Talking about the cuts he's made? Dealing with news of various problems in the PNG solution? (Let's put in the qualifier, however, that one never knows with him.)
Rudd needs to get into formal campaign mode, where he is at his best, so the fighting turns into day-to-day battles (with judgements about who wins each day) and the pace quickens (he's more nimble than Tony Abbott).
With the economic statement done, Rudd will have addressed - which doesn't necessarily mean solved - the issues in his deck-clearing operation.
The main outstanding one is the Better Schools negotiations where a deal with Victoria is still a prospect (it's clear that Queensland will not play ball).
As it moves closer to the election the government is throwing out bits of largesse and small gestures (ranging from a National Office for Live Music to an Independent Inspector-General of Animal Welfare and Live Animal Exports) and reassurances (today Treasurer Bowen promised no changes in the tax treatment of superannuation for five years).
It would seem to Rudd's benefit to have boats (another arrived on Tuesday with 102 passengers), the nasties in the economic statement, and today's findings by the NSW Independent Commission against Corruption (ICAC) all submerged in the general campaign.
Remember that his initial pitch after becoming PM was that Australians were looking for a "positive vision". The campaign gives him the chance to accentuate that.
Today was always going to be all about Labor's worse sort of negatives, with the release of the widely anticipated ICAC findings of corruption against NSW former Labor ministers Ian Macdonald and Eddie Obeid, and Obeid's son Moses, as well as business figures. ICAC has recommended charges.
In one of his earliest actions after regaining the leadership, Rudd announced intervention to reform the NSW ALP, seeking to pre-empt the findings and inoculate himself.
He was happy to be seen fighting his own party but actually he didn't have to. In the best Labor tradition, the intervention was put in as a fix.
The big question is whether NSW voters, who have already given their tough verdict against state Labor, are willing to put the corruption issue behind them when it comes to their federal vote.
Some Labor people are cracking hardy, saying they believe that after all the publicity given to the ICAC hearings voters have factored in the scandals and won't be further influenced by the findings. (Former Premier Nathan Rees said the affair had probably dragged Labor's primary vote down by two to three per cent in NSW.)
The Liberals think the new dramatic reminder of the scandals will be very useful in a state where there are a good number of Labor seats vulnerable – though not as many or as vulnerable as when Julia Gillard was in charge.
Rudd today was out before the findings were released declaring "I have been disgusted by what I've seen in the ICAC public hearings".
"Anyone who is responsible for corruption or illegal behaviour should face the full force of the law", he said, in what was a statement of the rather obvious.
Rudd reminded people he had taken "a virtually unprecedented step of directing federal intervention in the NSW branch of the Labor party".
While Rudd is emphasising his action to reform NSW Labor, Tony Abbott is trying to paint him as dependent on a Labor machine that was at the heart of the problem.
Abbott said Rudd needed to "come clean" about the dealings that senior members of his government had had with Obeid and Macdonald.
Bob Carr (as premier) had put Obeid into the ministry, Abbott said, and Tony Burke had stayed at Obeid's ski lodge; Anthony Albanese had defended Macdonald's preselection when this was under threat.
"Mr Rudd is only prime minister because the NSW Labor party put him there. And if he ever seriously tackles the rottenness at the heart of the NSW Labor party he will be dealt with by the war lords of Sussex Street again, as he was back in June 2010".
It's unlikely Abbott's attempts at drawing these direct links will get very far with voters. It's more that the NSW ALP's record is lead that Rudd has to carry in his saddle bag in a vital state.