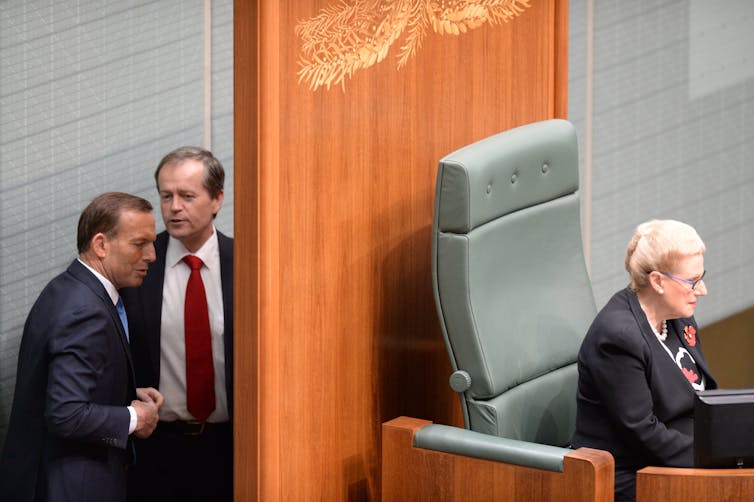 The new Parliament is starting its work on a narky note, as if still suffering a hangover from the old one.
The government today quickly asserted its authority by changing the House of Representatives' standing orders to its advantage.
No more supplementary (that is, follow up) questions, and the time reduced for "matters of public importance" (debates initiated mostly by the opposition) and private members business.
When the numbers were "hung", there were maximum opportunities for the parliament and individual MPs. A powerful cross bench could and did twist arms to change the rules. Now majority government is back, the majority dictates the rules.
But it does not entirely dictate what happens, as the government quickly discovered.
You don't have to have the numbers to cause trouble. You just have to have a secondhand copy of the old Tony Abbott/Christopher Pyne playbook.
So when Parliament assembled today, the PM's plan to introduce his carbon tax repeal legislation was disrupted by Labor trying to demand an explanation from Immigration Minister Scott Morrison on boat arrival policy.
Bad went to worse when Leader of the House Christopher Pyne called Bill Shorten "Electricity Bill", and new Speaker Bronwyn Bishop allowed the term. Even Abbott had admitted on Tuesday that would be unparliamentary, so it was foolish of Pyne to put the new Speaker in an awkward position. The opposition moved dissent from Bishop's ruling.
Bishop is having a rough initiation into her new role; when she was being elected to the post on Tuesday Labor MPs had a few unpleasant things to say about her, not surprising given how tough a politician she has been previously. Her challenge now is to move beyond the old warrior, if she wants to go down as a good Speaker.
Of course Labor did not have a hope in hell of winning any of today's votes, and eventually the carbon legislation was introduced. But Labor's tactics chewed up time. And unfortunately Abbott had the Indonesian vice president waiting to see him. Awkward.
It remains to be seen how vigorously Labor will pursue the tactical war, or whether this was about inflicting a bit of pain just because it could.
On substance, Labor is being very confrontational. It is opposing the government's three legislative priorities: repeal of the carbon and mining taxes and raising the debt ceiling to $500 billion.
Its stand (backed by having the numbers in the Senate, in combination with the Greens, for the next few months) is frustrating for the government. It carries some risks for Labor, however, because it is opposing such a broad front of measures.
The first Question Time was inconclusive, in terms of winning and losing.
Both opposition and government put forward a range of frontbenchers to ask and answer questions.
Abbott was carefully aware of "tone"; Bill Shorten was finding his way; Treasurer Joe Hockey and his shadow Chris Bowen seemed in their element; Morrison was typically aggressive.
Barnaby Joyce, in a new House as well as being a new minister, forgot where he was and addressed "Ladies and gentlemen" – which Bishop thought everyone would rather like to be called today.
Listen to Mitch Hooke on the Politics with Michelle Grattan podcast, available below, by rss and on iTunes.