The 19th-century English historian Lord Acton famously advised people to live in both the future and the past, and said "those who do not live in the past cannot live in the future".
It may seem a stretch to apply this famous quotation to climate research, but we can't possibly understand how the climate will change in the future without first understanding how it changed in the past.
Australia's official climate record, kept by the Bureau of Meteorology, begins in 1910. But historical climate records kept before the development of national meteorological organisations are valuable tools for improving our understanding of what has happened in the past.
They also put the present into a long-term context, and improve climate models used to predict the future.
What can old numbers really tell us?
One thing historical records can help us understand is extreme weather events – the aspect of climate change that has people most concerned. How can we prepare cities and buildings for storms in the future without understanding what previous storms have done?
It is true that historical observations have reliability issues and are sometimes hard to compare to modern observations, which are recorded in a standard way. However, old weather records can still tell us a lot about year-to-year changes, and there are many ways to minimise reliability problems.
There are several climate and weather analysis products that recreate how the atmosphere behaved over time. In the Southern Hemisphere, these climate tools are generally uncertain until the mid-20th century, due to a lack of – you guessed it — long-term data.
Historical records can also help us hone climate models for predicting the future. Some of the atmospheric and oceanic features that dominate our climate have cycles that can last several decades. This means that modern climate data starting in the 20th century may only capture one or two cycles of a particular feature, making it hard to train climate models on the full range of our climate variability.
Historical weather records are also important for past climate analysis. Extracting the climate signal from tree rings, ice cores, or documentary data, requires instrumental climate records for comparison. The longer the climate records are, the better this comparison will be.
What exists for Australia?
In the past few years, concerted efforts at the Bureau of Meteorology and several universities have been able to recover and analyse a large amount of historical climate data for Australia. Most of these observations come from Australia's southeast, as this is the region that was first colonised by Europeans.
There are now studies that explore temperature, rainfall and atmospheric pressure variability in southeastern Australia back to the 1860s. Several studies have even rescued data from 1788.
With these newly recovered observations, we have learned a lot about Australia's climate in the 19th century, as well as the early years of English colonisation. But there is still a lot we don't know.
In particular, the majority of our old weather data come from coastal locations, where the weather is more sensitive to local factors rather than large-scale features such as the El Niño–Southern Oscillation (ENSO).
A rare opportunity
In 2011, some weather diaries were donated to the University of Newcastle and University of New England. The diaries contain 45 years of daily handwritten weather observations of a Mr Algernon Belfield taken on his 8,000-hectare property, Eversleigh, near Armidale in northern New South Wales.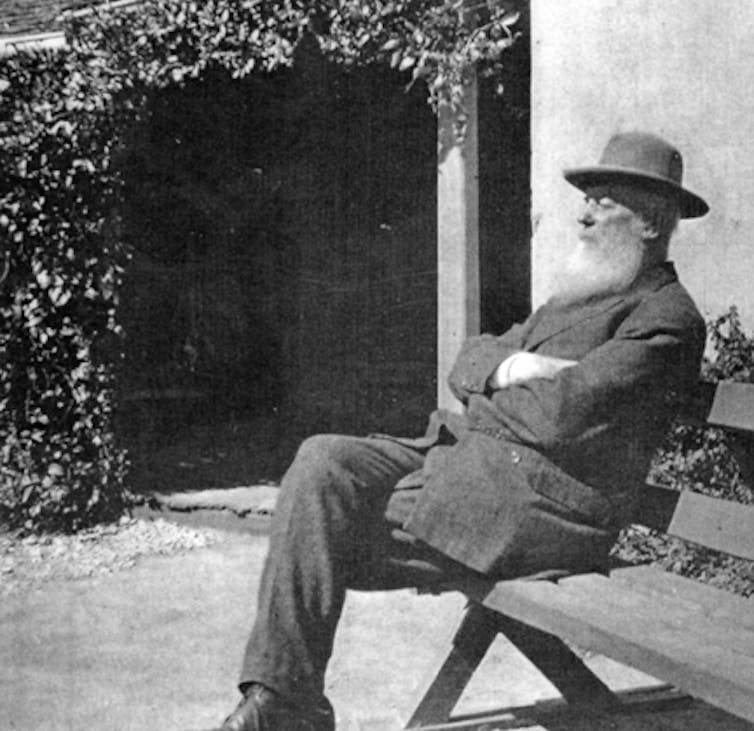 A pastoralist, amateur meteorologist and astronomer, Belfield took these meticulous weather observations every morning at 9am from June 1877 until August 1922, a month before his death.
His observations continued through the period of the 1891 shearers' strike, the Boer War, Australia's Federation, the First World War and the Centennial and Federation droughts.
Belfield's diaries also span the period that inspired Dorothea Mackellar's famous ode to Australia, My Country.
The last few decades of the 19th century were indeed times of "droughts and flooding rains", thanks to a string of La Niña and El Niño phases of ENSO.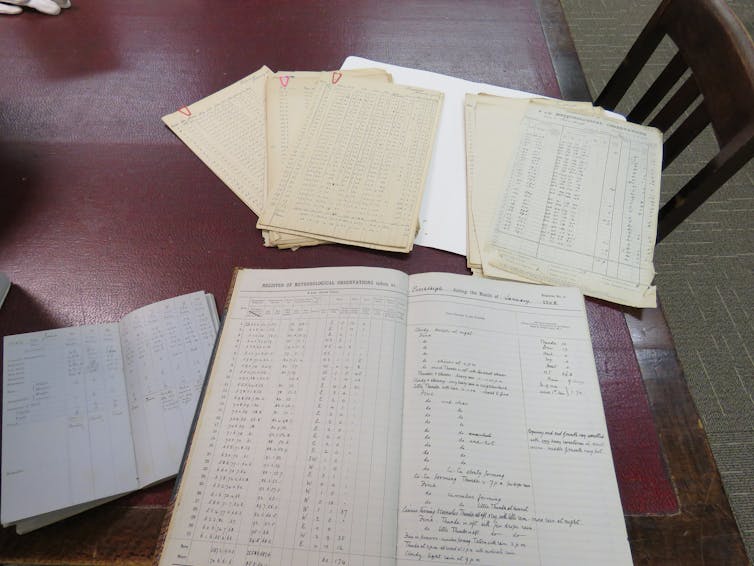 Belfield's steady hand captured the weather at Eversleigh during a time of dramatic variability before the impact of human-induced climate change, in a region where the climate is highly correlated with ENSO.
His detailed records, therefore, provide us with a unique opportunity to uncover more about this period in our climate history than ever before.
The handwritten records are scanned but need to be transcribed into a digitised format. We are looking for volunteers to help us with this important task of recovering our climate history. If you are interested, please contact us here, to help shed light on Australia's past, present and future climate.