On a recent tour of Japanese prefabricated housing factories, I was awestruck by the sophistication of Japan's construction industry: entire factories populated by robots, houses trundling along assembly lines, technicians assembling houses as one might a Toyota Camry.
This was a real "wow" moment, as building in Australia is still firmly in the realm of tradition – "guys in utes" (not robots) are still the foundation of our industry.
At a time when some commentators in Australia are hoping the emerging "manufactured" housing industry can soften the blow of the departing auto industry, Japan shows us an established and sophisticated lean manufacturing future.
But its outcomes, in design and social terms, also represent a kind of dystopia.
Reality of the Japanese housing industry
The idea of the factory-made house has a long history punctuated by a steady stream of commercial failure in the West. By contrast, many Japanese companies have made prefab housing work.
Our delegation visited four of the most successful manufacturers: Sekisui House, Sekisui Heim, Misawa Homes and Daiwa House. As we moved beyond the initial wow-effect, some of the more prosaic realities of the industry began to set in.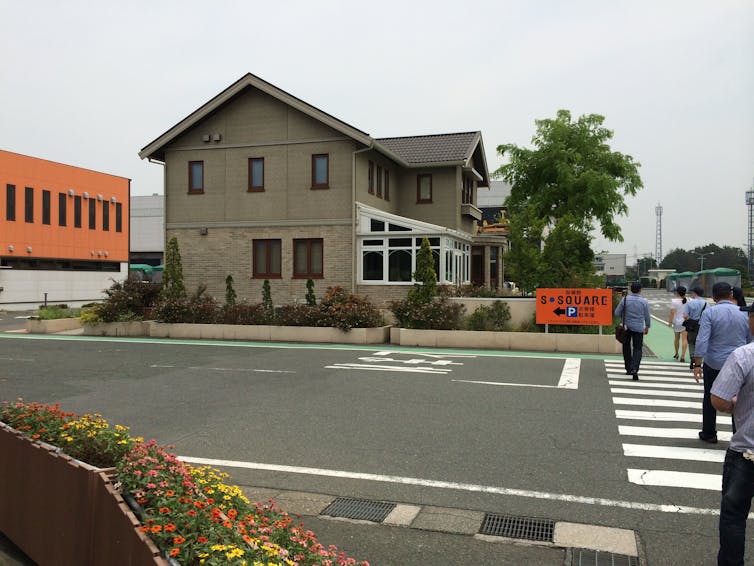 One of the central claims of those who have variously supported the case for factory-made housing in the past has been the promise of better quality, lower costs, and – more recently – the ability to customise one's house, without forgoing the price advantage of mass production.
In Japan, each company's sales team vehemently insisted their building systems were "100% customisable" and could be tailored to the customer's every need. But to the casual observer the resulting houses look very much the same, irrespective of which company made them.
The dimension of rooms can be changed, the footprint of the building can be fitted to different sites within certain tolerances, and finishes and fixtures can be changed. But the overall appearance remains the same: an interpretation of a generic western suburban house, clad in ceramic tiling with a very predictable colour palette ranging from brown to beige.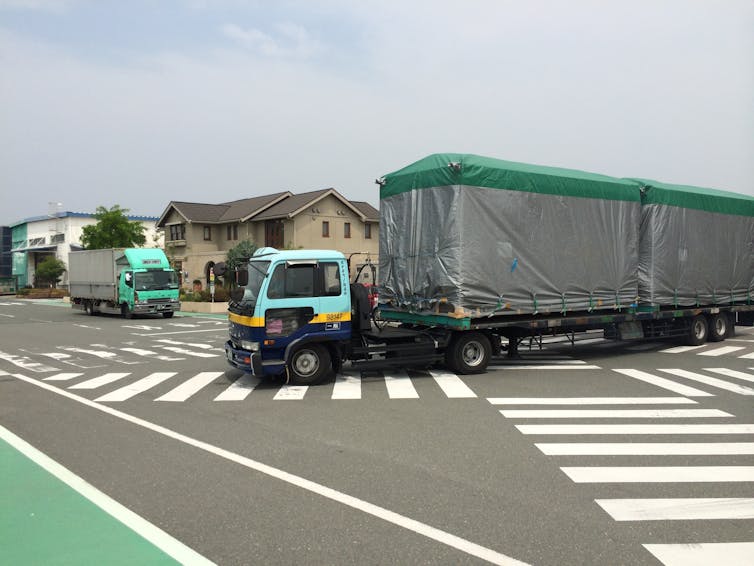 'Cost performance' marketing strategy
In terms of price, Japanese companies do not reveal major differences in their offerings. As one senior executive told us, his company's houses are aimed at "rich people", often educated and environmentally conscious.
Environmental design expert Masa Naguchi at Melbourne University, who kindly organised our tour, explains this paradigm of high price/ high quality with the notion of "cost performance". This is where – not unlike the auto industry – each successive model is continually improved (the Japanese call this kaizen), receiving new features and improved performance across a range of criteria, including seismic, thermal, acoustic, and energy consumption.
The "cost performance" marketing strategy centres on demonstrating that an increased upfront capital outlay will be offset by the reduction of life-cycle operating costs, and the potential to eventually earn money from electricity generation.
Japanese prefab housing also comes with a standard 20-year warranty and a strong focus on after sales service – again, much like the auto industry.
Enter Orwell
Moving from the carefully curated showrooms to the factory floor was very revealing and at times confronting. The factories were much less like the light and clean futurism of the Tesla Motors factory in California, and more like the retro-industrial mood of The Hunger Games (2012).
Workers jogging to keep to the tempo of "the line", screwing on windows rather than steering wheels. Melodies from western children's nursery rhymes played in dull electronic tones when overhead machinery moved and, on one day, the thermometer on the factory floor read 35C (fine for robots, almost unworkable for humans).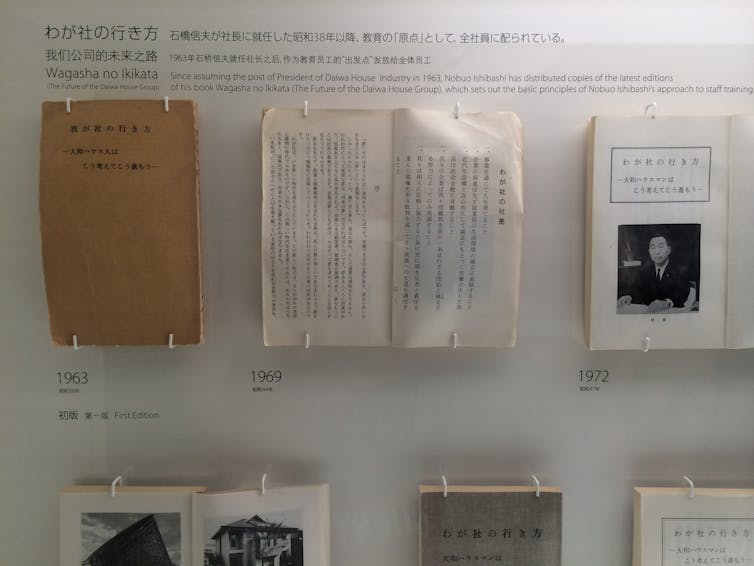 By the time I noticed a plaque mounted oddly on the corner of some heavy equipment, displaying a picture of a now-departed designer of the proprietary wall cladding system, things were beginning to feel positively Orwellian.
Adding to this aura, the Daiwa House factory complex has a very stylish museum dedicated to the founder of the company, Nobuo Ishibashi, where visitors can see his adolescent Judo uniform and his various notebooks showing significant life moments.
Undoubtedly, this is part of Japanese corporate culture – something about which I know very little – but as an architect researching the potential of prefabricated housing in the Australian context, it's hard not to criticise both the social and design outcomes of the Japanese industry, particularly because Japanese architecture is so highly regarded internationally.
Australian comparison
It is helpful to consider the scale of the Japanese housing market relative to Australia. Of the total 495,737 detached housing "starts" (the number of privately-owned new houses on which construction has been started) in Japan in 2013, around 64,035 (12.9%) were prefab or modular.
In contrast, Australia's total number of detached housing starts for 2013/14, was 91,610 with an estimated prefab volume of 3%, or 2,748 houses.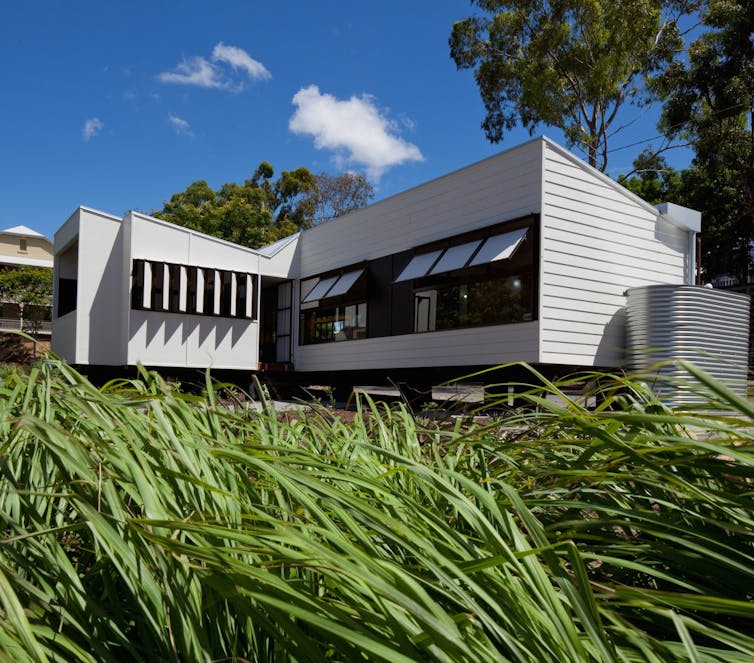 By contrast, Sekisui House, one of the largest companies we toured, produces 15,000 detached houses a year; the factory plant in Shizuoka produces around 20 houses per day.
Although the Australian market of prefab housing is comparatively small, it reveals much more diversity in its offerings than do its Japanese counterparts.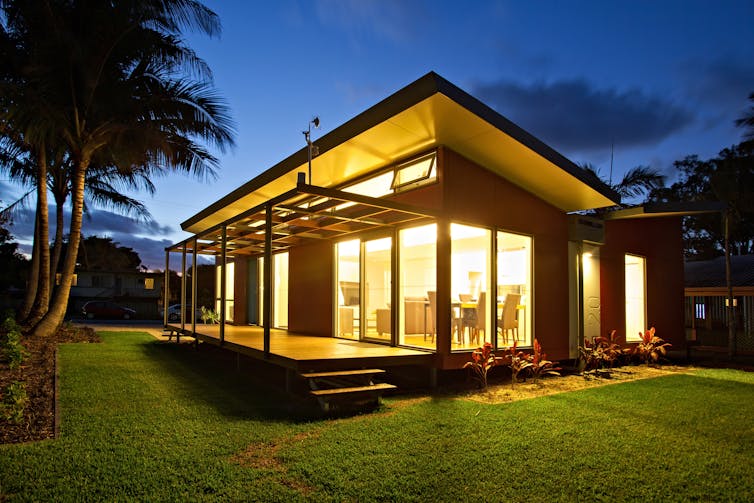 Companies such as Happy Haus, Prebuilt and Tektum, offer a wide range of housing products to market, which are comparable in price to Japanese models.
While some Australian companies offer various quality benefits, most are not as sophisticated as Japan, showing us that "cost performance" and the highly efficient design and production process (something visitors to Japanese factories are not shown) are lessons Australian manufacturers should learn.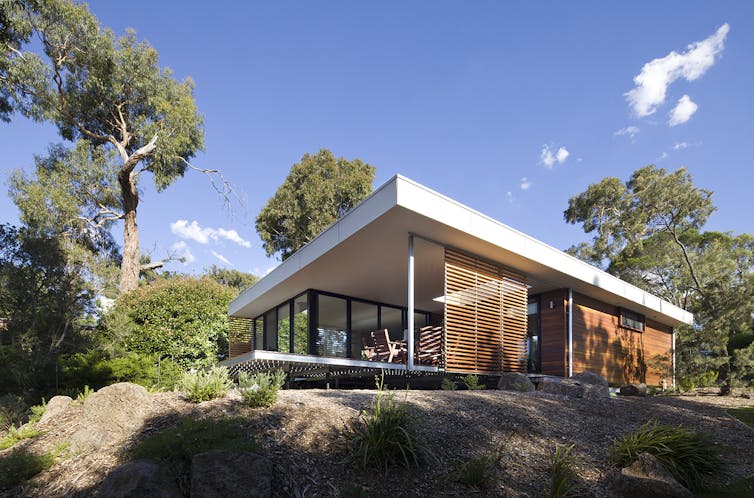 This article is not a plea for technological progress or even for a more technologically advanced version of construction, but rather a stock-take of Japanese prefab housing as the most advanced proponent of its kind in the world.
In many regards our own fledgling industry shows great promise, not least in the quality of designs and the freshness of thinking behind them.