The year started as it finished, with terrorist atrocities, intractable conflicts and political upheavals that toppled several leaders. Among them was Australia's prime minister, Tony Abbott.
In January, two months after a first-term Coalition government fell in Victoria, Queensland's Liberal-National government suffered the same fate. Nine days later came a federal partyroom revolt, but Abbott and his high-profile chief-of-staff, Peta Credlin, survived the "near-death experience" (and Prince Philip kept his knighthood regardless).
Only NSW Premier Mike Baird seemed immune to voter dissatisfaction. His government was comfortably returned in March.
Michelle Grattan led our coverage from Canberra with her prodigious and insightful output. After the budget bombshells of 2014, the 2015-16 budget was an exercise in political repair work. The week before the budget, the Greens' leadership changed from Christine Milne to Richard Di Natale, but the Senate numbers remained the same: key policies were stalled or abandoned by year's end.
Learning from the past, looking to the future
We began the year with Shaping 2015, a series on key policy challenges. New Politics explored how politics is changing. The ongoing Democracy Futures series offers fresh thinking on democratic challenges, in partnership with the Sydney Democracy Network.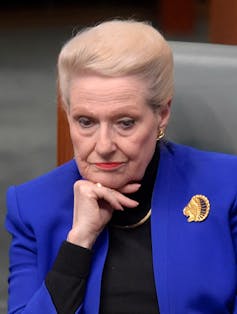 When Malcolm Turnbull did finally topple Abbott in September, we responded to his promise of "21st-century government" with a series on what that should look like. We followed up with series on planning for an ageing community and why innovation matters.
At year's end, with minister Mal Brough accused of misleading parliament and Bronwyn Bishop forced to resign as Speaker, a series on breaking political conventions explored the unwritten rules of good governance.
We also looked back in a year of notable wartime anniversaries, starting with the Anzac centenary. In partnership with the Griffith Review, Enduring Legacies explored the impacts of the Great War.
On the 70th anniversary of the end of the second world war, we examined its lasting effects in Europe and Asia, where the war ended with the dropping of two atomic bombs. Tensions remain between two old enemies. Japan controversially dropped postwar restrictions on its military, while China's muscle-flexing in the South China Sea caused widespread alarm.
Australia was also drawn into war in Vietnam 50 years ago.
Struggling for balance in a time of terror
We live in a time of fewer wars but many wicked problems. Just a week into 2015, the slaying of 12 people in the Paris office of Charlie Hebdo exemplified both the egregious nature of terrorism and the difficulties of the debates it inspires. These range from finding a balance between security and civil liberties, to issues of secularism, free speech, the nature of Islam and Islamophobia, and radicalisation.
We also examined the rise of radical Islam and its level of threat from a historical perspective. Despite claiming responsibility for the Charlie Hebdo atrocity, al-Qaeda has been overtaken as a jihadist force by Islamic State (IS).
IS now commands the allegiance of affiliates like Boko Haram, which killed more people in terrorist attacks in 2014 than any other group. Three days into 2015 Boko Haram killed hundreds in the Baga massacre in Nigeria. This atrocity was neglected, as is common, in Western media coverage.
Only IS, however, has been able to control a de-facto state. The Conversation has accordingly focused on IS strategy and the origins and status of the caliphate declared a year ago in June.
By the end of year, IS or its affiliates had downed a Russian airliner over Egypt, killing all 224 on board, and carried out twin bombings in Beirut that claimed 44 lives. A day later, on November 13, the attacks in Paris killed 130 people. IS was also linked to bombings that killed more than 100 people in the Turkish capital, Ankara, on October 10.
Leaders win some, lose some
Security fears likely helped the autocratic government of Turkish President Recep Tayip Erdoğan tighten his grip on power in snap elections on November 1.
In March, Israel's Benjamin Netanyahu had also won re-election on a hardline platform. He even ruled out a two-state settlement with Palestinians. Afterwards, he recanted under international pressure.
In May, David Cameron defied the pundits as the UK election returned a Conservative majority government. Even more improbably, Jeremy Corbyn became leader of the Labour opposition.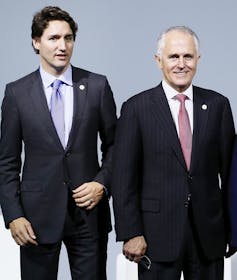 In another upset, Canadian Conservative leader Stephen Harper, after nearly a decade in office, lost the October election to Justin Trudeau's Liberals. Ideological soulmates Harper and Abbott lost power within weeks of each other. Their polished, charismatic replacements have both enjoyed extended political honeymoons.
After a year in which Bill Shorten lost some skin but survived being called before the trade union royal commission (unwittingly helped by commissioner Deyson Heydon's missteps), prevailed at the ALP national conference and saw off a first-term prime minister, the opposition leader surely didn't expect to be trailing by 46 points as preferred leader in opinion polls.
Spare a thought for Greece, where the only surplus involved elections. With Prime Minister Alexis Tsipras' Syriza party split over Europe's terms for a debt bailout, Greeks went to the polls for a third time in 2015. The September general election was the fifth in six years, but voters rewarded Tsipras' gamble.
Back in the US, a supposedly "lame duck" US president was a key player in the Paris climate agreement and achieved historic rapprochements with old enemies. With the help of European leaders, Barack Obama moved to end Iran's pariah status with an agreement on its nuclear program. The US also ended Cuba's 54-year isolation.
Hillary Clinton launched a second run at the presidency, with no obvious rival to deny her the Democratic Party's nomination this time round. In a crowded field of Republicans, Donald Trump defied predictions, and establishment hopes, that the populist front-runner would fade.
While Trump's anti-Muslim rhetoric was too much even for former White House hawk Dick Cheney, several Western nations have responded to jihadist threats with draconian counter-terrorism and citizenship laws. And Australia led the way. This included recasting the immigration department to focus on border protection. Operation Fortitude, abandoned on the day it was announced, attracted public ridicule.
Australia, the US, the UK, France, Germany and Russia – its intervention in Ukraine and repression of domestic opposition at least partly forgiven – increased military efforts to root out IS in Iraq and Syria.
Remembering that politics has human impacts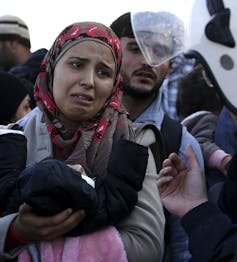 Millions of refugees are coming from these disintegrating nations and others, like Libya and Afghanistan, that are failing after military interventions. In June, the United Nations reported that the world's refugees numbered a record 59.5 million. The flows of people through the Balkans and across the Mediterranean created a crisis that's dividing Europe.
In Asia, too, asylum seekers like the Rohingya tested the region's capacity to cope. Last month's landslide election victory by Aung San Suu Kyi's National League for Democracy offers hope of an end to the military repression that impoverished Myanmar.
Two other poor nations, Nepal and Vanuatu, were hit by natural disasters that left them strugggling to recover.
Indonesia's imposition of the death penalty on two Australian members of the "Bali Nine" drove debates about capital punishment, the war on drugs and the bilateral relationship. Myuran Sukumaran, Andrew Chan and six others were shot dead in April.
Our Jakarta desk provided views from Indonesia throughout 2015.
Making the case for why policy matters
Punitive "law and order" policies are popular, but their huge costs are neglected. The State of Imprisonment series looked at corrections policies around the nation, followed by Beyond Prison on the alternatives. We then zeroed in on the shamefully high numbers of Indigenous prisoners with mental and cognitive disabilities.
Australia is still failing to reach Closing the Gap targets for Indigenous people. Despite bipartisan support, constitutional recognition remains an uphill struggle too.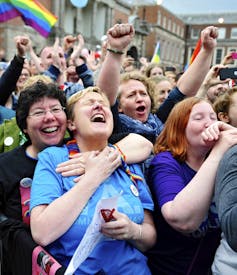 Turnbull also reaffirmed the Abbott government policy of a plebiscite on same-sex marriage. Despite solid support among Australians for change, Canberra stalled the momentum generated by the Irish "yes" vote and the US Supreme Court ruling in June that same-sex couples have a right to marry.
On several other social issues, however, Australia may be making progress. A royal commission was set up in Victoria to inquire into family violence. And, nationally, the royal commission into institutional responses to child sexual abuse continued its work.
Other social scourges inspire often fearful public debates. Our expert analyses aim to inform these debates on issues such as problems of addiction – to drugs (particularly ice), alcohol and gambling – gun violence, gender discrimination and harassment, and racism, with Adam Goodes an unhappy focal point of debate.
While the fear factor still dominates the politics of asylum seekers, the Abbott government did "stop the boats", then won praise for agreeing to accept 12,000 Syrian refugees. However, the human rights breaches in offshore detention of asylum seekers drew global criticism. It remains to be seen whether these unfortunate people will continue to be sacrificed to a punitive policy of deterrence.
Despite sadly familiar doping and corruption scandals – even FIFA was finally called to account – sport provided much joy and triumph. For Australians, this included hosting and winning the Asian Cup, the Wallabies' resurgence at the Rugby World Cup and Michelle Payne making history in the Melbourne Cup.
On another positive note, the On Happiness series explored the values and actions that shape individual and collective well-being. The passing of former prime minister Malcolm Fraser and Victorian premier John Kirner prompted many to reflect on the values and standards of decency that ought to inform public life.
The public response to Turnbull as prime minister, based initially more on a change of tone than policy, suggests Australians are hoping for a different way of doing politics, of talking about the kind of country we want and how to get there. In 2016, an election year, we will likely find out whether that's wishful thinking, or if we did witness a turning point in 2015.
---
Top ten most-read stories in 2015 for Politics + Society
No, you're not entitled to your opinion, by Patrick Stokes
Women suffer the myths of the hymen and the virginity test, by Sherria Ayuandini
Why the world is wary of China's 'great wall of sand' in the sea, by Clive Schofield
Michelle Payne defies horse racing's long history as a sport of blokes, by Wayne Peake
Men get creative with grammar when they want to impress fertile women, by Justin Norrie
Bali Nine duo executed: the view from Indonesia, by Yohanes Sulaiman, Tobias Basuki, Andina Dwifatma and Asmin Fransiska
The revealing facts on bikie laws and crime in Queensland, by Terry Goldsworthy
Can Newman still be Queensland premier if he loses his seat?, by Anne Twomey
Disproportionate coverage of Paris attacks is not just the media's fault, by Folker Hanusch
Islam, blasphemy and free speech: a surprisingly modern conflict, by Ali Mamouri