The Turnbull Government's decision to scrap the 457-skilled temporary worker visa puts the spotlight on temporary migrant workers in Australia.
This is not surprising, since each year Australia takes in some 700,000 temporary migrants and 200,000 permanent migrants.
What is surprising is the under-estimated role of the Australian tertiary education sector in temporary worker migration, the reason why universities have been among the most outspoken critics.
Bulk of temporary migrant labour force will remain
Most obvious here is the demand side - universities employ about 1,500 lecturers and 250 tutors on 457 visas.
Universities are also worried about the impact of the axing of the 457 visa on international PhD students gaining Australian employment after graduation. They could not fulfil their research, teaching and innovation agendas without ready access to globally-mobile academics.
Less obvious is the supply side: the fact that international students enrolled at Australian universities provide temporary work that is the equivalent of more than three times the size of the 457 visa program.
In addition to the 457 program, Australia receives about 250,000 temporary migrants on working holiday maker visas (WHMs) a year, who also add considerably to the temporary migrant workforce.
If the problem the government was addressing - by abolishing the 457 program – is that of temporary migrant workers, their impact on jobs in Australia and their experiences of exploitation, it has targeted a fraction of the problem, leaving the bulk of the temporary migrant labour force unchanged.
International students bring in the money
Could this be because international education is the third largest export earner in Australia, contributing $19.9 billion in 2015-16, while a continued resupply of WHMs are critical for the seasonal labour supply for Australia's agricultural industry, as well as restaurant and services jobs in the cities?
We know that Australian universities rely on international students much more than universities in other countries.
International students are more prominent in Australia than in any other OECD countries, with the exception of Luxembourg:
In 2012 international students comprised 18.3% of all tertiary enrolments in Australia compared to the OECD average of 7.6%.

In 2015, 271,354 international students were enrolled in Australia universities.

In 2016, Australia took in a record 554,179 full-fee paying international students.
Student visa also a temporary work visa
Because the international student visa permits international students to work up to 20 hours per week, it is also a temporary migrant worker visa.
Assuming all international tertiary students work 20 hours per week, this is the equivalent workforce impact of an extra 146,677 457 visa holders working a 37 hour week, or more than three times the total intake (45,400) of 457 visas workers last year.
This is a conservative estimate, since research suggests that many are forced to work longer hours to make ends meet in Australia.
According to many judgements and reports made by the Fair Work Commission, the evidence suggests that many international students are exploited, paid under award wages in often substandard workplaces.
International students working longer hours
The most notorious recent example of systematic exploitation of international student workers is the case of the international 7-Eleven franchise.
According to one report:
A common payroll fraud employed by 7-Eleven franchisees is known as the 'half-pay scam', where staff members are paid for only half the hours they work. Under the half-pay scam, a worker is forced to work for 40 hours a week for an average of $12 per hour against an award rate of $24 per hour.

As part of the scam the franchisee will doctor the roster and fudge time sheets to make it appear that the staff member has only worked half the hours in the store that they have actually worked.
According to the Productivity Commission, about half of permanent visa grants are to people who are already in Australia as temporary immigrants.
Many 457 and international student visa temporary migrants eventually become permanent. This makes a lot of sense: those on one or more temporary visas have experience living and working in Australia, have often accumulated human capital from Australian universities and developed social networks (social capital) within Australia and improved their English (linguistic capital).
It is this ability for migrants to transition from temporary to permanent visas that is the strongest argument against the claim that Australia has abandoned the settler immigration model that worked so well for five or six post-war decades in favour of a guest-worker immigration model.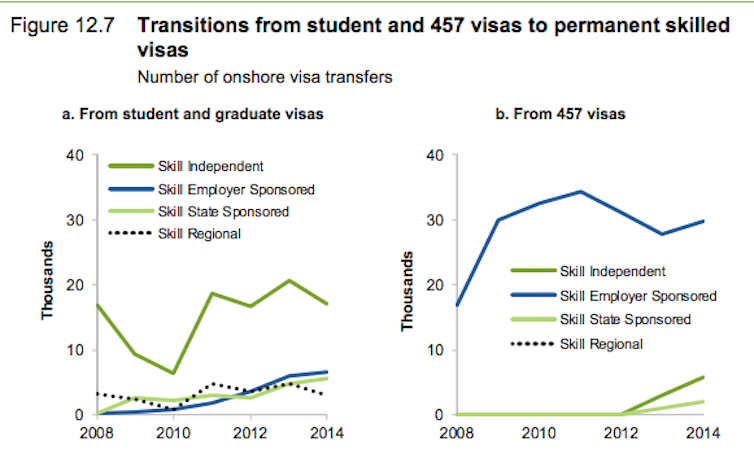 Ripped off?
Sometimes the journey to permanent residence in Australia is via a series of temporary visas, a sort of boomerang migration pathway.
According to the Productivity Commission,
"The number of former international students who use the multi-step pathway to a graduate visa followed by permanent skill stream immigration has increased".
For example, over the period 1991–2014, 34,340 people transferred from an international student visa to a temporary skilled visa (12,870 of these to a 457 visa).
However, one consequence of the decision to scrap the 457 visa and replace it with a temporary skilled workers visa with a short-term stream (two years without a pathway to permanent residence) and a medium-term stream (four years with a pathway to permanent residence) is that it reinforced the guest-worker character of Australia's current immigration program.
This undermines national building in Australia and seems at odds with the Turnbull Government's increased focus on successful citizenship outcomes and a redefined multicultural policy that recognised that the country's "multilingual workforce" is a competitive edge in an increasingly globalised economy.
---
• This article was amended on 24 April to correct a factual inaccuracy. The article said "Australia receives about 250 million temporary migrants on working holiday maker visa", when it should have said 250,000.