Belfast's High Court has ruled that Northern Ireland can no longer withhold abortions from women who have been the victims of rape or incest, or whose pregnancies involve a fatal foetal abnormality.
The judgement is groundbreaking. Northern Ireland was not included in the original 1967 legislation that allows for legal terminations in England, Scotland and Wales. As a result, abortion is incredibly restricted in the province. It is only legal when there is a risk to the long-term physical or mental health of the woman. This means that an average of 1,000 women travel every year to access terminations, mostly to England.
And since Northern Irish women are not eligible for free abortion care on the NHS in England, abortion is in practice only a realistic option for richer women. The cost of travel, private treatment and accommodation can reach up to £2,000 – well beyond the means of many.
How it happened
Abortion has had a high political profile in Northern Ireland in recent years. In late 2012, a Marie Stopes clinic opened to much media attention in central Belfast.
And in 2013, Belfast woman Sarah Ewart discovered she was carrying a pregnancy with a fatal foetal abnormality and could not have an abortion in Northern Ireland. She travelled to England for a termination, inviting BBC NI to film her journey. Her story prompted an outpouring of empathy and much soul-searching in the Northern Irish media, incredulous that such a situation could be allowed to occur.
In response, NI justice minister David Ford promised to introduce legislation to the Northern Irish Assembly to allow for terminations in the case of sexual crime and fatal foetal abnormality.
Ford eventually dropped elements which would have addressed sexual crime, moving only to change the law for fatal foetal abnormality. The proposals have yet to be brought to the Assembly (this year's crisis in Northern Irish politics has pushed back legislative business as normal) but first minister Peter Robinson has intimated that he did not think the proposed changes would pass.
Simultaneously, the Northern Irish Human Rights Commission brought a judicial review to the High Court in Belfast to challenge the law. That court has now ruled that the law is in contravention of the European Convention on Human Rights. Consequently, for the first time, abortion is legal in Northern Ireland in cases of rape, incest and fatal (or severe) foetal abnormalities.
In being denied abortions, the court decided, Northern Irish women are losing their right to privacy and "personal autonomy". Thomas Mark Horner, the judge in the case acknowledged the hypocrisy of the current situation:
If it is morally wrong to abort a foetus in Northern Ireland, it is just as wrong morally to abort the same foetus in England. It does not protect morals to export the problem to another jurisdiction and then turn a blind eye.
He also acknowledged that those of "limited means" suffer most from this legal framework, arguing that it "smacks of one law for the rich and one law for the poor".
What's the catch?
Importantly, though, his ruling noted that "this issue is unlikely to be grasped by the legislature in the foreseeable future". Politicians in both London and Belfast have ignored this issue for years and it's unlikely that the Assembly would have changed the law without being forced to do so by the court.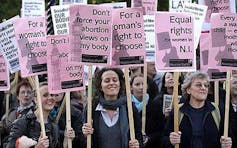 In spite of the groundbreaking nature of this judgement, it's impossible not to feel hesitant about what it might actually mean on the ground in Northern Ireland.
The number of women this will affect is small. Hundreds will still have to travel for terminations, to England and elsewhere. Whether or not the judgement will be enforceable remains to be seen (an appeal is still possible); the hostile political environment around the issue will not help.
And in 2004, the High Court in Belfast ruled that the Department of Health in Northern Ireland had to produce guidance for medical professionals around the very restricted situations in which terminations might be provided. These are yet to be put into practice, more ten years later. Legal rulings have been ignored before, so they could be kicked into the long grass again.
Nonetheless, today's recognition of the human rights of Northern Irish women is a cause for celebration. A (small) crack has appeared in the legal framework in the province. Whether this can now be cemented in practice (or, more positively, perhaps even open up wider access to terminations) remains to be seen.