The EU and Turkey have finally reached an agreement to reduce the number of migrants and refugees coming to the European Union. The central pillar of the deal is that anyone arriving in Greece across the sea from Turkey will be returned to Turkey. Then, one refugee waiting in Turkey will be taken in by the EU in their stead.
The EU claims that the plan is legal, but that really depends on how it is implemented in practical terms.
It says "all new irregular migrants crossing from Turkey into Greek islands" will be returned to Turkey. This "will take place in full compliance with EU and international law, thus excluding any kind of collective expulsion". Expulsion will "respect … the principle of non-refoulement", referring to the international law preventing governments from removing people to unsafe countries. This "will be a temporary and extraordinary measure which is necessary to end the human suffering and restore public order".
Turkey, we are assured, has promised to observe the human rights of the people concerned once they return there.
What the law tells us
The key issue here will be whether the EU's asylum procedures law will be applied correctly. This says asylum seekers can be returned to a "safe third country" to make their application for asylum there. It defines a safe third country as a state in which asylum-seekers' lives or freedom won't be threatened on the grounds of race, religion, nationality, social background or political beliefs (this test is taken from the Geneva Convention on refugee status).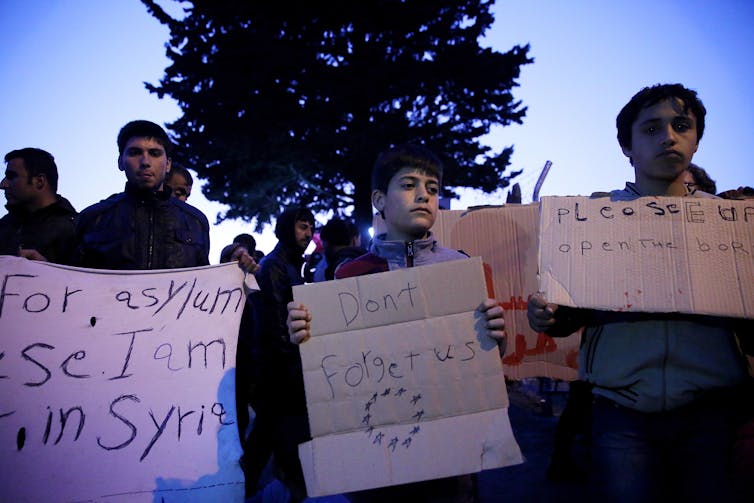 There must also be "no risk of serious harm" in the sense of the EU definition of subsidiary protection (in other words, that there is no significant risk of the death penalty, torture or civilian risk in wartime there), and no threat that the people concerned will be sent to another country which is unsafe. There must be the opportunity to request refugee status and, if that status is granted, the state must provide protection in accordance with the Geneva Convention.
There is a particular problem with the last point because Turkey does not apply the Geneva Convention to non-Europeans. One interpretation of this rule is that returns to Turkey are therefore not possible at all. Another interpretation (shared by Greece and the EU institutions) is that all is fine as long as Turkey treats refugees as well as the Geneva Convention would require it to do, even if it doesn't officially apply the convention to them.
The EU Directive on asylum procedures also says that an asylum seeker must be able to argue that the supposed safe third country is actually not safe for them. It will be up to the Greek authorities (and, on appeal, the Greek courts) to assess any argument made along these lines.
Trading places
Then there is the plan to swap Syrian refugees in Greece and Turkey. Syrians waiting in Turkey will be resettled in the EU every time someone is sent back from Greece, with priority given to children and people who have not already tried to make the journey on their own. The EU will take up to 72,000 people on this basis. But if irregular migration to Greece continues, there will be a review, and the swap will be ended once returns reach 72,000.
This part of the deal has been particularly controversial, since it appears to create a form of trade in human suffering. Resettlement of refugees is not controversial in itself but it is usually carried out on a humanitarian basis, not according to some sort of quid pro quo.
In return for this help, the EU is investing heavily in aid for refugees in Turkey, and has promised to let Turkish citizens visit most of the EU without getting a visa by the end of June 2016. This will allow visa-free travel in the Schengen area (but not the UK) for three months. Any Turkish citizens who overstay that limit can be returned to Turkey.
The two sides have also agreed to "re-energise" the process of Turkey joining the EU. But the actual commitment on this front is quite modest. After over a decade of negotiations, only one chapter out of 35, which need to be agreed in order for Turkey to join the EU, has been agreed. The deal calls for just one more chapter to be opened. A completed accession deal for Turkey is obviously still years away, and there are many legal and political obstacles in the way of it being approved.
Finally, the EU agreed to work with Turkey to set up a "safe zone" inside Syria. This is a good idea if it is feasible, but it remains to be seen whether it is possible. If it is set up, and there is any dispute about its safety in practice, then returning Syrians to Turkey would be problematic if Turkey intends to send them further on to this alleged safe zone.
Is this it?
Overall the final deal between Turkey and the EU tries to address the two main legal concerns about the plan. It makes clear that the EU asylum laws will apply to those who reach Greece and that Turkey will have to meet the relevant standards when taking people back. The key legal question will be how these commitments are implemented in practice.
Asylum seekers can make a challenge through the Greek courts when their applications are refused. Those courts could send questions to the EU courts about EU asylum law, for instance how to interpret the "safe third country" rule. If the Greek courts don't send questions, or if there is no effective access to the Greek court system, asylum seekers could complain to the European Court of Human Rights (which is separate from the EU), and claim that there is a breach of the European Convention of Human Rights. In practice, however, it may be that access to lawyers and courts is more theoretical than real.