This trend will continue into the 2014 Winter Olympics with women permitted for the first time to compete in ski jumping.
Since their inclusion in the modern Olympics in Paris in 1900, female participation at the Olympic Games has been increasing, both in the number of athletes competing, and the number of women's events.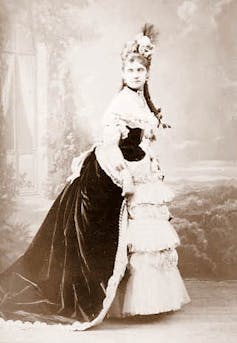 In fact, there are only two sports that remain solely single gender. Synchronised swimming and rhythmic gymnastics only permit female participants. We are increasingly seeing athletes from both genders seeking the opportunity to represent their nation at the highest level, as young male athletes seek to break new ground in these traditionally female sports. It can only be a matter of time until all sports allow both male and female competitors.
Australian women have been competing at the Olympic Games since 1912. Australian female representation increased from 16% at Munich in 1972 to 46% at Beijing in 2008, where Australian female athletes won 58% of the medals. In the 2010 Vancouver Winter Olympics the Australian team saw 50/50 representation.
Saudia Arabia, Qatar and Brunei, three Muslim nations that have previously only sent men, are sending female athletes to the Olympics for the first time in London 2012.
The significance of this event cannot be underestimated. As recently as the 1996 Atlanta Olympics, 26 nations failed to include any female athletes in their delegations.
Saudi Arabia is sending two female athletes (judo and athletics), after some significant international lobbying from various women's sport and human rights organisations.
Brunei has one woman in athletics. Qatar has four women representing their nation in swimming, athletics, table tennis and shooting. Qatar's female shooter has been selected not only to compete at the London 2012 Olympics, but also for the honour of carrying her country's flag in the Opening Ceremony.

The International Olympic Committee has worked for many years to promote women in sport, both on and off the field of play. The goal of gender equality is enshrined in the Olympic Charter, the guiding document for all Olympic organisations, while defining strategies to dismantle gender barriers is the primary goal of the IOC's Women and Sport Commission.
Although this is a very promising development for female sport participation, there remains very little support - and often active discouragement - of female participation in sport in these nations. For women and girls in Saudi Arabia, although there are no written laws that prohibit women from participating in sports, women are not allowed into stadiums and they cannot hire or book space in sport facilities. Saudi women cannot register sports clubs, league competitions and other female-only tournaments with the government.
There is no physical education for girls in Saudi public schools, and no women-only hours at swimming pools. The expense of the few fitness centres that admit women prevent many from attending.
Most importantly for Olympic representation, women are banned from entering the Saudi all-male national trials, making it impossible to qualify for international competitions.
I hope that after this very public representation of these ground-breaking female athletes, further steps will be taken to develop and encourage sport and physical recreation for all women.