The report from the parliamentary inquiry into a pilot medically-supervised injecting centre in Victoria has been released, and it has failed to make a definitive statement recommending the establishment of a centre in North Richmond.
The Victorian government has said it hasn't changed its stance against an injecting room, despite the report finding drug use has reached crisis levels in North Richmond. Of the submissions to the inquiry, 46 of 49 supported a trial centre in North Richmond. The inquiry's lack of support for a centre could delay its establishment and cost more lives.
Drawing on many studies from Kings Cross and around the world, the report also explains why such centres play an important role in reducing further heroin overdose deaths and related harms in the community, and how they can support mental health, which is an issue for many people experiencing drug dependency.
A medically-supervised injecting centre is an important step towards more inclusive support for people in the community who want help or respite, and for reducing the social and economic costs associated with drugs in Victoria.
---
Read more: Why Australia needs drug consumption rooms
---
Lessons from Kings Cross
Evidence from Sydney shows there are benefits from helping people who inject drugs. Inside Sydney's medically supervised injecting centre, people who inject drugs are able to speak with registered nurses and counsellors. Staff provide clean equipment to reduce the risk of contracting blood-borne viruses. If drug users collapse due to an overdose, nurses and counsellors rush to resuscitate them. No-one has died in the Kings Cross Centre.
From its opening in 2001 to May 2015, Sydney's Uniting Medically Supervised Injecting Centre had successfully managed almost 6,000 opioid overdoses. Ambulance call outs to King's Cross reduced by 80%. And the number of publicly discarded needles and syringes almost halved.
The reductions in harms for individuals and the wider community, as well as the support of local police, business and health services, make the Uniting Centre a model for similar facilities across Australia.
Mental health assistance
The success in Kings Cross informed Victorian Coroner Jacqui Hawkins' inquest into the death of Ms A, a 34-year-old who overdosed from heroin in 2016. It also helped drive her recommendation for establishing a trial medically-supervised injecting centre in North Richmond.
The City of Yarra reports that 34 people died from an overdose in Richmond in 2016. Overdose deaths increased from three in 2011 to 59 in 2015.
Not only would a centre help prevent further overdose deaths in Richmond, it would also reduce public injection of heroin. Fewer people would be exposed to used needles and syringes. Financial and other pressures on emergency and local health services would also be reduced.
---
Read more: How to reduce opioid overdose deaths in Australia
---
A centre can also improved access to mental health services – help that can make a real difference to the lives of people experiencing issues with drug dependency.
Over half the people in a sample of clients at the Sydney centre reported a suicide attempt. Over 80% of regular clients were diagnosed as having a mental health problem. Only 24% of study participants said they were receiving mental health treatment.
A significant proportion of Australians experiencing drug dependency also experience depression, anxiety and similar mental health issues. Clients accessing the centre have reported high levels of unemployment, as well as unstable housing. Being jobless and homeless is associated with depression and anxiety.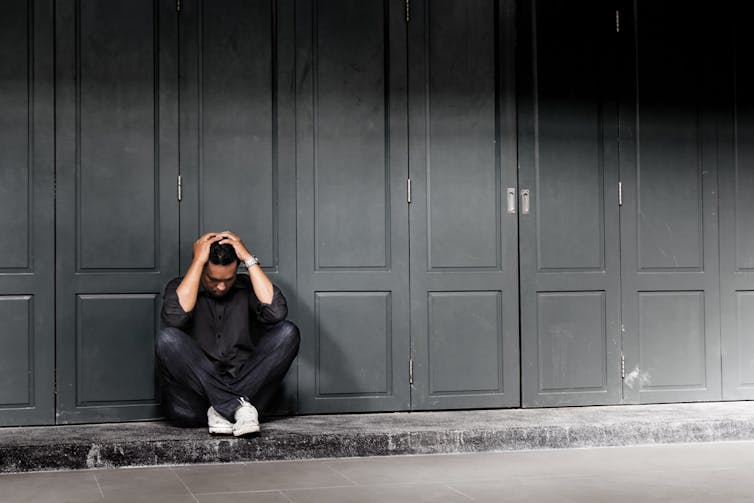 Many people who inject drugs have a history of traumatic events such as death, violence, sexual violence and natural disasters, including during childhood. Traumas increase the risk of mental health problems later in life.
Poor mental health does not automatically lead to drug dependency. But better management of mental health through referrals to specialists can reduce the risk of problems associated with drug dependency and help deal with daily life.
Helping with daily life
Over 11,500 of Kings Cross clients have been referred to drug treatment and mental health services since May 2015. For many clients, it was their first contact with health professionals.
Access to mental health services enables clients to start to deal with unwanted and intrusive memories, sleep difficulties, feeling detached from others, increased anger and similar symptoms.
Stress, anxiety and depression affect a person's ability to find work and enjoy study, time with friends and family life. Negative emotions trigger relapses of drug use, too.
Mental health referrals at the Sydney centre have helped to address stigma associated with trauma and drug use. Stigma can be a barrier to people accessing help for trauma and drug use - and may prevent many people from asking for help.
---
Read more: Why there's no legal barrier to a Melbourne drug injecting room, despite political setbacks
---
Specialists are best placed to help with post-traumatic stress. But a centre with a welcoming environment and supportive, non-judgemental staff is also crucial to reduce the social stigma often associated with trauma and drug use.
What else can be done?
Simply having an opportunity to talk or access help without feeling judged is a huge step towards better health in the long term for many people dealing with drug dependency. But more can be done.
Improving working relationships between injection centres and local mental health services could help more people access doctors, psychologists and other health professionals. Ongoing staff training on mental health and more on-site psychiatric clinics would improve opportunities for care.
Stepping back and looking at the living conditions of daily life in Australia is important, too. Affordable housing benefits many people and is important for health because it can reduce stress and improve overall wellbeing.
More initiatives like Tenancy Plus could help people experiencing drug dependency issues avoid homelessness. Tenancy Plus is a support program for people living in community or public housing who are experiencing difficulties, and can help them stay in their property.
Increasing the amount of safe and stable housing for people experiencing homelessness may have a similar positive impact on mental health.
The many people who died from preventable heroin overdoses were members of a Melbourne community - and their lives mattered. We can choose to be the kind of community that supports each other when people are struggling and need help.
Now we need to make sure that establishing a medically supervised injection centre in North Richmond remains a priority, and becomes an essential part of a more welcoming and inclusive Melbourne.
---
Geoff Munro, Policy Manager, the Alcohol and Drug Foundation co-authored this article.