An election in the Indian state of Bihar, has delivered a resounding and unambiguous verdict on prime minister Narendra Modi's leadership. And it's not a positive one.
The electorate in the eastern state has supported a grand alliance of political parties, which coalesced against the ruling National Democratic Alliance (BJP-NDA) – led by Modi's Bharatiya Janata party.
The alliance is led by chief minister Nitish Kumar, who has already served two terms as head of Bihar's state government. Made up of three parties – Kumar's Janata Dal (United), Laloo Prasad Yadav's Rashtriya Janata Dal, and the Indian Congress Party – it has now delivered a massive mandate for him to remain. Together, the coalition has secured 178 seats in the 243-member local assembly. Modi's BJP-NDA has just 58.
Local and national
Unusually, for what might otherwise have been no more than a regional political skirmish, this election has turned the lens on Modi's leadership, and on the political strategy that has been directed by his party president, Amit Shah.
Both Modi and Shah chose to occupy centre stage in the almost two-month-long Bihar campaign, eclipsing their local party leadership, who were sidelined.
Modi visited the state and addressed 31 separate election rallies. But this had the affect of raising his personal stake in the outcome, and turning a state election into a mini-referendum on his national leadership.
A bellwether state?
Bihar has always mattered in Indian politics. It is the country's third largest state, with more than 100 million people. As a Hindi-heartland state, it plays a pivotal role in holding the balance in India's national parliament, with 40 elected members representing the state in the lower house. Of these 40 seats, the BJP and its NDA allies returned 31 MPs from Bihar in the parliamentary elections in 2014, and were hoping to repeat this performance in the state elections. It was not to be.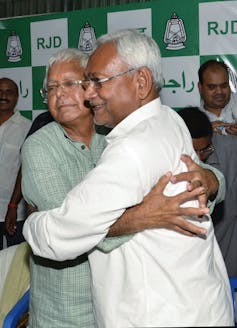 Bihar has also been a laggard in terms of development, consistently under-performing compared to both India's other states and its own potential. Nevertheless, Kumar has championed progressive politics over the past decade and presided over the beginnings of a transformation. Meanwhile, the BJP campaign was divisive, stoking issues that risk polarising Indian society along religious and communal lines.
Artists, writers and intellectuals have criticised what they see as a rising tide of intolerance in India. This has manifested in physical and verbal attacks on minority Muslims and in opposition to the activities of NGOs that have criticised the government, such as Greenpeace.
Those who speak out against such intolerance run the risk of verbal abuse or worse.
The rhetoric that was deployed in the Bihar campaign was increasingly strident, warning of celebrations in Pakistan if the BJP were defeated in Bihar, and playing up the politics of cow slaughter and beef consumption (targeting India's Muslim community, which makes up more than 16% of Bihar's population).
Bihari voters rejected this brand of politics, however, choosing instead the combination of social inclusion and Kumar-led development that the grand alliance seemed to represent. Yadav has championed the cause of the lower castes, Dalits and minorities, and the alliance offered a "secular" alternative to the NDA's more strident Hindu nationalism.
A message to Modi
The prime minister defied the odds by winning the 2014 parliamentary elections but he now looks politically vulnerable. The BJP lost another high-profile local election to the newly-formed Aam Aadmi Party in the Delhi elections earlier this year, showing that he is clearly not an invincible vote-winner.
Modi is still in power in Delhi but this election loss should serve as a warning. He needs to shift from a politics of confrontation and intolerance to building a more inclusive style of governance.
Modi can no longer stay silent while his acolytes and party supporters spread the politics of hate. For a media savvy leader, his failure to respond immediately and act decisively against the perpetrators speaks volumes.
It's also time to deliver on the promise of job creation and "better days". Before his election campaign, Modi pledged to provide a generous developmental package for Bihar. His commitment to "cooperative federalism" requires that he deliver on this package even when the state is ruled by his opponents. Modi needs to go beyond political rhetoric, and be prepared to build bridges with those who disagree with him – an isolated, and confrontational, attitude to state governments and to his opponents in the Centre is not likely to help him govern.
The message from Bihar is clear. As Modi faces more important state elections in 2016 and 2017, he should realise that the brand of politics that has been on display in the last few months will not resonate with the public. The question is: is he listening?