It has been widely reported that NHS accident and emergency departments are facing a crisis. Demand for A&E services appears to be soaring at the same time as austerity measures continue to bite.
This "crisis" comes from a mix of issues including high occupancy of hospital beds, constraints on government-funded social care, and primary care services – GPs – creaking under the pressure of increased demands. A good breakdown of the issues can be seen in this video from the King's Fund.
Five-year plan
Far from increasing the capacity of hospitals and A&E, successive governments have aimed for a much more integrated approach to healthcare to treat more people in their local communities and reduce the need for hospital admissions in the first place. The NHS' recent five-year plan made the case for increasing productivity alongside redirecting funding from hospitals into the community and GP surgeries, and into public health campaigns.
One clearly visible example of evolving services is the way paramedics are increasingly encouraged to treat people at the scene. The development of the senior paramedic role, or paramedic practitioners, means that they are now more highly skilled in complex clinical decision-making.
These roles are, however, subject to the burden of risk. The mantra to "treat and leave" creates daily dilemmas for paramedic staff in weighing up the risk of leaving someone at home with, for example, a serious heart condition or a fever.
Inappropriate visits and chronic conditions
But as tensions continue to rise, its clear that those using services also have a key role to play. People are urged not to attend A&E unless their condition is life threatening. There is strong evidence that parents of young children and young people in their late teens and twenties are the greatest source of inappropriate attendance at A&E and that A&E attendance, whether appropriate or inappropriate, is most marked in deprived communities.
One can have sympathy for parents playing it safe and taking their children to the high-tech sanctuary of an A&E department given the social pressures of parenthood. In areas of social and economic deprivation, individuals are more likely to be marginalised, suffer poor health and sustain injuries. More work is needed to understand the impact of deprivation on access to healthcare.
People with complex and long-term conditions present the greatest challenge for hospitals. Those who have long-term health conditions such as chronic heart disease, diabetes and lung disease mainly access urgent care when they have a genuine need. Keeping people with complex needs out of hospital reduces the burden on these acute services at the point of both entry and exit (and inbetween), where discharge arrangements can involve the time-consuming coordination of a range of different services.
Supporting people to manage their conditions and get appropriate and timely interventions when they are concerned about something is key to reducing their use of urgent care services. Such support covers a vast range of possibilities including patient education, support groups, collaborative formulation of a treatment plan, and a named professional to contact.
Telehealth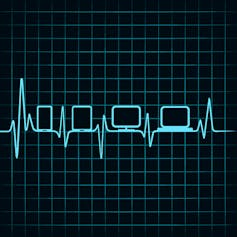 Technology that can monitor and convey information about a person's condition to a healthcare professional is increasingly being used in the field of telehealth (or telecare) and has the power to transform how patients interact with hospital services.
There is already a range of burgeoning products available including smartphones, with associated hardware, that can be programmed to monitor blood oxygen, blood pressure, and heart and respiratory rates, which is then sent to a central hub to analyse and monitor the data.
Support and reassurance are equally valuable if you're managing your own care – this is perhaps the crux of getting people to take up telehealth. Knowing that help is at hand by using fall detectors, seizure monitors and personal alarms can enable people to stay independent longer. Home-based "telemental" healthcare through telephone, emails, text messaging and internet-based video conferencing can address many mental health problems and offer timely and continuing support in people's homes.
Building relationships
Perhaps the most startling demonstration of the utility of technology in preventing hospital admission is an initiative by Airedale NHS Trust. Secure video links that connect residential and nursing homes with expert clinicians enable access to round-the-clock specialised medical care. These high-quality video links allow the staff in the homes to liaise with specialists and assist in diagnosis and subsequent interventions.
Residents who suffer falls or breathing problems can receive expert medical attention without leaving their home. The latest evaluation suggests a 35% reduction in emergency admissions and 53% drop in A&E attendance.
Adopting new technologies in complex systems is not for the faint-hearted – the time taken to bed in new practices for one thing. The NHS is notoriously bad at creating new systems, but there are signs that this is changing and in due course we might see a difference in how people with long-term conditions and age-related illness interact with NHS services.
---
To read more in our A&E crisis series: Graeme Currie on why we can't simply scapegoat hospital managers; Jonathan Shapiro on whether we all take a free NHS for granted; Ron Glatter on why nothing will be fixed until politicians lose their taste for permanent revolution; and Terry Young on how the NHS could use computer modelling to solve complex problems.