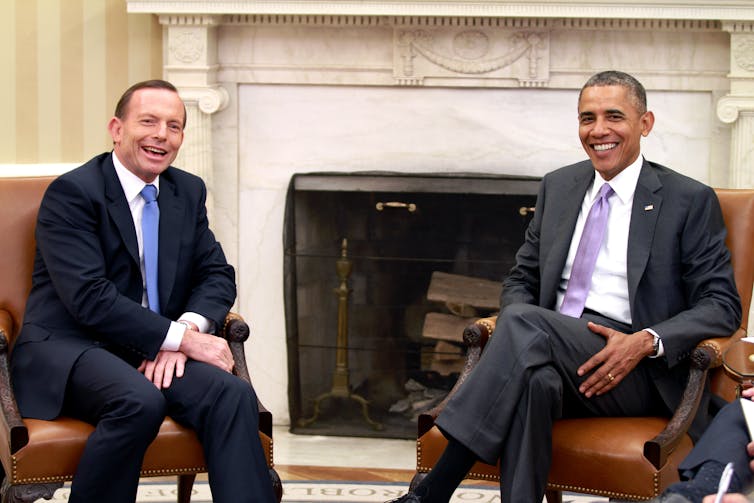 One insider with longtime experience of observing prime ministerial trips says of Tony Abbott's round-the-worlder: "He hasn't hit a six, nor has he been bowled."
The PM's bilateral meetings went well enough. Progress was made with Susilo Bambang Yudhoyono on repairing Australian-Indonesian relations. It was all bromance with Canada's conservative leader, Stephen Harper. And despite the unfortunate build-up, with hyper-speculation about their climate change differences, the Abbott-Obama encounter appeared positive.
At the same time, Abbott walks clunkily on the international stage, sometimes seeming to forget he's left home, and misjudging his rhetoric, which should be more diplomatic.
With Barack Obama, defence and security provided the glue, as it has so often with presidents and Australian prime ministers, regardless of political hue.
There was a formal agreement relating to the enhanced military co-operation – which sees US troops rotated through northern Australia – announced in Julia Gillard's time. It doesn't go further than what was envisaged then, but it provided something tangible out of the meeting.
The American administration is pleased at the Abbott government's commitment to raise defence spending after the leaner Labor years.
The US can't be everywhere, Obama says, and where possible its preference should be to "partner" other countries.
"That's part of where Australia is so important to us. There are a handful of countries in the world that we always know we can count on, not just because they share our values, but we know we can count on them because they've got real capacity. Australia is one of those countries.
"We share foundational values … And Aussies know how to fight, and I like having them in a foxhole if we're in trouble. So I can't think of a better partner."
With the rapidly deteriorating Iraq situation galvanising Washington, Abbott left open the possibility of Australia giving some (unspecified) help.
Fortunately, Obama is ruling out a boots-on-the-ground operation. The last thing an embattled government would want to try to sell to Australian voters would be a fresh deployment of ground troops to Iraq.
After all the speculation, climate was of course discussed. The President didn't mention it as he and Abbott faced the media, but his spokesman was explicit later.
"President Obama emphasised the need for ambitious domestic climate policies as the basis of a strong international response.
"The United States will continue working with Australia to advance climate change, clean energy and energy-efficient solutions including in the context of the G20," the spokesman said.
Pressed by a questioner, he added: "Certainly within the context of the G20 this would be something that the President believes would be important to discuss."
Abbott's handling of the climate issue on the trip showed both his tribalistic approach and his willingness to stretch the truth. He talked up the evils of carbon pricing, the dangers of clobbering the economy. But he was also anxious to claim he and Obama were on the same page, bridling at the proposition they'd agreed to disagree on the way to reduce emissions.
"Frankly we agree on so much. We agree that climate change is a serious issue, we agree that there needs to be strong action against it and what the US has done recently is actually very similar to what the Coalition is proposing to do."
Actually, not much of that is correct. Obama's attitude and policy are miles more robust (and he'd have preferred emissions trading if it had been politically feasible).
At the international level, Abbott is making his attempt to manage the climate issue harder than it need be, especially for the November G20 leaders' meeting in Brisbane.
His spokeswoman said on Friday climate wouldn't be on that agenda – the appropriate forum was a United Nations summit on the issue in New York in September (which Abbott isn't attending).
Abbott would do better to just accept that G20 leaders will want to put views and not get into a knot over it.
Former Treasury official Mike Callaghan, program director of the G20 Studies Centre at the Lowy Institute, says that while the G20 is not the forum for negotiations or decisions on climate, the November meeting gives an opportunity to broadly canvass the issue, in the lead-up to next year's UN climate change conference in Paris, which is aimed at reaching a binding global agreement.
Anyway, as the G20 agenda will include energy-efficiency questions, it's hard to see how climate change could be ignored. Abbott shouldn't let himself either be backed into a corner or appear dictatorial about what will or won't be discussed. Too much resistance is just going to bring him grief; besides, it is not the way Australia, as host nation, should behave.