The Old Vic has announced that it has received 20 "personal testimonies of alleged inappropriate behaviour" by Kevin Spacey during the years he was artistic director at the theatre, between 2004 and 2016. Given the number of high-profile cases from the entertainment world being investigated, from Harvey Weinstein in Hollywood to Michael Colgan at the Gate Theatre, it is worth querying whether there is something in the nature of the performing arts industry which creates conditions conducive to exploitation.
At present, the roll-call of the accused is an all-male list. This is not to suggest that there is something innate within men that leads them to bully, harass and assault. Rather, as Roberta Mangini argues elsewhere on The Conversation, there is a connection between structures of power and behaviour that works to intimidate, silence, and punish.
It should, however, be pointed out that power manifests itself in different ways. In the theatre and entertainment industry, men continue to occupy not only positions of power in greater numbers than women, but a greater number of jobs in general. Victims, however, are not gender-specific – and what seems to be at play is the treatment of certain people in the industry as commodities rather than equals.
My research focuses on collaborative and devised theatre making and – while some companies attempt to operate as collectives where everyone shares equal status – in practice most groups end up (formally or informally) reverting to a hierarchical structure, with the director and/or producer at the top of the hierarchy.
Though every process is different, actors often participate in the development of a piece of theatre in ways that can make them vulnerable. This can involve the sharing of personal stories and intimate details which may then be used to generate performance material. Development work often demands a high degree of close physical contact between performers, and sometimes involves nudity. The pressures of time and budget involved in mounting a production can also result in high emotions and large amounts of stress.
None of these things necessitate bullying or abuse – and many actors are happy to work within these conditions. But, combined with job insecurity, some actors may feel less able to protest when the circumstances of collaboration make them feel uncomfortable. Class, gender, sexuality, race, and disability add extra layers of vulnerability. In addition, actors may not always be fully in control of how the material they have contributed is used by those further up the hierarchy.
Baring all
One example of this is the research and development process of the canonical play Cloud Nine (1979), produced by Max Stafford-Clark's company Joint Stock. Stafford-Clark is another prominent theatre figure who has been accused of (and apologised for) inappropriate behaviour.
As part of the development of the script – by Britain's leading playwright Caryl Churchill – actors, who were cast in order to represent different experiences of sexuality, shared very intimate details of their own sexual experiences, along with other invited guests. As Stafford-Clark himself has stated: "a vow of confidentiality was made from the outset" of the process, although it appears that this was not set out in a written contract.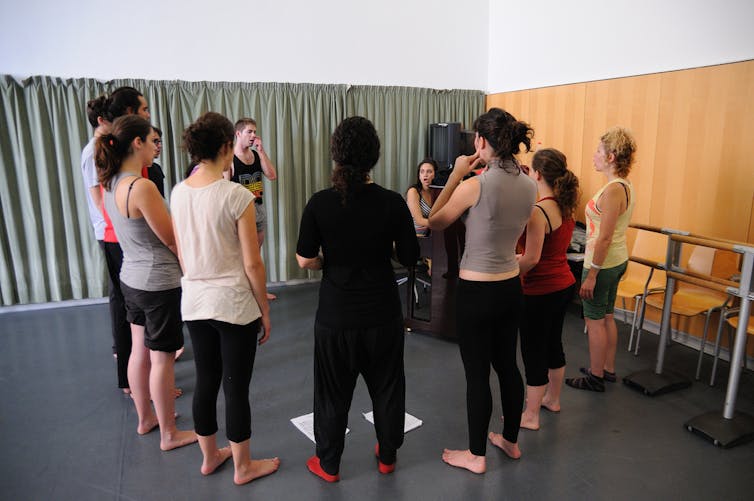 The problem is not with the play itself. Churchill's work was a groundbreaking challenge to hegemonic notions of sexuality and gender and the text does not directly employ any of the stories shared by the workshop participants.
But, in Stafford-Clark's 2007 (co-written) book Taking Stock, intimate details of the workshop process are revealed – including documentation of the sexual experiences revealed by actors and other participants. Stafford-Clark's journals, which detail the process and connect specific names with comments and information shared, were also deposited in the British Library.
There is no indication that anyone was harassed or abused during the research and development period and production of Cloud Nine. However, in including these intimate details in a book from which he profited, Stafford-Clark can be accused of exploiting his hierarchical position.
I contacted Stafford-Clark's agent via email to inquire about this episode and offer the director right of reply, but received no response by the time of publication.
Joint Stock was supposed to operate within the principles of collectivism – but original cast member Miriam Margolyes, who I interviewed for my PhD dissertation in 2011, told me it was a "spurious democracy". Stafford-Clark had the power to hire and fire, and all the actors knew this. The actors participated in the workshop in good faith that these details would not be made public – and while, according to Margolyes, he did remove specific references to names from the book after she protested about a proof copy, she described the publication as "absolutely disgraceful". The cast is listed at the beginning of the section – and anyone with a bit of industry knowledge might be able to guess the provenance of certain revelations.
Question of power
Exposing actors in this way is not the same as assault or rape – but this kind of behaviour arguably shares a connection with the sexual abuse perpetrated by Weinstein and others in the way it commodifies actors and others who wield less power in the hierarchy of theatre. There is an assumption, probably because some actors have public profiles, that performers hold positions of power – however, the oversupply of labour means that many worry that if they speak out against abuse (of all kinds) they will lose opportunities for work.
The majority of collaborative companies I have researched are not exploitative – but it is clear that measures need to be taken to protect actors and others from this possibility.
The Royal Court's No Grey Area which allowed participants to share accounts of abuse, and Theatre Deli's Devoted and Disgruntled Open Space event, focusing on preventing sexual abuse in the theatre industry, are important initiatives to allow people to share stories and discuss how exploitative behaviour can be stopped.
My own observations of development and rehearsal processes indicate that they work best when rules and guidelines are agreed to and adopted from the beginning, and posted for all to see. Companies should consider adopting rules specifically structured to avoid sexual abuse and exploitative actions, which apply to all collaborators. It would be even better to have these enshrined in a written, signed contract, with clear repercussions for breaches.
Finally, although it is difficult to dispense with hierarchical systems within the entertainment industry, we must work to make those in power feel less secure in their ability to exploit others, by actively supporting those who choose to speak out about abuse.