One says "phobia", the other says "lack of trust". Either way, the Australian government should be concerned with how Indonesia's presidential candidates see its southern neighbour.
The issue on Australia-Indonesia relations featured prominently on Sunday's presidential debate between Jakarta governor Joko Widodo and former general Prabowo Subianto. The topic arose when the governor, popularly known as Jokowi, asked Prabowo about his views on Indonesia's "hot and cold" relationship with Australia.
Pessimistic start in Oz-Indo relations
Australia and Indonesia's rocky relationship has recently improved. The Indonesian ambassador, recalled last year following the spying row, has returned to Canberra in May. However, the candidates' views raise concerns for the future.
Whoever wins the election on July 9, he will begin his term with a pessimistic outlook on Australia's approach to Indonesia. Australia may have a harder time maintaining or improving diplomatic ties than it has had with outgoing president Susilo Bambang Yudhoyono (SBY).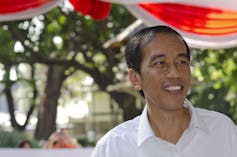 Jokowi's perspective seems less disquieting. He sees the relationship as coloured by a 'lack of trust'. To illustrate this, he used the phone tapping scandal and tensions over Australia's asylum seekers policy.
Jokowi is also concerned that Australia sees Indonesia as a 'weak country'. To address this, he says Indonesia should "show that we are a country with dignity, and not let other countries treat us as weaklings". He proposes concrete bilateral steps to improving the relationship, such as by expanding cultural and educational exchange programmes.
Prabowo's views are more perturbing. In the debate he claimed that Australia has "some sort of suspicion or phobia towards us". The use of the word 'phobia' suggests that he sees Australia as irrational in its approach to Indonesia. It could also mean he sees Australia as having a fear or aversion that is disproportionate to any actual threat.
Prabowo's views are predictably more hard-line than his opponent or the outgoing president. His presidential campaign has been characterised by economic nationalism and references to territorial integrity and national interests.
His promise to bolster Indonesia's armed forces suggest that Prabowo will put more emphasis on border security than SBY did. Responding to a question in the debate about asylum seekers, he said: 'We will not surrender one centimetre of territory'.
Prabowo's views on border security might clash with Tony Abbott's harder line on Australia's own borders. Should Prabowo come to power, it is possible that Australia encounter problems in their negotiations over asylum seekers.
The Australian Navy's breaches of Indonesian waters in December and January is sure to have coloured Prabowo's views on Australia's respect for Indonesia's sovereignty. In the debate he states he wants a good relationship with Australia. But, "the problem is Australia's, not ours" Prabowo says. This statement does not suggest that he will prioritise Indonesian efforts to improve the relationship.
Australia should gain Indonesia's trust
Even if Jokowi wins the election, the Australian government should be concerned about his perceptions of a "lack of trust". Of course, "trust" is a difficult concept in interstate relations. Realists do not expect states ever to trust each other. They believe that national interests should come first. They never rely on the promises of other states.
In reality, a certain degree of trust develops over time in particular diplomatic relationships. We would not expect one state to trust another unconditionally and trust may be misplaced at times. But ongoing, complex bilateral relationships inevitably involve some reliance on each other to act in particular ways – for example, to honour trade agreements or to respect each other's borders.
Australian diplomacy towards Indonesia does rely on a certain degree of trust in order for the economic and security relationship to be maintained, and (ideally) to grow.
Given Indonesia's rapid economic growth and its importance as a strategic partner in Asia Pacific affairs, addressing the trust deficit is crucial. Whether this deficit is perceived or "real" is immaterial; perceptions colour decision-making, and a lack of trust can lead to self-fulfilling prophecies.
There are always fluctuations in Australia-Indonesia relations, and of course it is up to both governments to work on the relationship. But the Australian government should be aware that – particularly if Prabowo wins the election – it may be dealing with an Indonesia that is less interested in trying to be 'good neighbours'.
We should at least try to overcome the perception that Australia is irrational or even phobic; otherwise we have little room to manoeuvre.