Welcome to our "In Conversation" with AFL chief executive Andrew Demetriou and Stuart Macintyre, Professor of History at Melbourne University (and a lifelong Hawthorn supporter).
The Australian Football League is cashed-up and confident after signing its record $1.23bn broadcast rights deal earlier this year.
But as the amount of money in the game increases, so do the number of questions about whether the indigenous game is losing touch with its community roots.
AFL chief executive officer Andrew Demetriou can be a divisive figure. Despite having played the game at the highest level for North Melbourne and Hawthorn, his critics claim he has become detached from what is important to the average football supporter.
Yet there can be no denying that under Demetriou's seven-year tenure, the AFL has grown by every possible metric: attendance, memberships, television ratings and junior participation.
Today's interview touches on a wide range of themes including:
How the AFL balances the need to run football as a business with its obligations to fans

Why the next TV rights deal could see fans buying games direct from the league using the NBN

The importance of women to the AFL

Socialist aspects of the AFL

The importance the league places on keeping players accessible to fans
We hope you enjoy.
Stuart Macintyre: I have a number of questions that range all over the place but I want to start with the way in which football is both a game and an industry. It is a game that provides the pleasure of holding a ball and marking it and kicking it, and it appeals to participants and followers.
And it's a business. Businesses rely on consumers and certainly you can have very strong brand loyalty, but football supporters don't behave in an economically rational fashion. Not only do they take out memberships but they shake tins and some of them even want to have their ashes distributed on the club grounds.
Are these two ingredients oil and water? Or are two different dimensions of football?
Andrew Demetriou: I don't think they are two different dimensions. If we go back historically, the game is really relevant to lots of people. When you think that the game is 153 years old this year, and our oldest club, Melbourne, one of the oldest football clubs in the world, started in 1858, then you begin understand how football has become part of the DNA of lots of families and a religion.
It is true that people's great-great-great grandparents followed a particular team and their great-great-great grandchildren are following the same team. I often say when people ask about the competition from other codes that you need to appreciate and understand that this is something that is deeply embedded in people's families and we should never underestimate the connection that families have with the game.
But what has occurred because of that is there is an incredible community connection with this game and it is no coincidence that we have 130,000 volunteers that underpin this game. That's a volunteer base that has built up over a long period of time. This deep connection with the community we should never underestimate. I genuinely believe that the connection with the community is the underpinning of the success of the game.
In many ways, and in a bizarre sort of way, I believe because we do put back into the community through our players, through our clubs, through what we do in taking on various social issues, in many ways, I think the community genuinely appreciates it and the way that they show their appreciation is actually by going to watch their team play and they feel a deep sense of belonging to their club, they sign up for membership, they buy a piece of merchandise.
In some ways it is like they are saying thank you and in return we're saying thank you to them. This connection with the game is a very emotional connection. To have 650,000 members is an incredible thing, that's 1 in every 37 Australians and when we we try and understand why that occurs, it is because people feel a deep sense of belonging to their club.
They actually feel a sense of equity and ownership in the club; it actually means something to them. They become very attached and their emotions are on a roller coaster – there's a win, a loss, injured player – and this is a really special thing that the game has got going. We have got this connection, this attachment and it is pretty hard to break that.
On the other side of the ledger, the game has become an industry and a business. And what that has allowed us to do is keep football affordable. We have been able to maintain affordability because basically, the business part of our game underwrites the affordability. Admission prices of $20. Children $2.50 under 15 years of age. There's not many 15 years old I know who are children. If two adults go with two children, the children get in free.
An Auskick pack is $50. I take my children to swimming lessons and it is $90 for a lesson. The affordability, which is very important to people, is something which the business part of our industry allows us to do. It allows us the luxury of keeping the game affordable.
The other thing is that investment in infrastructure - which was a business decision, it was a decision of the independent AFL Commission to ground rationalise – took football out of the suburbs. And the reason that was so controversial is because of people's connection to their club and this emotional idea that "I'm Collingwood, I'm Essendon" is because the game evolved from suburbs.
That decision has proven in hindsight to be a significant decision. What that has allowed is about $3bn worth of infrastructure to be built: a stadium with a roof, the MCG re-development twice, the Great Southern Stand, the Northern Stand, the Members. Grounds all over Australia. We play in probably the second best stadia in the world after the NFL.
What that has provided is wonderful amenities and facilities for our supporters. It is why 48% of the people who go to our games are women. The highest number of women who attend any football code. It is why we have so many kids. It is why we have such a diversity in the crowd, people from cross-sections of the community, different ethnic backgrounds, sitting next to each other in relative safety, comfort, with good public transport links, good amenities, good lavatories, good food choice.
This infrastructure investment caters for the community. It is almost a paradox that the business part is making sure we never lose sight of our connection with the community. If people criticise the business part, and some people do, they say "Oh, it has become a big business", I reply, "Of course it has!"
The business part allows us to maintain what is really special about the game. That we maintain this wonderful meeting place called a football ground. [A place] the community can come to in relative safety. We have about four incidents a year which is amazing given 7.5 million people a year go and you are equal when you sit on the other side of the fence.
What you watching on the ground, you're seeing a diverse, inclusive group of people as well. That has been a very special thing to observe.
How the game became a business
Macintyre: One of the points I'd make as a historian is that football has always been commercial from as soon as people were able to enclose grounds and charge for admission. We often overlook the fact that it became a commercial undertaking here in Melbourne very early — in the middle of the nineteenth century.
It was created in a very prosperous society that had disposable income, disposable time, as well as space and transport facilities. It has also constantly changed. In the Melbourne University Archives there are some records from Carlton in the 1940s. These include a wage book, which takes the form of an exercise book.
And that exercise book has player's payments on a weekly basis, from the players down to captain and coach. You're talking about a relatively small amount of money. The club probably had no more than one or two permanent officials. The rest were honoraries. You could see how the club was viable: it was an important activity and crowds were large.
It often seems from the present perspective that change is speeding up. If you were to graph your revenue it would show a very steep upward slope over the last 20 years. That revenue is coming from more diverse sources. It is no longer just admission and membership revenue, but other streams among which media income is crucial.
A couple of questions from that. There's the question of media income and live attendances and fixturing. And looking ahead, what are likely to be the changes to the income mix and what are the implications of that?
Demetriou: I'll answer the first part of the question first. You talked about the 40s and the 50s and players were being paid very poorly. By the mid 1980s, the VFL was broke. And the most significant decision, in my view, that was taken in the history of the game was when the 12 Victorian [club] presidents sat around a table and voted themselves out of existence.
This is an incredible decision. The 12 shareholders in a company called the VFL - they're broke because they have transfer fees and are paying far too much for players to go from one club to another. And they decide to invest their complete decision making, their whole future, in a completely independent board. Incredibly courageous decision and history shows that the man who carried the vote that day was [John Elliott](http://en.wikipedia.org/wiki/John_Elliott_(businessman) who persuaded the people around the table. This is in the days when he was at the height of his powers.
That decision was the catalyst for incredible vision: the salary cap, the draft, and equalisation. Socialistic, complete unashamed socialistic equalisation and distribution policies. Ground rationalisation. A national competition. Big, big change.
A lot of this was driven by great visionaries like Alan Aylett, Jack Hamilton, Ross Oakley and the commissioners who were giving their time for free really, or for their honorarium were people like Graeme Samuel who didn't know the inside of a football stadium. There were people like Peter Nixon and Peter Scanlon and Dick Seddon, these people we should look back on a give enormous credit to.
The Commission since then has played a significant role. Still completely independent, no vested interests and they have created a vision for the game. Every decision is taken by the Commission. Whether it is a rule change or a policy change or whatever. It was the Commission that said "If we are going to be a sustainable force into the future, we are going to need to make changes." Start a national competition, bring in new teams, have the ground rationalisation.
[They also said] We need a salary cap and a draft. And what we're going to do from now on guys is make the competition equal. We will centralise revenues and distribute them. That was the initial commercialisation of the game.
In 1987 when Channel 7 wanted to keep low-balling the VFL/AFL on broadcasting rights, they said "No, we'd rather not sell it to you". They sold them to Broadcom for a year and then a year later Channel 7 came back and paid significantly more. Hard decisions.
That also created the model for the competition where new revenue streams were created. We have significant change even into the 2000s. The art of membership became very sophisticated. There's automated renewals, periodic payments, different packages. The issue of venues has become a very significant part of that.
The home team keeps the gate. Reserved seating, yield managements, food and beverage, catering, corporate dining. Events became a commercial property: Grand Final week, the Brownlow medal etc.
Merchandise got very sophisticated, as did licensing. Sponsorship became very sophisticated. Once upon a time you wanted to be a sponsor because you loved footy and you were sort of a football groupie. No, it is now very sophisticated.
We have Toyota. Toyota want to sell more cars. But they want to engage with us and we share good brand values.
The broadcasting became very sophisticated because it represents 60% or 70% of our revenue. I often say to people that when I started as CEO in 2003, we had half a strategic planner. Today I have five. Five people working on our business, whether it is yield management or stadium returns or broadcast rights.
We are already planning for our next broadcast rights in five years and we've only just finished the last one. That is how sophisticated it has become. Where are the next revenue streams coming from and what is the next big ticket item?
We have just set up our own media company. We've set up our own production company. We've got our own publishing arm and that is all about preparation for the next broadcast rights because we may decide with the advent of the NBN to sell direct to the consumer. We might control our content more. We might work across various platforms.
We are trying to control as much as we can control and not deal with as many third parties. That is where I see upside in the revenue.
It is very difficult for clubs to generate more revenue. The clubs have got a finite capacity. They will have incremental increases in memberships, in sponsorships, in the gate.
So they look for non-football revenue like gaming which we really don't want to be involved in but that is non-football revenue stream. There are not many new revenue streams for clubs, so they'll continue with that unless you're a Collingwood in which case you're a juggernaut.
It is incumbent on the AFL to generate the big ticket revenue items so we can continue to distribute it.
Some more equal than others?
Macintyre: You've certainly reassured me about the media preparation because for other competitions that is an Achilles heel. You've also touched on another feature I'm very interested in hearing you talk a little bit more about and that is the socialist nature of the AFL
This is an unusual competition. If anybody comes from overseas, you have to spend ten minutes talking about why it is that you have 18 clubs and a draft and a salary cap and greater equality than other sporting competitions. The other side of that arrangement is that that very feature that sustains the evennness of the competion leads to a danger that clubs become very homogenous.
The attachments that were very powerful in the past have gone. We are very lucky in Melbourne to keep our clubs, but I lived in Western Australia for a couple of years and old East Fremantle supporters feel the loss of their identity. In South Australia there has been some difficulty with people attached to the old SANFL clubs becoming attached to the new clubs.
Then you have the two new clubs in NSW and Queensland which raise the question again. Is that a concern? Do you think the clubs retain their identity and their character? Do you think the new clubs can build these?
Demetriou: I do. I probably should deal with these separately. The two new clubs are a different build. There is no doubt the Victorian clubs have maintained their connection. It is deeply embedded. It's fantastic, what has happened at Geelong. The Victorian clubs have realised that in order to compete, they have to broaden their supporter base. Hawthorn have done an extraordinary job acquiring 7.5 thousand members in Tasmania. Tasmania loves its football, craves it.
They have not just got members, they have got supporters there now. It is fantastic. Carlton has a very large supporter base in WA which dates back to the days of The Winners. People still have an attachment.
But it is true that the West Coast Eagles, the first team in, have got an advantage over the second team. West Coast galvanised the western Australian population. But Fremantle is different from Port Adelaide because Fremantle had its own Fremantle population that has always had that connection.
Macintyre: They had two very strong [WAFL] clubs …
Demetriou: They had those two very strong clubs [East Fremantle and South Fremantle]. In Adelaide when they were set up, they were the team for all South Australians and Port were this team that everyone hates, like Collingwood. They still hate them. So Port have struggled to increase their supporter base from 25 per cent of the South Australian market. And they will struggle for a generation because people love the Crows.
But they have something a bit different which you touched on. They have a connection with their SANFL clubs still. SANFL is our strongest state league competition. People still go and watch Central Districts and Norwood. They have much more of a connection than we [Victorians] have with the VFL.
In NSW and Queensland it is a different issue. The Sydney Swans are the most successful club in Sydney. They turnover the highest amount, they have excellent values, they're an excellent club, excellent culture. They have done extraordinary well. They get the best crowds, they have the best turnover …
Macintyre: It was a shaky start.
Demetriou: … it was a shaky start but they have been incredible. And the Brisbane Lions, not too dissimilar from where they [Sydney Swans] were, the Brisbane Bears, become the Brisbane Lions and win three premierships and become the most successful club in Queensland. They are really the forerunner for us to have a new team in Queensland.
We have 87 Queenslanders on [AFL club playing] lists now. That's is just incredible. Fantastic. Then we come along and think we want to introduce two new clubs. The Gold Coast for us is one of the fastest growing demographics and population, that was in many ways the most logical extension for our next club because there are a lot of people who understand our game there.
There's a lot of expats, ex-Victorians, people who know AFL football. And there's they have done a remarkable job building from the base up a connection with the community. An incredible connection for something so quick. It has been a three year plan executed beautifully.
The team in Greater Western Sydney (GWS) is one of our greatest challenges because unlike any other club we've ever built. We are going into a population of 2.5m people, who speak 200 languages, the most diverse part of Australia you could ever imagine, a very commercial part of Australia.
But AFL doesn't roll off the tips of their tongues. So they have to win the hearts and minds of children, mothers, fathers, parents. Everyone tells us this is doomed to failure. What we like about [Western Sydney] is that it is one of the most diverse if not the most diverse part of Australia. And for us, it is almost like going back in history.
It ticks all of our boxes. We want a diverse community, we want an inclusive community, we want a community that is very proud. It has got a 180,000 indigenous population. We actually think it is our bread and butter, this is what we do with our code.
While we know we need to win the hearts and minds of all these people, we have taken a 20 – 30 year perspective. Everything we have ever done with football for 150 odd years is here. We want to be inclusive and we actually want a diverse population. We are unashamedly egalitarian. We want the diversity and the multiculturalism and the indigenous.
They have got Muslim teams playing AFL football, men and women. We're excited about this challenge. They will be most unique club in my view we have ever had. And they will have a different sort of connection becase they don't have a historical connection. We have got to a find a new connection with these people.
It is not easy. It involves a lot of time and a lot of resources and a lot of investment. But we have taken a 20 or 30 year horizon.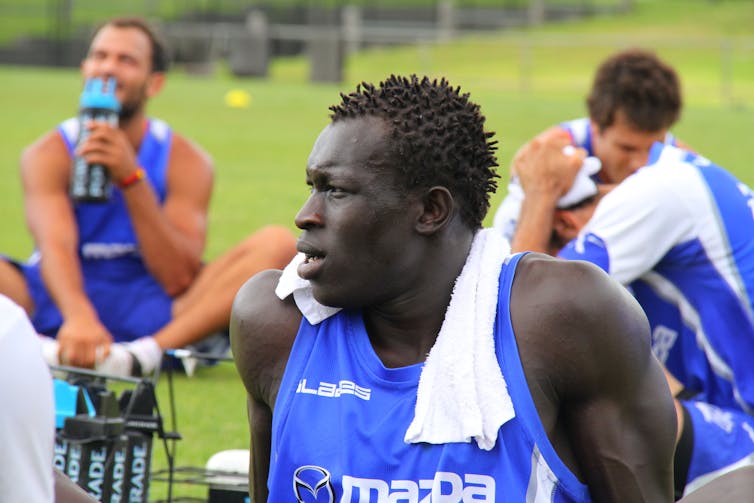 Jobs for the boys
Macintyre: I want to come back to the salary cap now. Clearly football is in competition with other sports for talent and loyalties. It is already possible for someone who has got talent at golf to make millions and in tennis you can do very well.
The AFL has always competed with these alternatives. Yet there has always been that question for some kids: whether they play cricket or football, especially now you can no longer do both.
Do you think about that because it is an Australian game with very limited international activity, that is a point of vulnerability? Does the game offer enough, not just monetary rewards but in terms of satisfaction, to persuade kids to choose football.
Demetriou: We certainly do. To give you some real some real examples, next year when GWS come in, we have 850 jobs to fill, for players. 850. That's the largest of any sport in this country. We've seen over expansion, three or four times, the inevitable questions are from the other clubs: is this going to affect my dividend? Is it going to affect the talent pool? The talent pool is thin.
But what we have seen every time we've expanded is that the talent pool has grown and distribution has grown. Revenues have grown.
For us to fill 850 jobs, we know we're going to produce talent from our traditional pathways, under 18s, under 16s, local football, state football, that is going to happen.
But we have seen in the last three or four years significant diversity in where we get talent. We get a lot of cricketers, we get basketballers, we have got two rugby league players in Karmichael Hunt and Israel Folau and now we are seeing more rugby league players wanting to play.
That has lead to more Oceanic players wanting to play. We've got international players. We've got eight Irish lads playing, we have got Africans playing, Somalis, Sudanese, Papua New Guinea, we've got a Brazilian in Harry O'Brien.
We have also introduced rules to grow the talent pool. For instance, mature age rookies, 27 year olds like James Podsiadly who would have had an opportunity before, wouldn't have been drafted under our old rules.
What we have actually done is create a talent pool which is not just the traditional football talent pathways but a wide range of areas. We'll take them from anywhere and we'll develop them.
It has been really wonderful to observe that we've grown this talent pool. On top of all that we actually want to advertise and promote why it is good to play AFL football. I have been visiting all our clubs lately and I've been saying to them that there's a challenge out there for talent.
We want the best athletes to choose our talent pathways. So we've set up academies in NSW and Queensland for kids, 11 and 12 years old, and hopefully if they develop and they get coached by Paul Roos and others they choose the Swans.
But more importantly, we promote, come and play AFL football. In your first year, you'll get $100,000. On average you'll earn $260,000, you'll be inducted into the best club environments you could ever imagine, the best training and admin facilities, the best doctors, the best sports science, the best coaches, the best administrators.
You'll come into a players association that looks after you with a retirement fund and other benefits. You'll be educated from the day you walk in the door until the day you leave about racial vilification, illicit drugs, responsible alcohol, respect and responsibility with women, media. You'll be an infinitely more rounded person when you leave.
This is a good story. We promote that. We're advertising that. Come and play our code!
That's what we offer. We can't offer internationals, that's not us, but what we are is this code that develops you as people beside your sporting prowess. And touch wood, so far it seems to be working.
MacIntyre: Is there any particular code that you think of as a particular rival?
Demetriou: We don't see them as rivals. I'm a genuine believer that the more competition, the better for our code. When the Melbourne Storm came to Melbourne, that was a a remindeder to the AFL to lift. For clubs to compete. When the Melbourne Heart and the Melbourne Victory joined the soccer, another opportunity to compete and lift and work out what we're going to do better next time. When the Melbourne Rebels came into the market, great, another opportunity to compete. More internationals being played, we've got 20/20 coming in, all that does for our team is galvanise them to perform better.
If we didn't have the competition, it is very easy to become complacent.
Macintyre: You could argue that League is under some threat isn't it? In terms of keeping talent?
Demetriou: I don't know if that is right. We chose those two players, one because they were obviously very talented. Karmichael Hunt is a very special athlete because nobody has ever done what he's done: play at the highest level in rugby league, internationals All- Australian, Broncos, and then play rugby union at the highest level and play for us. Nobody is ever going to do that again.
Israel Folau is just one out of the box. He's 21 years old and he jumps and he's just such an athlete. But more importantly they are both very special young men. They have good values, excellent people. We aren't out there hunting down rugby league players. Those two were chosen for particular reasons
Macintyre: It wasn't so much that the AFL recruited those two particular players. It is more that if you were sitting up in Sydney, you'd say League is under some pressure. Once Union went professional, it was able to take their players, and when you read the press coverage up there, they feel themselves to be losing players.
Demetriou: I have enormous respect for rugby league because it is not too dissimilar to us because of the history and the connections. They are a hundred plus years old. I have a great respect for them. I think their athletes are superb. What they put out on the park and the game itself is just great.
They have their own issues. But we don't underestimate rugby league. They are in a good space for where their game has a place in this society. It is a challenge for rugby union, they took players early on, but a lot of them go back. What rugby league has got over rugby union in my view is its history over that period of time. It is a great advantage that we enjoy as well.
Macintyre: It is the most analogous [sport] to Australian Rules.
If you think about the way in which the game has evolved, there have always been coaches who develop new styles, but if you think about the way under rule changes it has become a very fast game. Is there a danger that kids who are not tall and fast are going to have difficulty keeping a place in the game?
Demetriou: No. The great thing about the game is that it attracts players of all shapes and sizes from any denomination, background, any social background, any economic background, any ethnicity. It does that and it does it in spades.
Five years ago people were saying, there's a new rule, it's the end of the rover and Jarryd Blair pops up for Collingwood who is five foot six. Another rule comes along and we hear "Ruckman are dead, they're dinosaurs" and then Zac Smith comes in for the Gold Coast and Matthew Kreuzer for Carlton.
The wonderful thing about the game is its appeal [to everyone]. You can be tall, thick, it doesn't matter. And what an unbelievable thing to be witnessing Irish lads playing the game and developing. Israel Folau had never played and now is kicking four goals a week now and our indigenous players, what they bring to the game.
Because of the way the game evolves, which I think it does in a natural way, there's a place for everyone and anyone and it doesn't matter what size they are. I don't think we'll get away with anyone who is overweight anymore, but you can get away with being a thick-set player. You can be a tall and you can be a short.
Macintyre: But it is striking how on-ballers are quite tall now.
Demetriou: They are incredible athletes. What has changed is that there's the sports science part of our game that has these guys so finely tuned to the minute as athletes. I have got no idea what sort of athletes they'll be in ten or twenty years.
You have to think they are at the absolute peak. People say the game isn't touch anymore and I scoff because, if you sit on the fence and you hear it [the collisions].
I played and I wouldn't play today I'm so frightened of the impact, the high impact, the way these guys are tuned. They play the most physically demanding football code in the world. 120 minutes, jumping, running, 13 kilometres, some of them 20 kilometres, bumping, tackling, there's no code that does that for that length of time.
I think rugby league is an incredibly tough game but it is a game that is played over 80 minutes. Soccer is 90 minutes and even rugby union is 80 minutes. In the NFL they go off where the defence goes off for oxygen and the offence comes on.
Macintyre: I agree with that. I was noticing when I watched the Union Test last weekend that of the All Blacks about three are Pakeha and the rest are Maori or Islanders. There're worries in New Zealand about their junior competitions, about different rates of growth and so on.
Is there any danger that non-indigenous players will be disadvantaged in Australia?
Demetriou: I wouldn't think so. We have got such an eclectic and diverse mix of people. You just have to go down the lists now and see as I said before, Brazilians, Greek Italians, Croatians, the whole mix. It is about the best multicultural pot you could ever hope for with 84 indigenous players which we are so proud of.
That is 11 per cent [of all players] and we're targeting having 100 players in the next three to five years.
Macintyre: Indigenous players clearly have talents that have only been tapped in the last generation though.
Demetriou: When we did the Indigenous Team of the Century, to see the players that were in that, it was more than a generation. But what has happened is that as a code, we have become much better at understanding how to work with indigenous players and how to understand their cultures, how to treat them better and develop them better.
And not just to harness their football prowess but to develop them as people. We see Cyril Rioli now, he spent a couple of years at Scotch College before he started playing. He is a beautiful player.
Macintyre: He is a wonderful player. But he was homesick when he first came down.
Demetriou: He was but he's got an incredible gene pool. He's like watching Sir Tristram crossed with Leilani.
Macintyre: I saw his uncle [Maurice Rioli] in his first season with East Fremantle when I was living in WA.
Demetriou: When you watch Cyril you see a lot of Maurice.
Macintyre: Only faster. But it is the case in Rugby, and this goes back to the question about body types, that there are some ethnic groups who produce larger players who are far more prominent.
Demetriou: They do. But they have different styles. In rugby they have the front rowers who are doing particular things. We have got talls who have to be athletic and fit now. As I said, I'm very proud of our diversity. It's even more bizarre that there's a Greek Cypriot running an indigenous Australian game to be quite frank.
Macintyre: Why did you turn to football rather than soccer then?
Demetriou: I grew up in Coburg and in those days and Coburg in the mid 60s, with my three older brothers, our whole life growing up in the back of the fish and chip shop, which was two bedrooms behind the fish and chip shop, was playing footy in the back carpark and cricket in summer. Footy in winter and cricket in summer.
We had a very diverse mix of kids in the area; Australian and Greek and Italian. We used to meet at the carpark and play these sports. Soccer wasn't on our agenda.
Macintyre: Was soccer on offer to you?
Demetriou: Yes, it was because we used to play it at school. We used to play sometimes and I actually played for a year, played soccer instead of football, and played football for Pascoe Vale on the weekends.
But football actually brought us all together. We couldn't wait to get down there and some days we'd even pull out the plastic football.
Macintyre: They were a bit sore on the toe.
Demetriou: They were!
Macintyre: You mentioned before about the participation of women being a pronounced feature of Australian Rules football and it has been for some time. Clearly in family decisions about what code kids are going to play, mothers are playing an increasingly important role.
Demetriou: Absolutely. We are very conscious of that and that is why we have introduced Auskick which I think has been one of our greatest achievements. Auskick came in during the 90s – I wasn't responsible but the person that was is a great visionary – was all about getting five to nine year olds together on a Saturday morning with volunteers and dragging one or two parents along.
Then you have a meeting place for physical activity. What a fantastic thing. Even in the wet, or a cold winter, you get them out of the house and you get them out and about. It sort of coincided with PE being reduced in schools which is something I think children crave. Which was terrible, terrible.
Here's a physical activity where parents and volunteers are getting together and they're doing falling over and meeting other kids and getting dirty. We've had over a million kids go through that. We've got 190,000 Auskickers now. Since the 90s we've had thousands and thousands of children go through who've all gone on to become players or volunteers or boundary umpires or viewers or attendees. They've kept their connection with the game. Some haven't but I can tell you we've got a significant numbers who we track who have stayed connected with the game.
And that was all about getting women involved in the game because often mothers go to Auskick. I talked about ground rationalisation and the investment in infrastructure, absolutely to target women, because of the amenities and the safety and the facilities of public transport, families, the affordability is about women and families.
Changing rules is about trying to persuade women to get their children to play. We've had to have trial by video to rid the game of melees and all the violence. We want a game that people won't say is rough or dirty.
Even the behavioural rules we've brought in, our codes of conduct, respect and responsibility, that is all about saying this is a game that's inclusive, we want you to be welcome.
I'm not surprised by the numbers of women who come to our game.
Macintyre: Presumably you do tracking and surveys, and soccer would appear to be the game that is going to be least risky to kids. Is there a comparison in attitudes to kids playing soccer to Aussie Rules?
Demetriou: Soccer is a very easy game to play and it appeals to a lot of boys and girls and that is why they have a very high participation rate. We have the highest participation rate in the country particularly out of the traditional states, not NSW and Queensland.
We have a pathway for the children once they start playing. What happens with soccer is they have a very high intake at junior levels. But if they want to go to a club, that infrastructure that's there, its not as mature as ours is in this country.
We have more football grounds for example. We have more clubs, we have more football in schools, particularly in the traditional states. We have more continuity that goes through and soccer stalls for a bit and unless you're very talented, then the very talented soccer players often go off and play abroad to seek their opportunities.
There are not as many role models within the country. We still have kids aspiring to be the next Chris Judd. They see them and feel them and touch them.
Macintyre: Part of it that accessibility of players. It easy to romanticise the past. But I grew up in Hawthorn where only two kids in my year at state school weren't wearing Hawthorn jumpers. We could go to Glenferrie and see training, they'd let you into the ground. And players lived locally.
One of the great problems, it seems to me, is that as sport becomes increasingly a business and a spectacle — I always think about the Premier League in England — you've got players being paid absurd amounts of money who live a life completely remote – like rock stars – from the people who are supporting the clubs.
The AFL puts a lot of emphasis on attitudes and putting back into the community, but do you think there is an issue there. Are these people still like us or are they different from us?
Demetriou: I honestly believe, and I hope, that they are still like us because we have put a hell of a lot of time into that. I distinctly remember in 2000 when I started at the AFL, Ben Buckley and I, Ben who now runs soccer, and a couple of CEOs, Greg Swann was one of them and Mark Brayshaw who was at Richmond, we went on a trip to New York to a sports conference.
And one of the topics we saw was how sports in the United States, the athletes were becoming further and further apart from the fans, the accessibility, they couldn't get access and the gap was growing wider.
That was something that resonated around the whole conference. A lot of people were nodding and we started to think [about that]. Then there was a presentation about the sorts of things they had done to try and address things. One of the things they did was introduce something called community camps. So we brought back the concept of community camps. They also talked about concept of having themed rounds. They also talked about things like players working in the community and having appearances as part of their collective bargaining agreement, so we brought back that concept.
We borrowed those ideas. So from 2001 onwards, we've had a community camp every year where every club goes to all areas of Australia for three or four days, and administrators and coaches and work with the community. They train there but they do functions at night, they visit hospitals, they deal with children.
This has been one of our best things we've ever done. We've got a wait list from communities who want their next community camp.
The other thing is we introduced regional challenges. In the NAB Cup we go out and we go out to play at Narrandra in front of 12,000 people where it has a population of only 6000.
We have taken the game out into the communities. The themed have been a great success for us. Multicultural round, indigenous round, Dreamtime at the G …
Macintyre: If only Hawthorn wouldn't wear those Kokoda jumpers.
Demetriou: The players to their great credit spend 13.5 thousand hours in the community between them. They must do a half a day appearance every fortnight. They are out there. You wouldn't read about it because it isn't even sexy to be honest.
But players are visiting schools, they're visiting hospitals, the players' response to things like the bushfires and the floods. Extraordinary. To raise $1.5m for the bushfires when they're out there rattling cans outside the NAB Cup game that we put on. We got Richmond and Essendon to commit to going to Mildura on 24 hours notice when six teenagers were killed.
The things that they do in the community are fantastic. They understand, in my view, they fully understand their obligations to the community and they fully appreciate what the community does for them and yes people might not be able to go to training anymore because people have closed training sessions and everything like that but the players are incredibly accessible.
You'd be surprised at some of the stuff they do, there's things they don't want people to know about. It is really special. They are doing things with children from various backgrounds but they don't want people to know. When the bushfires happened, clubs did things but they didn't want any publicity, they didn't want people to know they'd been there.
I think we are a long way away from our players having a reality change. They understand their place.
Macintyre: We don't have too many Wayne Rooneys.
Demetriou: We don't, touch wood. There's going to be players who make a mistake and transgress because they are young people and they made a silly decision. But I'm really proud of our players.
Macintyre: Just one last one. What's your chief worry?
Demetriou: Will my children sleep tonight?
Macintyre: No worries about the AFL? Let's say you retired and ten years later, what would you be most concerned about?
Demetriou: In ten years, what I would hope is that the foundations and the legacy that a lot of good people put hard work into have been maintained. We have a future fund of $82m. In ten years time, we'll be four years away from acquiring this stadium, the land, the footprint, the management rights. We'll be debt free.
The code should be in a very strong position to allow future generations to prosper from the game. That is what we want. In my role, and my predecessors, all we think about is legacy.