After-hours home medical services are a burden on our health budget and don't ease the strain on emergency departments after all, new research shows.
The roll out of after-hours GP-type home visits is linked with as much as a ten-fold increase in Medicare claims in one jurisdiction. And rather than reducing the need to visit the emergency department, their rise in popularity has been accompanied by a slight increase in visits.
Our findings, published today in the Australian Family Physician journal, question whether these convenient house calls are really the best use of taxpayers' money.
What are after-hours home medical services?
The way people access GP-type services after their regular doctor's surgery has closed for the day, or at weekends, has changed considerably in recent years.
In the past, if you called your GP after hours, you might hear a recorded message with the phone number of an after-hours medical service to attend. Alternatively, the message would recommend you go to the local emergency department.
But over the past five years, there has been a proliferation of after-hours medical services that come to you. These services advertise 100% bulk-billed consultations by GPs and other doctors in the home.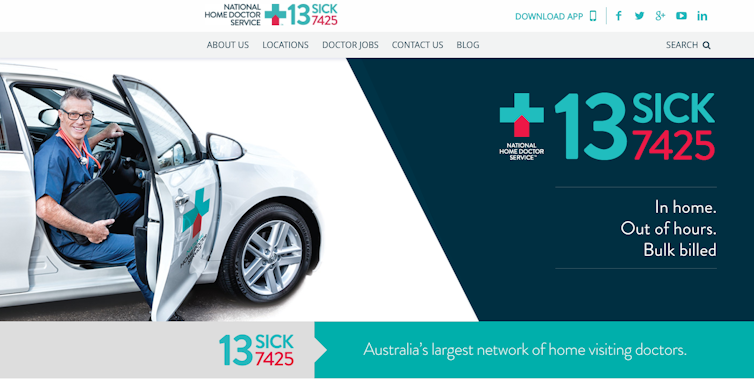 A blow-out in Medicare claims
Doctors can claim one of several Medicare items to reimburse them for providing care after hours. The precise item number depends on whether the service they provide is urgent, where they provide that service and the length of the consultation.
There's been a rapid growth in claims reported for all after-hours Medicare items. And since 2014, claims for these items increased five times faster than the rate of standard GP consultations.
Attention has focused on Medicare item 597, the key item number for such, "urgent" after-hours consultations.
We reviewed the Medicare statistics website from 2010/11, when these after-hours services started to be launched. In the period since then until 2015/16 the number of claims for item 597 increased by 170%.
This growth has naturally affected Medicare expenditure. In the five years before 2010/11, annual expenditure on item 597 increased from A$55 million to A$72 million, a 29% increase. But in the next five years, expenditure increased to A$197 million, a 136% increase.
What's driving this increase?
So what's driving this increase, not only in the number of Medicare claims, but how much they cost the taxpayer?
We examined whether there was any truth in media reports suggesting the emergence of after-hours home medical services was largely responsible.
We identified key dates when the services were set up or expanded in Western Australia (WA), Tasmania, Australian Capital Territory (ACT) and Northern Territory (NT). Then we tracked changes in quarterly Medicare rebates against item 597 in each jurisdiction.
All jurisdictions had rapid and substantial increases in claims for item 597 after services in their area were set up or expanded.
To illustrate this, we charted the growth in claims from the quarter before the services were established up to the second quarter of 2016.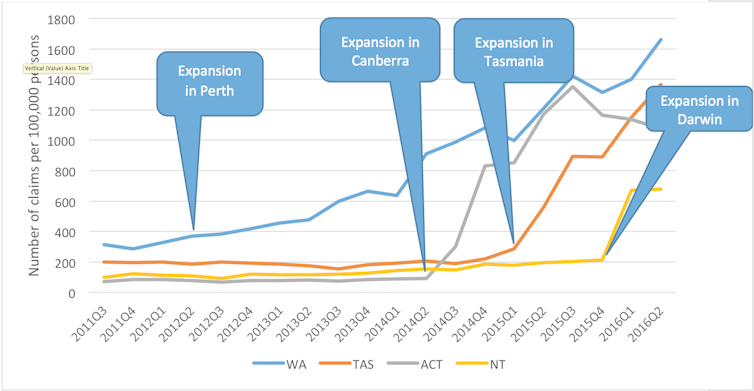 In the ACT, there was a 1,057% increase in claims since the second quarter of 2014; Tasmania saw a 521% increase since the fourth quarter of 2014; in WA there was a 348% increase since the second quarter of 2012; and for the NT, a 219% increase since the first quarter of 2015 was reported.
Impact on emergency department visits
Supporters of after-hours home medical services say the growth in Medicare claims associated with these services reduces government expenditure. This is because fewer people use emergency departments.
A recent report by Deloitte Access Economics, commissioned by the National After-Hours Medical Deputising Service, estimated A$724 million in savings over four-years due to reduced emergency department presentations. This estimate was based on the assumption that 25% of "avoidable GP-type" emergency department presentations would receive care through after-hours home visiting medical services instead. However, there is no evidence to support this assumption.
According to the latest report from the Australian Institute of Health and Welfare, emergency department presentations in all states increased between 2011/12 and 2015/16 by 2.7%.
Indeed, both emergency presentations and, as we have shown, Medicare claims for item 597 are increasing.
Recently released Senate Estimates documents provide interesting reading. An estimated 180,000 people received three or more "urgent" consultations from an after-hours home visiting medical service between 2014 and 2016. Of these, more than 10,000 had no contact with a regular GP.
If these services are truly meeting previously unmet demand for urgent medical care, then we should see a decrease in emergency department presentations. However, this is not occurring.
What's behind these figures?
What we are likely observing is clever marketing, using multiple channels – like web-based advertising, YouTube videos, flyers in pharmacies – to fuel demand for these new services.
Another potential reason for the increased claims for item 597 relates to reimbursement. As the rate for urgent after-hours consultations is higher than non-urgent consultations, some doctors or businesses may be tempted to claim an urgent consultation.
What needs to happen next?
There is no definition of "urgent" in the Medicare Benefits Schedule as doctors are well-placed to decide what's urgent. However, greater scrutiny of claims against item numbers for urgent consultations, such as regular audits, may be warranted.
As part of wider Medicare reforms, the federal health department and Royal Australian College of General Practitioners are aiming to set up a new after-hours rebate structure and will also review after-hours billing practices.
The Medicare Benefits Schedule review is also expected to publish its recommendations about after-hours medical care soon.