The Commonwealth government called last week for AGL Energy to consider selling its Liddell power station to rival Alinta.
Federal Energy Minister Josh Frydenberg has raised concerns that the scheduled 2022 shutdown of Liddell will affect New South Wales' energy reliability. It's suggested the sale would provide a way to keep the ageing power station open past the end of its normal 50-year operating life.
However, AGL responded to government concerns in December 2017 by releasing a replacement plan. Liddell's theoretical maximum output is 1,800 megawatts (MW), but the firm capacity – the power that can be relied upon at peak time – is 1,000 MW. AGL is confident this can be replaced by a mix of improved efficiency, renewables and demand response.
AGL's proposal unpacked
Late last year, in response to the Commonwealth government's pressure, AGL updated its Liddell replacement plan. The updated plan includes generator efficiency upgrades, new natural gas and renewable energy generation capacity, and demand response.
This plan builds on the planned 2022 closure of the Liddell station. Phased investments in new, low-emissions generation and upgrades to existing generation will replace the 1,000 MW of coal-fired power by:
increasing the capacity of AGL's nearby Bayswater coal-fired power station by 100MW

installing 750MW of high-efficiency gas power (at potential sites in Newcastle and/or elsewhere in NSW)
adding 1,600MW of new renewable generation capacity (wind and solar farms)
providing 100MW of firm capacity from demand response and 250MW from battery storage.
The replacement portfolio is split into three stages. The first aims for 550MW of new generation: 300MW from two solar power plants, to be built by third-party developers, and 250MW from a new gas peaking power station located at Newcastle (or other suitable sites in NSW).
Further, AGL has already approved 650MW of wind projects. The Bayswater efficiency upgrade will add 100MW to the capacity without burning any additional coal.
This, along with the 20MW of demand response, will provide the "firm capacity" required to meet existing customer needs, in line with the federal National Energy Guarantee. The "firm capacity factor" is the proportion of the installed capacity (the theoretical maximum) that can be relied upon to be available at peak time.
The next two stages will progressively add new capacity from renewables, battery storage and demand response to meet the energy needs of AGL's potential uncontracted customers. Stage 2 and Stage 3 feasibility is expected to start by 2020 and 2021 respectively, for a 2022 delivery.
AGL is relying on the market
AGL's Liddell replacement plan is designed to provide an equivalent amount of energy and dispatchable power at a similar level of reliability.
The plan's total investment of A$1.36 billion is more than the A$920 million estimate of the 2027 Liddell extension plan, but once operating and fuel costs are included the average cost of replacement generation is more affordable at A$83 per megawatt hour (MWh), compared with extending the life of Liddell at A$106 per MWh.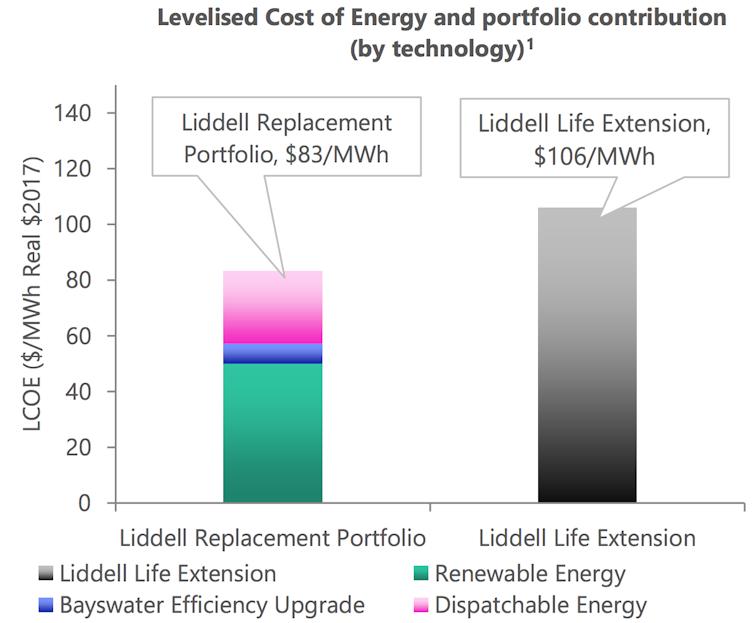 Though the replacement plan has an installed capacity of 2,900MW, it accounts for a firm capacity of 1,000MW.
The Australian Energy Market Operator has endorsed AGL's Liddell replacement plan. It said the plan provides more than enough energy and capacity to meet the potential shortfall created by the closure if AGL completes all three stages by the 2022 deadline.
Some of this plan is already under way, as the AGL board has approved the upgrades at Bayswater and Liddell and the new solar and wind power plants. However, the next two stages are dependent on market signals and investments other companies make in new resources.
If stages 2 and 3 of AGL's plan are not undertaken in time and other market players do not invest, there could be a reliability gap that results in supply interruptions. While this is unlikely to occur, this is exactly the type of problem that the government's National Energy Guarantee is supposed to fix. The guarantee envisions that retailers carry the responsibility of meeting the required amount for dispatchable energy. Failure to do so would invite financial penalties, with the energy market operator stepping in as the procurer of last resort.
However, AGL has proposed an adequate plan to meet the gap that the Liddell closure would create. It's ultimately improbable that regulator intervention will be needed.
That said, AGL's plan is not necessarily the best plan. There are other lower-emission options that are more cost-effective.
A study by the Institute for Sustainable Futures (which I have contributed to) proposes a third "clean energy package", including renewable energy, energy efficiency, energy storage, demand response and flexible pricing. Rather than selling Liddell, if the Commonwealth is looking for low-cost and reliable solutions, this is the approach it should be pursuing.