Napster founders Shawn Fanning and Sean Parker launched the Airtime Facebook video-calling service in a glitzy but glitchy event on June 5. Airtime is a one-to-one video chat service that uses Facebook Connect as a glorified login system to allow you to chat on-on-one with another Facebook user.
Unfortunately, consensus has been building from day one that Airtime needs work or risks cancellation early in its debut season. It offers little that is new, it's not on board the group video chat zeitgeist, and it has significant privacy issues.
Poorly integrated direct calling
Airtime's "direct calling" effectively replicates the existing integrated Facebook video calling between friends – without as-obvious integration.
Up until recently, Facebook's video calling has had its own integration issues: it requires the installation of a Skype plug-in and actually initiating a call has required digging around in Facebook's Messaging system. Facebook is about to rectify that by placing a "Call" button next to the "Messaging" button on users' profile pages.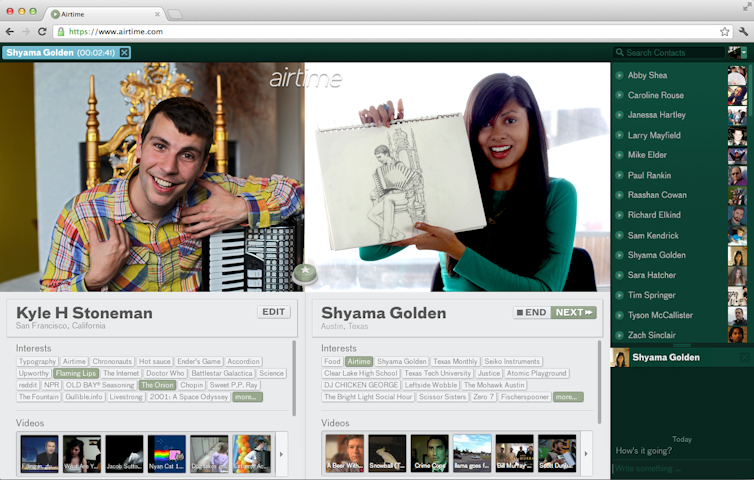 Airtime, however, loads into a new browser window/tab and must be kept running to operate. Although it has a friend list that draws on Facebook, it looks different, and so some of the value of Facebook connection is lost because users can not see the integration.
But do users even want integrated direct video calling within their social networks? When Facebook debuted video calling, I thought it was a no-brainer: the already-existing friend lists would lower the entry bar to video chat and finally lead to mainstream use. Yet Facebook video calling hasn't caught on anywhere near as much as Skype.
Indeed, I've found it very hard to switch family and friends from using Skype to Facebook video calling, even though they're all Facebook users and the underlying technology is the same.
We don't want to talk to strangers
Airtime's unique value proposition is its second service: "matched calling". Matched calling is an attempt to produce a civilised version of Chatroulette. Strangers are paired to chat one-on-one based on their Facebook interests.
Fanning and Parker argue Facebook is too passive, and that chat based on shared interests makes "social discovery" more interesting than either regular browsing or even "social search".
They may be right. Certainly talk based on shared interests beats the parade of genitalia or general attempt at shocking others that Chatroulette offers users (unless that's your thing, of course). But seeing and hearing another person one-on-one is very intimate.
Indeed, after just a short time, use of Airtime has already fallen off, and it's not hard to connect the dots. Unless there's a shared task or goal for strangers to chat about, shared interests are unlikely to be enough reason for most users to risk social discomfort.
For most people, talking to strangers becomes a less risky proposition when we are in a group of some friends and some strangers, which brings me to Airtime's next failing. It has missed the one thing that social networks truly add to video chat: groups.
Missing the group chat zeitgeist
Again, when I wrote about Facebook's video calling rollout last year, just a week after Google+ first introduced Hangouts, I wondered whether the group aspect would catch on. While Google+ is still struggling to mature as a general purpose social network, Google+ Hangouts have become extremely popular.
Barack Obama held a Google Hangout in January this year.

Everyone from US President Barack Obama to the Muppets have held Hangouts. The ability to have up to ten people video chatting as a group, for free, and many others to view it, again for free, has been taken up in a range of ways, from business, to education, media, entertainment, and even surgery.

There are many other group video chat solutions, many of which are free and some of which are integrated into Facebook. ooVoo is Airtime's Facebook video rival, and its users can chat with up to 12 people for free.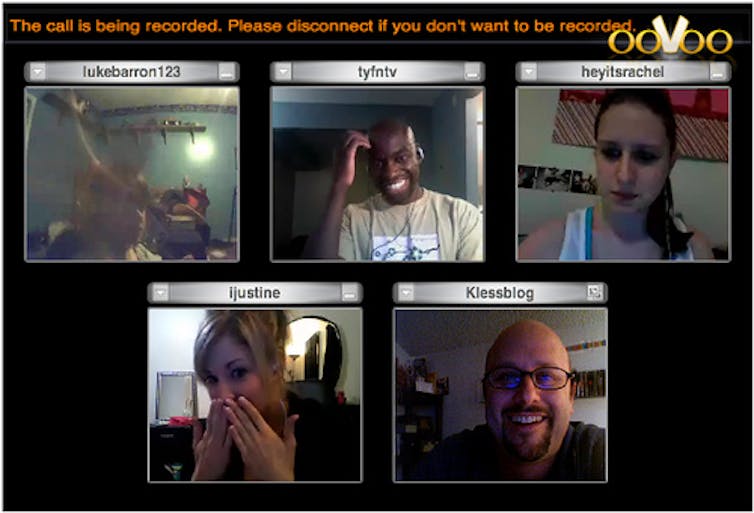 It seems there's far more interest in low-cost group video chat than "social discovery" through one-on-one chat to strangers. Group video chat based on shared interests, with some friends and some strangers, might resuscitate Airtime, especially if it becomes more integrated. But this brings us to a major problem with the service: privacy.
Hey, no peeking!
In an attempt to civilise the Chatroulette model, Airtime has chosen to use a rather invasive policing system. In matched calls between strangers (but not direct calls), Airtime takes snapshots and runs them against various algorithms to ensure modesty of visuals.
If faces are not detected, that's a strike. If the luminosity of what's shown indicates a lot more flesh than a face, that's a strike. The system is a single-strike-you're-out model, leading some commentators to argue that this is better than nothing.
But the Airtime privacy policy requires users to agree to be captured while being vague on the details of how often and who has access to the data. It claims only "snapshots" are taken but does not provide a precise definition.
Even if that were clear, the fact the service treats screenshots as a natural part of its operation amounts to an attempt at pre-sanctioned corporate wiretapping.
More importantly, while Airtime claims innovative security measures, it also disclaims responsibility in the event of images being released by either its own employees or those from outside.
There's no promise to alert users to privacy data breaches – one reason civil liberties groups such as Electronic Frontiers Australia are pushing for mandatory data breach notification.
If Airtime were to provide group video chat its moderation and privacy system would need to be revised. How would it choose between capturing or not capturing "snapshots" in the event of a mixed group of friends and strangers?
The best solution would be to ditch the capturing moderation system and leave it entirely to social moderation (users flagging one another). To do so would be to lose what the company considers a major advance in users' social comfort – but no other group video chat system claims to need such an invasive system.
Airtime faces tough times ahead getting more than its initial 15 minutes of fame.