In 1999, then-Egyptian president Hosni Mubarak visited the small, dusty Al Jazeera compound in a suburb of the Qatari capital of Doha. "This matchbox! All this noise is coming out of this matchbox?" Mubarak reportedly exclaimed.
Ever since its launch in 1996, the trailblazing satellite news channel has been generating lots of unwelcome noise for governments and regimes throughout the Middle East and North Africa. It was the first pan-Arab broadcaster to facilitate open discussion about previously taboo topics. Al Jazeera engaged a citizenry raised on a diet of stale, impotent state media, and invited it to publicly question the status quo on a range of issues from governance to religion.
In its first decade, Al Jazeera triggered over 450 diplomatic complaints to the Qatari government, which funds the network, and the recall of at least six ambassadors from Doha.
But its relationship with Egypt – the Arab world's most populous and arguably most influential state – has been one of the most complicated. The recent arrest of three Al Jazeera English employees, including Australian journalist Peter Greste, on outrageous charges of broadcasting news that endangers "domestic security" is just the latest move in a long game of chess between the two players that stretches back for nearly two decades.
Early years
As early as the 1990s, economic disputes at the state level affected Al Jazeera's operations in Egypt. The Mubarak administration viewed the channel as a direct proxy for the Qatari emir.
In specific instances, Egyptian guests who had been invited to appear on Al Jazeera programs were prevented from departing Cairo airport for Doha.
The Second Palestinian Intifada from 2000, and Al Jazeera's coverage of it (which included footage of Palestinians burning Egyptian flags), generated much anger in Egypt. The Egyptian government accused Al Jazeera of undermining the regime and the country's stability.
Despite these skirmishes, Al Jazeera had by mid-2000 signed an expensive deal to move its Egyptian operations to Cairo's new Media City. Commentators suggested a deal to tone down the channel's coverage of Egyptian affairs, although any change to its editorial approach was denied by then-managing director Mohammed Jasim Al-Ali.
Recent times and the Egyptian revolution
By 2011, Al Jazeera was operating inside Egypt with relative freedom, and the original Arabic channel had been joined by its English-language sister.
As the mass protests of that year's revolution gathered pace, Al Jazeera's staff from both channels was repeatedly raided, arrested and detained. The dying Mubarak regime lashed out at the journalists it held partly responsible for its demise.
After Mubarak's fall, the immediate threat to media outlets subsided, but an undertone of suspicion remained. Al Jazeera continued to report from Egypt as Mohamed Morsi became the country's first democratically elected president, and then as he was deposed by the military 12 months later. This coup would mark a major deterioration in relations between Al Jazeera and Egypt.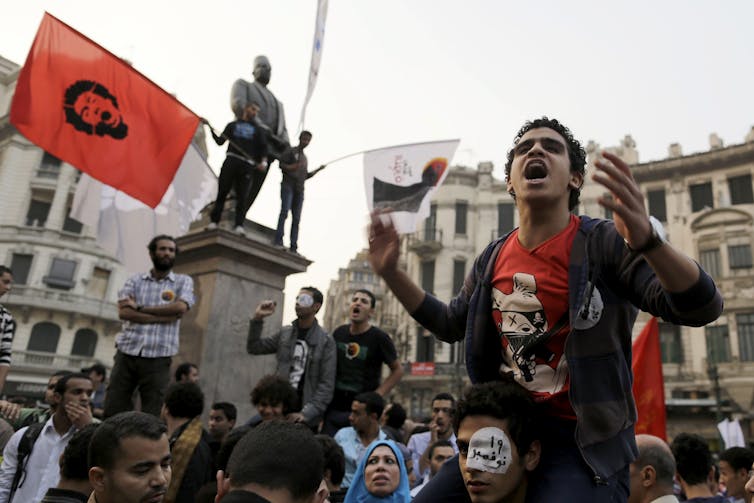 After Morsi's ouster, the Muslim Brotherhood was marginalised before finally being declared a terrorist organisation. Any person deemed to be co-operating with it was targeted by the provisional government. Unfortunately for Al Jazeera as a network, it was by now widely considered to be sympathetic to the Muslim Brotherhood, even though each news franchise maintains editorial independence from the others.
Al Jazeera Arabic and English had recently been joined by a dedicated Egyptian channel called Al Jazeera Mubasher Misr (Egypt Live). Many viewers and commentators believed it to be explicitly biased in favour of the Muslim Brotherhood. Several employees quit in mid-2013 over editorial matters, and the channel abandoned its newly completed offices after other residents in the building made it clear they were not welcome.
Throughout late 2013 and into 2014, all foreign journalists in Egypt found themselves facing growing threats to their safety. And although Al Jazeera English's coverage differs significantly from that of its Arabic counterparts, its staff faced specific threats.
Anti-Muslim Brotherhood protesters on the streets of Cairo have used laser pointers to identify the channel's hotel rooms. Under pressure from Egyptian authorities, the Associated Press asked Al Jazeera to refrain from rebroadcasting its live video feed from Tahrir Square.
The antagonism between Egypt and Al Jazeera came to a head on December 29 last year. Al Jazeera English's Greste, bureau chief Mohamed Fadel Fahmy and producer Baher Mohamed were arrested. The timing was unfortunate for Greste in particular: he is the channel's East Africa correspondent and was working in Egypt for only a short stint to cover holidays.
The three men joined two Al Jazeera Arabic employees in prison – Abdullah al-Shami and Mohamed Badr – although Badr has since been released.
The trials continue and the fate of Greste and his colleagues is uncertain. But with big news stories certain to be coming out of Egypt for years to come, the relationship between Al Jazeera and the biggest nation in its backyard will only be tested further.