It's hardly unusual for a party to be divided over a leader's personal style. Even for a government ahead in the polls – as Malcolm Turnbull's is now – it's far from rare.
Forty-five years ago, when John Gorton was prime minister, both Liberal and Country Party MPs were split over how "Jolly John" chose to govern. His very Australian love of a drink, a smoke and a dance tended to upset the uptights on the right.
Inevitably, a select group formed around Gorton to bolster his support. Known as the "Mushroom Club" – so called because Gorton's inner circle allegedly kept others in the dark and fed them bullshit – dined together regularly as they monitored Gorton's numbers.
Gossip now has it today's federal Liberals have something of a reverse "Mushroom Club" – an informal "resistance group" of outsiders. But this club, of anywhere between four and nine MPs and senators, is there to remind Turnbull's supporters that Abbott and his capital "C" conservative clique isn't going anywhere.
Opposition from within
You can just imagine the blue language over oyster soup, mulling over Immigration Minister Peter Dutton's exclusion from cabinet's national security committee, and fears Turnbull's response to the Paris atrocities has been too meek.
On paper, Turnbull's greatest thorn should be Labor leader Bill Shorten. But, as Shorten – who is polling at 15% as preferred prime minister and falling – seems all but unelectable, Turnbull's potentially most dangerous opposition has begun to emerge from the "resistance group" inside his own party.
Even if Abbott never came close to gathering numbers for another spill, the group's mere presence would eventually have suggested a divided party. This was at least until the Paris terrorist attacks, which have not only put Turnbull under pressure but allowed at least one Labor luminary to shine in his own right.
Nearly 60% of Labor's grassroots members wanted Anthony Albanese to lead the party after the 2013 election. He lost to Shorten on caucus factional numbers.
At the time, Labor's choice of Shorten appeared to be the correct one. Facing off against a gruff ideological warrior in Abbott, Shorten's more moderate, urbane style at least offered voters a contrast. But that point of difference is now moot as Turnbull corners the electoral market on urbanity.
The plain-speaking, punchy ideological warrior in "Albo", however, offers voters a new contrast. Throw in some of Albo's best conservative button-pushing over Islamic State, Syria, public ownership and national security – and he's the most articulate critic of the government's decision to lease the Port of Darwin to Chinese interests – and we've got a very public job application for Labor's federal leadership.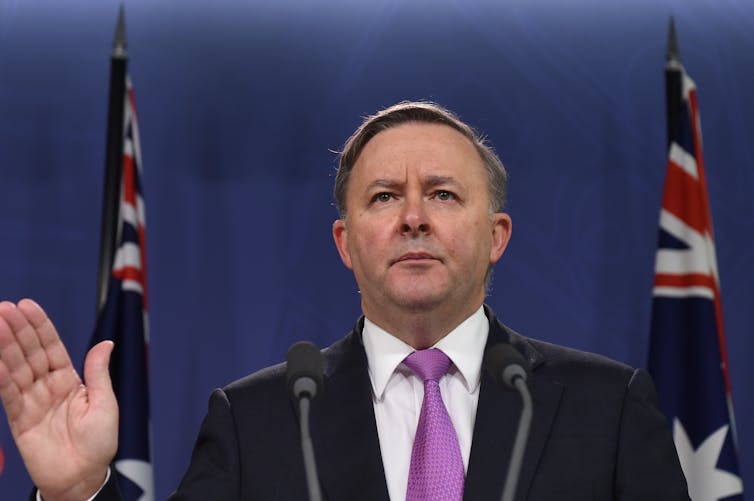 A return to the 'ordinary'?
Sceptics of Turnbull's apparent invincibility have long warned that this "brilliant" and "fearless" man – as Paul Keating allegedly described him – suffered two key weaknesses. The first, they say, is judgement.
Perhaps the sceptics are right. Think back to the "Utegate" saga of 2009 when Turnbull called for Kevin Rudd's resignation over a single dodgy email alleging Labor cronyism. When the email was proven fake, Turnbull suffered the biggest single fall in support in Newspoll history.
Think back also to Turnbull's public declaration of support, despite colleagues' opposition, for Labor's emissions trading scheme.
Cynics also warn Turnbull's polished, articulate style could easily go the way of former Labor leaders Kim Beazley and Rudd: initially impressive and charming but ultimately annoying and distracting. Interestingly, Albanese has already picked up on this:
He doesn't know when to stop talking and make a clear statement.
Compare Turnbull's refined style – already lampooned by cartoonists who paint him in top hat and tails – with Albanese's earthy Aussie twang and potato sack suit. Add Albanese's single-parent upbringing, his love of footy and a hint of Roman Catholic conservatism, and Labor has waiting in the wings a quintessential man of the people.
Where, in theory, smooth Labor intellects such as Tanya Plibersek, Tony Burke or Chris Bowen should be front-runners to replace Shorten, Australians' jangled nerves over terrorism and tried patience over cost of living all point to a return to "ordinary" in political leadership. Just ask the premiers of Queensland and Victoria, Annastacia Palaszczuk and Daniel Andrews, if an unpolished persona works.
If Albanese does succeed Shorten, Australians will have the strongest ideological and stylistic contrast in major party leaders since Malcolm Fraser and Bob Hawke 33 years ago.