After a drawn-out and controversial case, Spanish professional cyclist Alberto Contador has been found guilty of doping and banned from the sport for two years.
Contador was stripped of his victories at the 2010 Tour de France, the 2011 Giro d'Italia and a raft of other races after the Court of Arbitration for Sport (CAS) brought its nearly-two-year investigation to a close.
A sample of Contador's urine, taken during a rest day in the 2010 Tour de France, contained traces of clenbuterol – a banned substance in cycling and many other sports. Contador claims the clenbuterol in his body was the result of eating contaminated Spanish beef.
So what is clenbuterol? How does it work? And would the amount detected in Contador's body have had any effect on his performance?
Technically speaking, clenbuterol is a "β2-adrenergic agonist" – a class of drugs used to treat asthma and other respiratory diseases. As with other β2 agonists, clenbuterol is effective as a "bronchodilator" because of its properties as a muscle relaxant.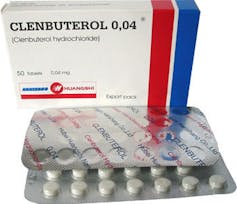 Clenbuterol itself is not approved by the US Food and Drug Administration (FDA) and has been banned by the International Olympic Committee (IOC) and World Anti-Doping Agency (WADA) because of its potentially performance-enhancing effects.
As well as being an effective bronchodilator, clenbuterol can have a range of other effects, including an increase in:
aerobic capacity (the amount of oxygen the body can use during physical exercise)
the body's ability to transport oxygen, and
the body's ability to metabolise fat.
This final property leads some people to use it as a potential weight-loss aid and to increase lean muscle mass.
Because of these properties clenbuterol is sometimes given to livestock to increase production of lean meat. This practice is not approved by the FDA or European Union in animals intended as a food source. But clenbuterol can still be administered to animals as a bronchodilator or muscle relaxant and this, together with its illegal use, can lead to a risk of food sources becoming contaminated.
For this reason, Contador's claim that the clenbuterol in his system was the result of eating contaminated beef is plausible. But specific evidence regarding the source of contaminated meat was not produced by Contador's defence team, presumably contributing to the decision against him.
Clenbuterol is usually prescribed (in countries where it's legal) in dosages of 20-60 micrograms (mcg) a day. This 20mcg is a starting dose for off-label uses (using the drug for something other than its primary purpose), increasing to as much as 120mcg.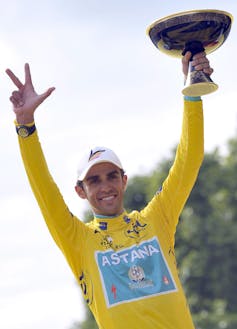 Contador's urine sample was found to contain only a minute amount of clenbuterol – 50 picograms, or 0.00005mcg. This concentration is unlikely to have had any affect on Contador's performance at all.
Contador's positive test came on a rest day during the 2010 Tour de France – presumably indicating use of the banned substance on the previous day of Le Tour (stage 16). But clenbuterol has a long half-life – approximately 34 hours. For this reason it's somewhat perplexing that higher levels weren't detected, if this was something Contador was taking while riding.
It's also strange that Contador didn't test positive on more days of Le Tour – if indeed he was taking clenbuterol during the race – given how often he was tested throughout the race.
In a press conference overnight, Contador vowed to continue cycling once his ban ends (in August this year – the ban was applied retroactively) and he hasn't ruled out an appeal of the decision.
The story, it seems, is far from over.