A new study released today has found trans young people in Australia are experiencing extraordinarily high levels of mental health difficulties, including depression, anxiety, self-harm and suicide attempts. Additionally, trans young people face numerous barriers when attempting to access medical and mental health services.
Trans and gender diverse young people identify with a gender that does not match their sex assigned at birth. We use trans to be inclusive of people who identify as transgender, non-binary, genderqueer, genderfluid, male, female, and other terms.
There is existing evidence that trans young people in Australia experience high levels of distress compared to the general population. This new study, called Trans Pathways, delved deeper into what might contribute to mental health issues, to understand how mental health and medical services respond to trans young people seeking support.
---
Read more: Trans, transgender, cisgender: we are what we name ourselves
---
Perhaps the most confronting finding was that almost half of trans young people has attempted to end their life by suicide. This statistic alone demonstrates the urgent need for all Australians to act and do more to support trans young people. Support is needed from peers, parents, schools, health professionals and government.
Mental health in trans young people
Trans Pathways showed that trans young people in Australia aged 14-25 are experiencing depression and anxiety at approximately ten times the rate of adolescents in the Australian general population. Nearly 75% of participants reported ever being diagnosed with depression, and 72% with anxiety, compared with about 7% in the general adolescent population.
The alarmingly high rate of suicide attempts (48%) is accompanied by the fact that 78% of trans young people have engaged in self-harm. These rates are much higher than in the general Australian population, where 11% of adolescents have self harmed and just over 2% have attempted suicide in the past 12 months. International research shows similar rates of suicide attempts with 45% of trans students in the UK attempting to take their own lives.
---
Read more: Explainer: what is genderqueer?
---
Why do trans young people have such poor mental health?
A large majority of Trans Pathways participants reported negative experiences that impacted on their mental health and wellbeing. Almost 90% have been rejected by their peers, 74% have been bullied, 79% have experienced issues with school, university or TAFE, 69% have experienced discrimination, and 66% have felt a lack of family support.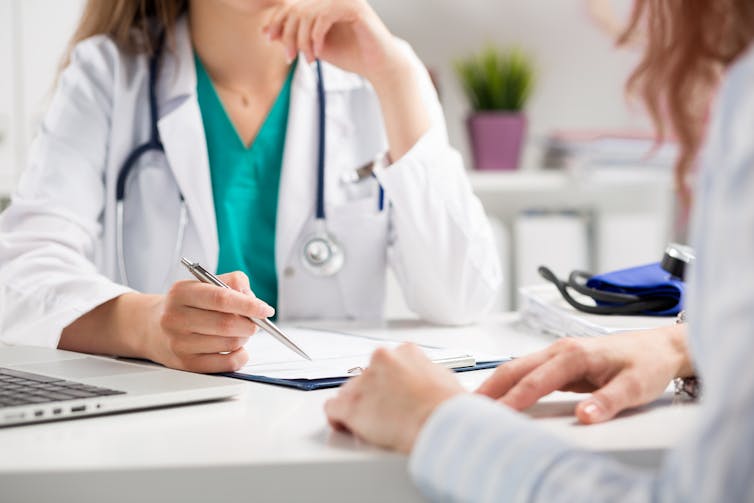 Issues with accommodation or homelessness have affected 22% of the study respondents. These experiences reflect societal attitudes towards trans people and demonstrate that they continue to be marginalised. Such attitudes can be changed through raising awareness of gender diversity to create a more accepting society.
Experiences of health services by trans young people
Trans Pathways found that when trans young people reach out for help from medical and mental health services they're regularly met with service providers who are not experienced with, or even aware of, gender diversity.
Of the Trans Pathways participants, 60% have experienced feeling isolated from medical and mental health services, and 42% have reached out to a service provider who did not understand, respect or have previous experience with gender diverse people.
Others faced health professionals who did not know how to refer them to specialist services, and provided inadequate care. In short, many health professionals lack the necessary skills to provide the support desperately needed by this group. Specialised and trans-friendly services are at capacity and woefully underfunded.
---
Read more: How media reports affect trans people, and what should be done
---
What can be done?
More trans young people are seeking support from mental health and medical services in Australia, indicating the immediate need for greater service provision. Existing services also need to be improved. All service providers (including psychologists, general practitioners, psychiatrists and endocrinologists) need to be trained in gender diversity, and trans health should become a part of their required curriculum.
Changes need to begin with the wider community. Gender diversity should be explored in educational contexts to increase awareness in young people and parents. The government can lead this change by creating policies that are more inclusive of trans people, and by ensuring trans people are counted in data collection methods such as the census.
Policies and legislation should cover issues such as access to gendered facilities and include processes for legal gender recognition. Funding for gender services and research are needed to better meet the needs of trans populations. We all have a responsibility to improve the wellbeing of Australian young people.
---
If this article has raised issues for you, or if you're concerned about someone you know, call Lifeline on 13 11 14.