Potential reform of the Labor Party's internal structure has been substantially limited, as the Right faction asserted its overall dominance of the weekend's national conference.
Prime Minister Julia Gillard brokered a deal between the Left and Right factions over party reform, with the issue being sidelined off to a party review committee. This is likely to delay any significant reforms for at least a year.
The ALP in decline
Since 2007, an estimated loss of around 12,000 members (from a membership of nearly 50,000), has seen hundreds of local branches folding. There is presently little incentive, other than sorely tested party loyalty, for ordinary people committed to social change, activism and ideas, to join, and remain in the Labor Party.
To address this sclerotic ageing and decline of the ALP, in their 2010 election review, party elders John Faulkner, Steve Bracks, and Bob Carr recommended a number of reforms to invigorate the party membership. These included trials for community pre-selection "primaries" for candidates; encouraging online forms of membership; a national rank and file forum for policy formation; and the membership electing the national president of the ALP for a three-year term.
It remains to be seen how many of these recommendations will be approved by the review committee. Currently, each state branch of the ALP selects conference delegates, half of them from the unions. The Left faction proposed to have 50% of delegates to the national conference directly elected by branch members, with the other 50% appointed by affiliated unions.
Breaking factional power - easier said than done
This proposal threatens the traditional dominance of the Right's factional and union power brokers, since the Left tends to have higher representation among grass-roots branch members. The Right's counter-proposal was to increase the number of conference delegates from 400 by 150, with these extra numbers made up of a rank and file delegate from each federal electorate. In another counter-proposal, the Left wanted yet 150 more delegates, to be appointed by the unions, which was opposed by the right.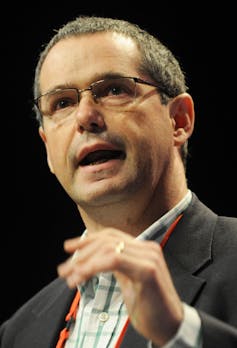 In the deal brokered by Gillard, there is finally agreement that some proportion of conference delegates will be elected by the membership. The size of this proportion and other details will be determined by the review committee, but its findings will have to be approved by the national executive, which remains dominated by the Right.
As go the polls, so goes the party
Gillard expressed a desire to see reform implemented before the next party conference, announcing a goal of recruiting at least 8,000 new members next year.
She would be hoping any reinvigoration of the rank and file membership could begin to play some part in improving Labor's primary vote, which remains far behind the Coalition in the polls.
Otherwise, Labor faces the likely prospect of holding its next party conference in Opposition.