The 100th anniversary of the truce that ended the first world war has been marked. More than $1 billion is being spent on remembering the dead. Now is the time to become more honest – respectfully – about the way our military engagements, past and present, are depicted in memorials and on important days.
Lives depend on telling it how it really is, both on the battlefield and at home. Present and past military personnel of all genders feel they have to live up to the image of the rugged, male digger who shrugs off traumatic events. This archetype is unattainable - and the mental health consequences can be tragic.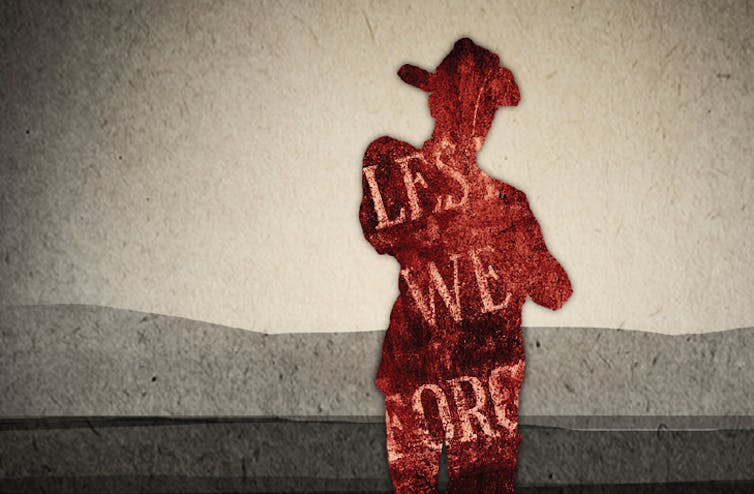 Suicide and self-harm among Australian soldiers and veterans have become endemic in recent decades. Between 2001 and 2015, 325 currently serving and discharged military personnel took their own lives, with another 84 in 2017 alone. The National Mental Health Commission has found that one of the most common barriers to seeking help among soldiers and veterans with mental health issues is societal stigma, which can lead to self-harm and suicide.
One US study found that deployment to the Afghanistan and Iraq theatres of conflict did not result in a significantly higher rate of suicide than for soldiers who did not deploy, or remained at home. But the suicide rate for all those military personnel was markedly higher than for the civilian population.
---
Read more: Reliving the pain of war: military deployment and PTSD
---
The Australian Defence Force (ADF) is taking bold steps towards addressing service-related mental illness and suicide, most recently through the Defence Mental Health and Wellbeing Strategy 2018-2023, that aims to ensure all military personnel are "Fit to Fight, Fit to Work, Fit for Life".
However, their attempts to combat alarming suicide rates - as male veterans are up to twice as likely to take their own lives as civilian men and female veterans 2.5 times - lack potency when faced with Australian war commemoration that continues to emphasise outdated views of both gender and psychiatry. Reliance on early 20th century ideals to define the Australian soldier perpetuates the stigmatisation of mental illness. And this in turn contributes to high suicide rates among military personnel.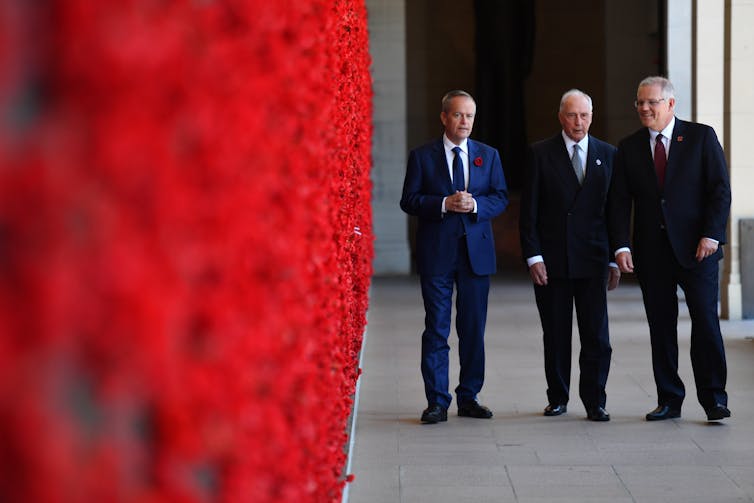 Australia has largely defined itself through its military involvement since the first world war, particularly in the last 20 years. During the conflict's centenary, Australia spent $552 million on commemoration efforts, five times that spent by the United Kingdom, and an alarming 92 times that of Germany. This included $100 million spent on the John Monash Centre in Villers-Brettoneux, France, to commemorate the men killed in the war.
In early November, the federal government announced that the Australian War Memorial would receive $498 million to fund renovations, including a significant increase in commemoration space. The continued federal spending on remembering the dead over sustaining living military personnel has prompted veterans' groups to call for funding that prioritises struggling ex-servicemen and women.
The Australian nation was in its teens when the first world war broke out, and political authorities were eager to cement its reputation. In the absence of the long military traditions of European nations – and in an environment where black history was rendered largely invisible – Australian political authorities identified the conflict and the men who fought it as the epitome of national virility and masculinity. This was combined with late 19th century rural "bush" manhood to create the legend of the Australian soldier.
Since the first world war, this partly mythic figure has served as a cultural model for soldiers to emulate. Its importance is reiterated during national commemorations such as Anzac Day and Remembrance Day.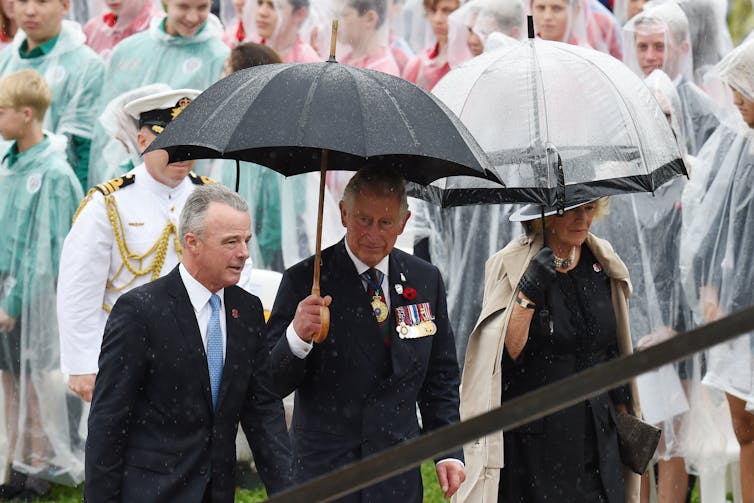 However, this mono-cultural and mono-gendered ideal does not represent 21st century Australia, nor its military. From 1992, the ADF began to move towards inclusion by allowing female and lesbian, gay and bisexual military personnel into the regular armed forces. In 2005, transgender members were also permitted to join.
Despite these significant changes, outdated social and political representations continue to compel military personnel of all genders to embody the white, male soldier of the first world war.
The vast numbers who were diagnosed with shellshock or other psychiatric conditions during the war are also marginalised by this ideal. Mental illness was traditionally feminised in the British Empire, meaning that the essentially masculine Anzac soldier could not conceivably suffer from a psychiatric condition.
Today's representations of first world war soldiers continue to perpetuate these beliefs, including Peter Jackson's recent film They Shall Not Grow Old . Despite aiming to represent the British soldier experience, the film failed to mention the shellshock that affected 80,000 British men during the war. Within Australia, shellshocked ex-servicemen struggled to live up to the Anzac legend.
The continued emphasis on the cultural figure of the first world war Anzac today places pressure on soldiers and veterans to continue fulfilling these unrealistic expectations, which can prevent them from seeking help for psychological wounds, or worse.
ADF policies that stress inclusion and appropriate mental health treatment aim to address the impact of societal changes. Although the first world war laid the foundations for continuing perceptions of the Australian soldier, it does not represent today's diversity within the armed forces.
---
Read more: Mindfulness therapy alleviates soldiers' PTSD, but only in the short term
---
The soldier archetype must be politically redefined. Mental illness within the armed forces should be publicly acknowledged as "normal" - as it has occurred as long as combat has existed, among soldiers of all ages, ranks and genders.
With the first world war centenary over, Australia must now move into a more progressive era of war commemoration that can effectively support its military personnel.
---
If this article raises any concerns for you, please contact Lifeline on 13 11 14 or BeyondBlue on 1300 22 4636.