The ongoing trial of Norwegian right-wing extremist Anders Breivik has generated a great deal of media coverage, public debate and analysis.
Much of this has focused on claims made by Breivik that he used the "military shooter" Call of Duty: Modern Warfare 2 to prepare for his attacks.
Critics of games and gaming very quickly pounced on his assertion to claim this was evidence of a causal link between game-playing and committing acts of violence.
As Adam Ruch pointed out last week on The Conversation, there is no conclusive evidence one way or the other concerning the effects of playing violent videogames. Endlessly debating whether or not games contribute to an individual's violent actions or thoughts misses the point.
What has not been addressed in the debate generated by violent military games is the role these games play in the process of "militarisation".
Military shooters
A military shooter is a military-themed version of the first-person shooter (FPS) genre. As you might imagine, a FPS is played from the first-person or subjective visual perspective, with the player's weapon appearing to the right and in the foreground of the screen (see image below).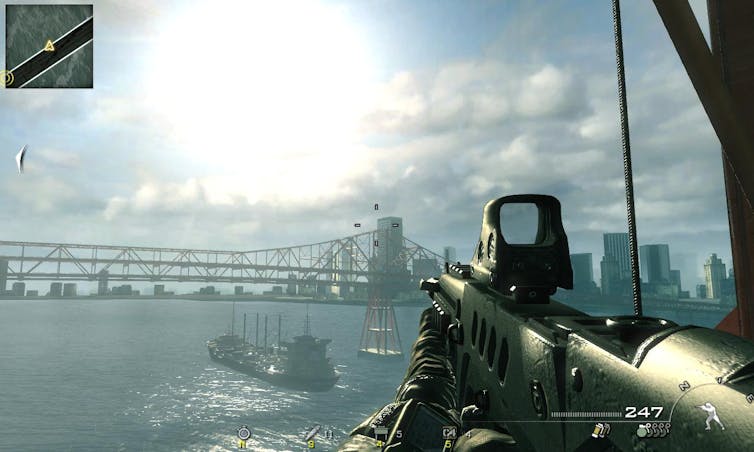 These games gained a wide audience in the early 1990s with the release of the World-War-II-based Wolfenstein 3D (1992) and the science-fiction-inspired Doom (1993).
FPSs such as these often involve a lone hero armed to the teeth against hordes of enemies. The Doom franchise underwent a military makeover in the 1990s when the US military modified Doom II to create Marine Doom.
The modern military shooter differs from games such as Doom by using realistic plots, locations and weaponry. The technology behind today's military shooters enables game designers to reproduce war settings complete with realistic sights and sounds.
Current gaming technology very much enables players to immerse themselves within a synthetic war zone.
In fact, games such as Call of Duty: Modern Warfare 2 are now so immersive, so accurate (with the right add-ons) that they're more like training tools than simple games. Breivik has stated that he used a "holographic" gunsight to practice targeting while training with Call of Duty.
The sophistication of these games is the product of the close relationship between game designers and the military. The designers of military shooters often work with former (or current) military personnel to ensure the gameplay (including the look, feel and effect of in-game guns) is as realistic as possible – as was the case with Call of Duty 4: Modern Warfare (see video below).