Self-experimentation is something scientists have done since, well, science began. Throughout history, testing a theory on one's own body was the easiest route to getting an answer.
You may be forgiven for thinking that this is a thing of the past. For starters, a sample size of one is rarely conclusive. Then there are pesky ethical review boards that need to be cleared.
But it turns out self-experimentation is alive and well and the ninth episode of The Anthill features researchers who have engaged in the practice.
First, our health editor Clint Witchalls looks into a field where self-experimentation seems to be growing in popularity – if not respectability. He talks to King's College London's Tim Spector about the many diets he's tried and why more people should get on board with testing out different food regimes.
---
This month we're launching a short survey to find out what you, our listeners, think of The Anthill so far. We'd be grateful if you could spare a few minutes of your time to answer a couple of questions about the podcast here.
---
The second part of the podcast features an academic who took on the persona of the man he was researching. Overwhelmed by the existing number of books written about David Bowie, Kingston University's Will Brooker decided to take a different approach to learning about his hero.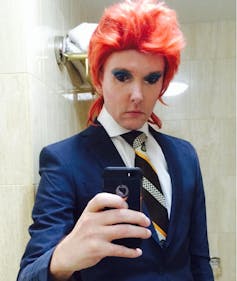 Instead of just reading about him, Brooker lived as Bowie for a year. He read the books Bowie read, listened to the music he listened to, spent time in the places he lived, and copied his diet at different times in his life. He even employed a vocal coach and performed with tribute band The Thin White Duke. Hear them play, as Brooker shares his experiences of walking in Bowie's shoes with our arts and culture editor Josephine Lethbridge.
Part three of the podcast returns to science and the efficacy of researchers taking mind-altering substances. Peter Kinderman, a clinical psychologist at the University of Liverpool, tells our science editor Miriam Frankel about how common this kind of self-experimentation is in his field. And Sorcha Uí Chonnachtaigh, a lecturer in ethics and law at Keele University, discusses the ethics of it.
---
The Anthill theme music is by Alex Grey for Melody Loops. Background music during the nutrition segment is Parisian and Spy Glass, both by Kevin MacLeod. David Bowie music is performed by tribute band The Thin White Duke, with vocals by Will Brooker in the song Let's Dance. Music during the psychology segment is The Psychedelic And by Six Umbrellas.
A big thanks to City University London's Department of Journalism for letting us use their studios.