Western Australian artist Nola Farman's practice has never followed a predictable trajectory. Her major work, The Lift Project (1979-82), is an important and influential contribution to Australia's new media art history – and now the Art Gallery of Western Australia is seeking to deaccession it.
When all her fellow students left Perth for London seeking postgraduate opportunities in the early sixties, Farman headed for Toronto.
When many found a haven in a particular medium and continued to explore its possibilities through regular exhibitions at solid commercial galleries, she ranged widely, moving from painting and drawing to object making, animation and writing.
And at a period when the model of practice was the solo artist working alone in a studio, Farman sought out collaborators and embraced new technological advances.
It was never contrariness. An artist uses whatever is at hand to develop his or her ideas. When the ideas are as complex, all-encompassing and diverse as Farman's the requirement for a diverse range of tools is intensified.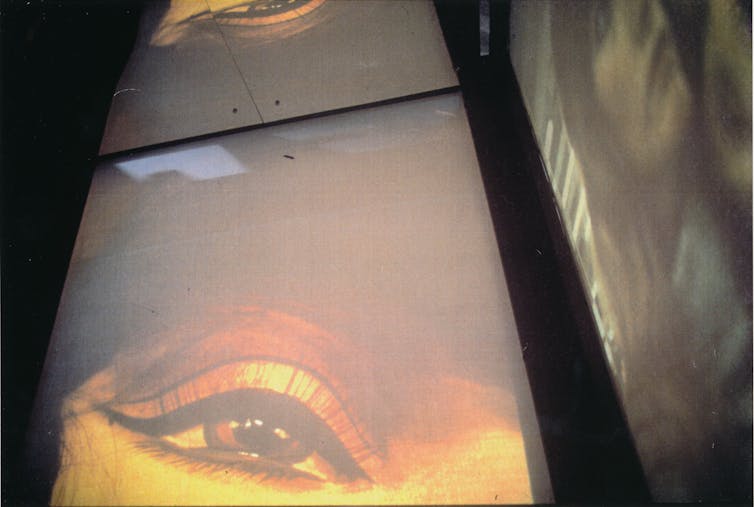 After four years in Canada she travelled to New York, Ireland and Europe, arriving back in Perth in the late 60s. Working in spasmodic bursts of incredible intensity, she produced exhibitions of paintings, drawings and smaller sculptural forms.
In 1983 she embarked on a two-year examination of the physical and psychological experience of lift travel. As Perth boomed and glass and concrete towers transformed St Georges Terrace into a replica of every other international city, travelling vertically through a building, suspended on a steel cable and trapped in a contrived relationship with strangers, became an everyday occurrence.
No-one else discussed it or thought about it as a audio-visual experience or examined its impact on our psyche. Farman did.
Over a period of two years of intensive research, prototyping, fabricating and refining, Farman, with her technical collaborator Michael Brown, recreated a lift environment. Complete with fully automatic steel doors and computer-controlled operations, spectators experienced a 12-minute audio-visual program in the lift.
This was the early 80s and developments in computer-based, immersive and interactive works were emerging in the USA and Europe through the work of Nam June Paik, Paul Sermon, Jeffrey Shaw, Roy Ascott and Ken Rinaldo; Farman, through her insight, diligence and openness, was at that cutting edge. The project generated an intellectual buzz that attracted many artists and engineers, tech-heads, architects and scientists.
On the top floor of Ed Jane's Fremantle Furniture Factory in an old warehouse in the port city's heart, Farman ushered visitors into a sealed enclosure, swathed in plastic sheeting, to experience The Lift.
The Lift was a metaphor for the unconscious and structured experiences the audience shared when lift travelling. Images and sounds recreated the upward movement of the lift as it stopped at each floor while interspersed serial images examined phobias associated with lift travel.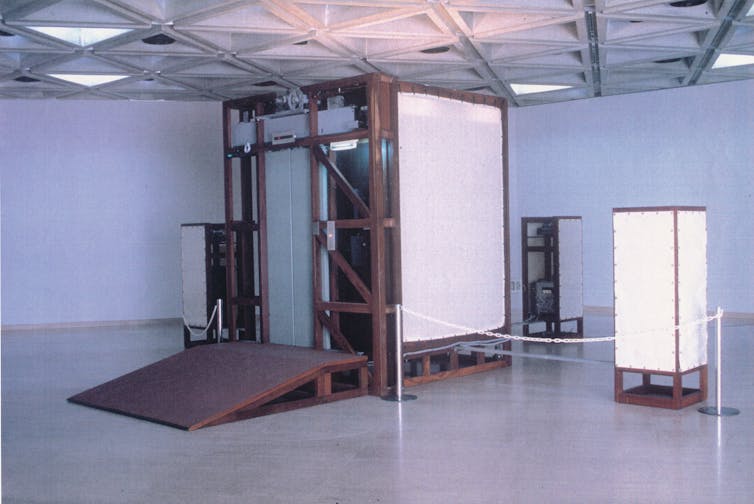 Individuals entering the environment through the Johns Perry doors were inadvertently leaving the security of the art gallery and moving into a dangerous terrain where they would be forced to encounter their fears and phobias. As Farman explained in the accompanying Lift Manual:
… it was important to me as a social space, a space in which looking becomes an illicit activity and minute scrutiny of other people becomes all the more tempting and desirable … The lift marks a point of rupture with reality. It is a place of embarkation, but the journey involves not only a physical displacement of ascent and descent, but also a psychological displacement.
When completed, The Lift was shown at the Art Gallery of Western Australia and acquired for the permanent collection.
In 1991, its significance was acknowledged with a Diploma of Honor at the Prix Ars Electronica Interactive Art award. A complex work involving slide projectors, a computer, an elaborate installation of screens and of course those Johns Perry doors, the work is germinal in the development of new media art.
It remains a vibrant presence – though mostly in memory because it is so infrequently shown – in the consciousness of practitioners, critics and curators around the globe.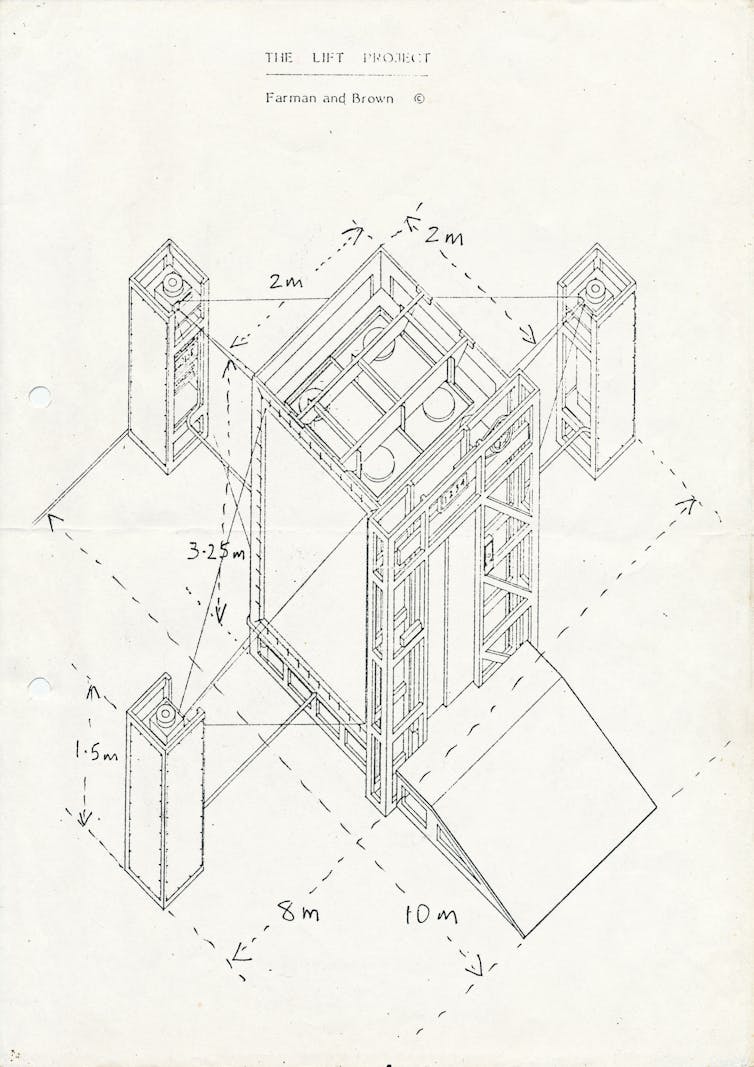 Recent reports of a move to deaccession The Lift from the collection at the Art Gallery of Western Australia are, therefore, surprising.
Galleries and museums are charged with maintaining the works in their collections for future generations, despite the problems associated with preserving them in working order due to the rapid change in technological platforms and the associated intellectual property issues involving any change to the work.
A great deal of research has been undertaken in this area and in 2002 the Guggenheim Museum, in partnership with the Daniel Langlois Foundation for Art, Science and Technology, based in Montreal, established the Variable Media Network to develop best-practice benchmarks for the collection and preservation of new media art.
Since then, leading galleries around the world, such as the Tate in London, have instigated programs to ensure they can continue to display their collection of new media works and their conservators collaborate with the artists, technicians and curators to understand how this might best be achieved.
The Lift is a major work that must be conserved and maintained. Perhaps it is time that a partnership between the major state and national institutions, university art museums and private organisations holding new media works was established to proactively and pre-emptively ensure this, and similar works, are preserved for the future.