The Sunday Times recently ran a pretty incredible headline, claiming that in the 2015 election, "Tories may secure most ethnic MPs". This would represent a huge turnaround. Ten years ago – and 18 years after the all-Labour quartet of Dianne Abbott, Paul Boateng, Bernie Grant, and Keith Vaz had become the UK's first post-war black and minority ethnic (BME) MPs – the Conservatives didn't have a single one.
The Conservatives have traditionally struggled to win over ethnic minority voters. In 2010, the party won just 16% of the black and minority ethnic vote compared with Labour's 68%.
Its parliamentary representation has certainly improved, and it currently has 11 BME MPs (3.6%) to Labour's 16 (6.2%) and the Liberal Democrats' nil. But the idea that, in an election in which the number of Labour MPs is likely to increase, the Conservatives might at least double their BME representation merits some scrutiny. Is this segment of the political world really changing that dramatically?
Some things certainly have changed. Though Labour may protest that it never took its black and minority ethnic support for granted, it is now losing it, and showing little sign of seriously trying to halt the drift.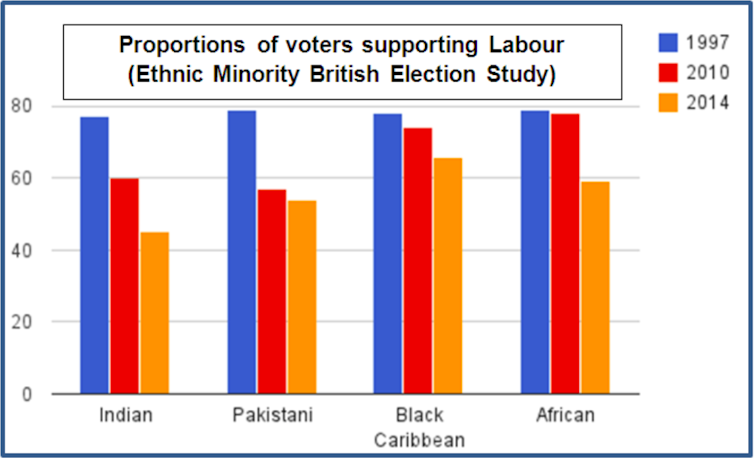 In 1997 more than three-quarters of voters from all major BME groups supported Labour. By 2010, that proportion had dropped significantly, especially among Indians and Pakistanis. Since then, the trend has accelerated.
If these Labour deserters were flocking, or even moseying, towards the Conservatives, the impact could indeed be dramatic. In Birmingham alone, for example, five of Labour's eight seats – Edgbaston, Hall Green, Erdington, Selly Oak, Northfield – plus the Lib Dems' Yardley, have a population of potential black and ethnic minority voters several times the size of the incumbent MP's current majority.
So far, though, these voters don't seem to be turning to the Conservatives on a significant scale. There has been a modest increase in support among Indian voters but, as one commentator put it, while many ethnic minority voters are increasingly lukewarm towards Labour, they still loathe the Conservative Party.
On the up
Returning to that Sunday Times headline, while David Cameron and his party may be repellent to BME voters in general, at least some are climbing aboard in a big way by seeking to become parliamentary candidates. A recent study by the think tank British Future suggests we are indeed heading for a record number of black and ethnic minority MPs. But is that increase likely to be predominantly on the Conservative benches?
All 27 BME incumbents are standing again in 2015, which is an encouraging start. But around 100 other MPs are not standing – which leaves a lot of empty seats to fill. At the most recent count, new incumbent party candidates had been selected in 86 of these constituencies: 39 Labour, 36 Conservative, 10 Lib Dem, and one Plaid Cymru.
In what are obviously among the respective parties' most winnable seats, Labour selectors have produced just two ethnic minority candidates – both in London. The Lib Dems have selected one, while Conservative selectors have managed seven – a commendable number by comparison.
The marginals
In the parties' marginal or target seats, however, the balance is reversed. Labour has selected 13 BME candidates in its target seats, while in theirs the Conservatives had selected only one – the hapless and now de-selected Afzal Amin in Dudley North.
The British Future study models five possible scenarios to predict the likely number of BME MPs who will enter the House of Commons after the election. All these scenarios, it should be emphasised, produce a significant overall increase, from the present 27 to probably around 40.
If the two main parties were to finish neck-and-neck with around 275 seats each – similar to their positioning over the past few weeks – Labour's gain of nearly 20 seats would contribute to its having a projected 24 black and minority ethnic MPs. The Conservatives would have 17, and the Liberal Democrats, UKIP and the SNP one each.
Any Labour plurality of seats would increase its BME minority representation and decrease that of the Conservatives. The unlikely event of an outright Labour majority would produce something like a 30-15 split.
In fact, the only scenario in which "the Tories may secure most ethnic MPs" is the one that virtually no one has thought possible, at least since the abandonment of the parliamentary boundary review in 2013: an outright Conservative victory.
On examination, therefore, as at first glance, the headline is indeed incredible.