On April 2 Armenians will vote in a parliamentary election, a major step in the country's transition from a presidential to a parliamentary system.
The process, which began with a constitutional referendum in December 2015, will be complete in April 2018 when the incumbent president, Serzh Sargsyan, leaves office and executive power is transferred to the prime minister, who will be appointed by parliament.
The upcoming election will turn Armenia's parliament into its most powerful legislative force, making the country something of an outlier among post-Soviet countries, most of which have strong presidential systems.
Hidden agenda
To its critics, Armenia's transition to parliamentarism may have more to do with political elites' preservation of power than with a national quest for democratisation.
Some have argued the constitutional reform process President Sargsyan launched in 2013 was conceived with one aim: to preserve his influence after his constitutionally limited two terms expire in April 2018.
The new constitution will leave plenty of options for the president to retain power, from assuming the role of prime minister to a more complicated schemes in which Sargsyan can appoint "a successor" but continue to exercise influence as the head of the ruling party (if it wins next month's election).
Sargsyan has sent clear signals that he doesn't plan to retire, saying in his latest statement that he would continue "to play a role in ensuring our people's security".
Such machinations are not unusual in post-Soviet nations. Azerbaijan's president modified the constitution to prolong his term, while neighbouring Georgia, like Armenia, opted for a constitutional reform, also initiated by its president, to transform the country into a parliamentary republic that created options for President Mikheil to remain in power.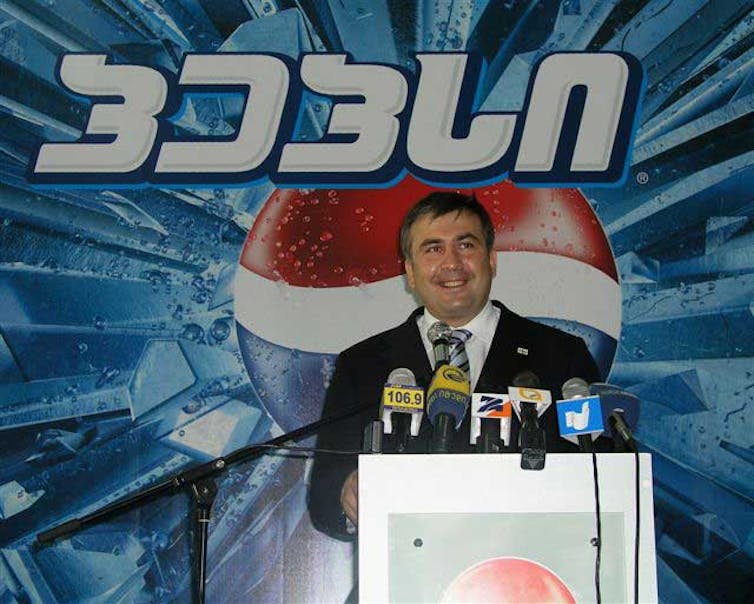 But Saakashvili's party suffered a surprising defeat in 2012 elections as the opposition alliance "Georgian Dream" - led by a Georgian billionaire Bidzina Ivanishvili - won the elections.
Party of power re-branded
Will Serzh Sargsyan succeed in prolonging his political power? His Republic Party of Armenia (RPA), won the two previous parliamentary elections, in 2007 and 2012, seems to have a strong chance of victory this year.
But the party may still face some problems. Due to troubled economy, accusations of corruption and deteriorating security situation, many Armenians are unhappy about Sargsyan's and RPA's long-lasting rule. This discontent has manifested itself in various forms of protests, from peaceful rallies to armed revolt.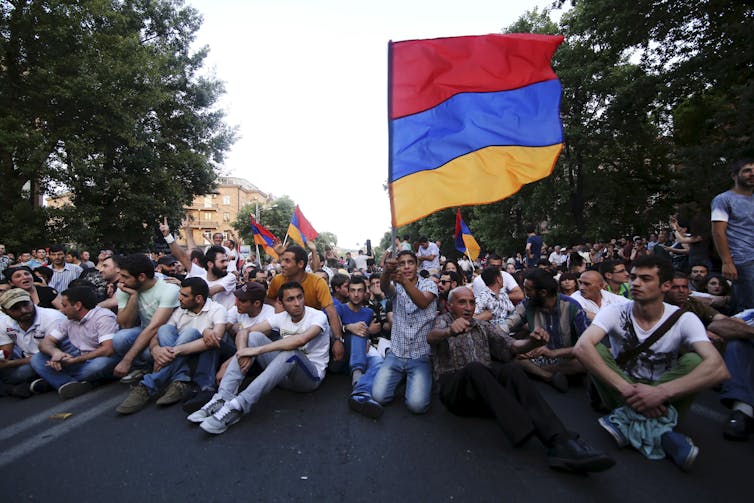 In the run-up to these elections, the RPA underwent a re-branding process, which included the appointment of a new, energetic prime minister, Karen Karapetyan, a businessman and former GazProm manager. The party also ousted several controversial members who had been previously accused of corruption and conflicts of interest.
It's not yet clear whether Karapetyan is being groomed as Sargsyan's heir. Another possible candidate for this role is Minister of Defense Vigen Sargsyan (no relation to Serzh Sargsyan), a close ally of the president.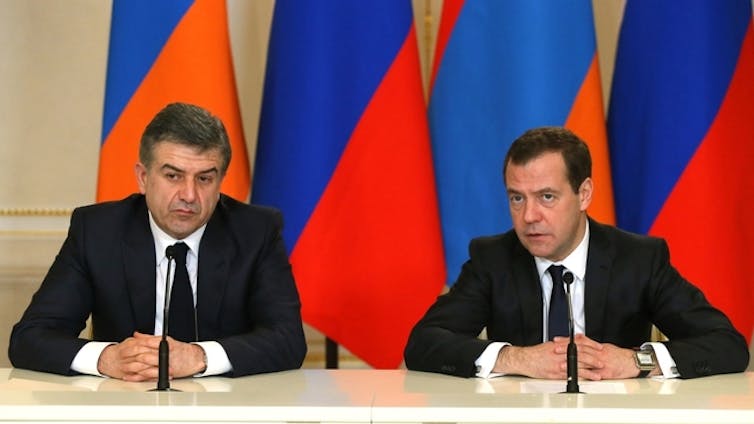 Republicans own the political arena
Karapetyan is not the RPA's only asset. Typically, in post-Soviet countries the ruling party can count on the so-called "administrative resource" – the use of government structures to support the election campaign.
On March 25 an investigation by a pro-democracy Union of Informed Citizens revealed that in breach of electoral legislation, more than a hundred school and kindergarten headmasters have been working for RPA. Posing as RPA campaigners, the NGO's staff telephoned school headmasters, who boasted of their success in recruiting students' parents to vote for RPA; one even admitted intimidating voters.
While the findings created a media storm, the scandal is unlikely to affect RPA's chances in the election: in one form or another, using the state apparatus to advance the ruling party's agenda has been an effective political tool in Armenia for years. It could boost public opinion of the opposition, but that outcome is not yet clear.
A billionnaire contender
Unlike Georgia, where in 2012 the government lost to a united rival front, Armenia's opposition is weak, divided into various political forces with little support. This fragmentation is worsened by endless arguments over who is "the real opposition".
Whether the fragmented opposition does or does not manage to thwart the RPA in April, the bing winner either way may be billionaire candidate Gagik Tsarukyan, who built a beer empire thanks to state contracts under Armenia's second president Robert Kocharyan.
Having not been a part of government coalition during the recent years, he and his Tsarukyan Alliance are perceived by many Armenian voters as an alternative to RPA. But, like other post-Soviet "oligarchs", his fortune is, to a large extent, a result of continued close links to the government, raising suspicions that his participation in this year's election is actually part of a backroom deal with President Sargsyan. Tsarukyan and his supporters vehemently deny this rumour.
As a business tycoon, Tsarukyan built a name for himself through various charitable activities, which had been widely publicised by the media, including by the outlets he himself owns.
Tsarukyan has been compared to the United States billionaire president, Donald Trump, on several accounts – including for his lavish lifestyle. Per a 2006 US State Department cable: "Tsarukyan has a personal style which would make Donald Trump look like an ascetic".
Back then Trump was, like Tsarukyan, just a famous billionaire. Today's candidate Tsarukyan also recalls President Trump: he uses populist rhetoric, promises "everything to everybody" and projects himself, incongruously, as a man of the people (this claim may be more justified from Tsarukyan, a former arm-wrestler who, in his own words, is "from a working family" and "no Harvard graduate").
Like the Republicans of the RPA, Tsarukyan has been accused of bribing voters. In recent polls, Tsarukyan's alliance has outperformed the ruling RPA, an unusual feat in the post-Soviet context. If he wins in April, it would end almost two decades of the Republicans' hold on power.
Though most other Armenian political forces at this point appear uncompetetive, surprise developments cannot be excluded. One new alliance, Ohanian-Raffi-Oskanian (ORO), named after the three politicians who formed it (two former foreign affairs ministers and a former defence minister), is apparently making the government nervous. Lacking clear ideological orientation, the ORO has combined criticism of the RPA with overtures toward Tsarukyan.
Free and fair?
At this juncture, the biggest question in Armenia is probably not who will win the election, but whether the population will consider it free and fair.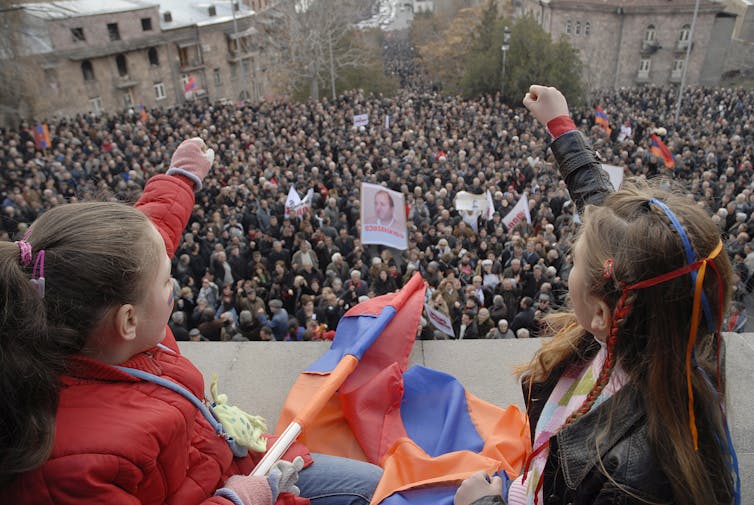 Almost all prior national elections in Armenia have become the subject of debate, with opposition forces accusing the government of fraud as early as 1999. In March 2008, post-election demonstrations in protest of an election many considered stolen were violently suppressed by government forces, and ten people were killed.
This year, 2,300 independent observers have registered to monitor the April 2 election. Against the backdrop of recent protests in Russia and in Belarus, the Armenian government will be especially eager to avoid a mass street protests.
Whether Armenia's rulers be ready to hold free and fair elections, even if it means conceding defeat, will become clear on April 2 and in the days that follow.