MILES FRANKLIN REVIEW: The winner of the 2012 Miles Franklin Award will be announced this week. In preparation, The Conversation brings you academic reviews of the five novels shortlisted for Australia's biggest literary prize.
At Flinders University in March this year, Gillian Mears shared a heart-wrenching personal account of the uncertainty she faces as a writer. In a wheelchair, having developed multiple sclerosis at the age of 31, Mears revealed how her writing process hinges on her ability to walk.
For Mears, writing has always been accomplished as much away from the desk as it has been done at it; the yearning to write inextricably linked with a deep affection for the Australian landscape.
Now, 16 years since she won the Commonwealth Prize for The Grass Sister, Mears channels this inner turmoil in her compelling, multi-generational family drama, Foal's Bread.
Mears has described Foal's Bread as a "love story about horses as much as anything else", but it begins with pigs.
The story opens in country New South Wales, 1926 with a father-daughter duo driving pigs from one farm to the next. After a hard day's work, the father goes drinking with the "boys", leaving his daughter alone to deal with a situation that will subsequently haunt her for the rest of her life.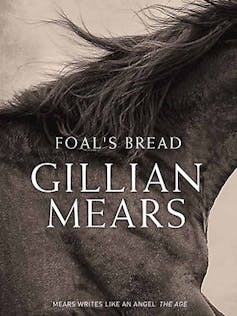 Noah's life takes a turn for the better when she meets a talented young equestrian, Roley Nancarrow. Noah seeks redemption from her troubled past in the competitive show-jumping arena. Roley is instantly smitten with her determination and "fearlessness" on the circuit, considering Noah "like a pony just come out of the scrub."
Their inevitable kinship endures the trials and tribulations of the so-called "golden years" – the horror of war merely lingers in the background.
Mears' passion for horses and the wild country is matched by her extraordinary ability to explore the human condition; when characters in the novel must deal with grief, loss and adversity there is an emotive, unbridled honesty to her prose, illuminating both the beauty and the ugliness of the world in which we live.
A dark cloud is figuratively cast when horses and injuries collide, as they often, almost inevitably, do. A harrowing incident not only curtails a once illustrious show-jumping career, but also strains family relationships. Mears explores what she deems the "uncanny thread between what you are writing and what is occurring in your life" through such misfortunes – the realisation that one character will never be able to jump back in the saddle again is rendered in astonishing detail by an author who sadly knows the feeling all too well.
But it's not all gloom. The children in the novel come to represent a beacon of hope and optimism that shines out of the unforgiving darkness.
Concluding her lecture at Flinders, Gillian Mears shrewdly advised the room full of aspiring young writers not to allow an over-eagerness towards the craft of writing to lead them to give away all their secrets. Her perspective, she said, has always been to "keep the kernel secretly to your heart and chest until it's ready, before you let it unfurl."
Her first novel in over a decade shows it's worth the wait. Foal's Bread is most certainly ready, and has unfurled into one the most spirited and enthralling Australian novels published in years.