Even before Prime Minister Malcolm Turnbull fired the starting gun on this year's election campaign last weekend, Australian media were very clearly switching to election mode. Speculation about any last-minute budget sweeteners and debate about likely policy settings began to pick up, and commentary about the implications of a double dissolution election was already in full swing.
But was any of this reflected in the Australian news stories and opinion pieces that were widely shared on Twitter? Were Australian Twitter users as excited about the prospect of a two-month campaign as Malcolm Turnbull and Bill Shorten, or did they direct their attention elsewhere? The Australian Twitter News Index for April 2016 provides a picture of a public sphere in transition.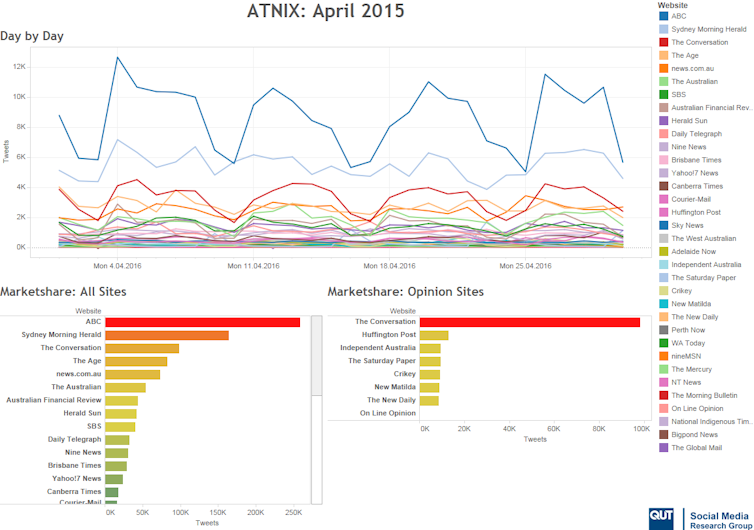 Indeed, the month was bookended by major stories. Most prominent overall, and responsible for the sharpest spike in news sharing, on 4 April, was the release of the Panama Papers, leaking detailed information about the politicians, public officials, managers, celebrities, and other plutocrats using the Panamanian law firm Mossack Fonseca to hide their wealth offshore, away from their local tax offices. The ABC News story about the Panama Papers became its most widely shared article for the entire month, featuring in more than 1,900 tweets (1,700 tweets of these on 4 April itself), with a special feature explaining the importance of the Panama Papers receiving another 1,100 tweets as well.
A second major story, whose impacts will certainly stretch into May and beyond, is the PNG Supreme Court's ruling that the detention of Australian asylum seekers on Manus Island is illegal. First posted on 26 April, the ABC News article about this ruling received some 1,700 shares on Twitter. Indeed, in what may be an ominous sign for the federal election, an unrelated ABC News story about refugee policy, reporting Immigration Minister Peter Dutton's decision to send 90 refugee children from Australia back to Nauru, was shared in some 1,100 tweets since 4 April – this made it the fourth most shared ABC News story for the month.
Finally, it is perhaps no surprise that the extraordinary footage of Greens MP Jeremy Buckingham setting fire to the Condamine River should also receive substantial attention from Twitter users: the ABC News article containing the video was shared in nearly 1,700 tweets since appearing on 23 April, and this may well point to environmental policy again featuring strongly in the election campaign.
Our focus here is on the major ABC News stories especially because in April the site remained the most widely shared Australian news site on Twitter, while closest competitor Sydney Morning Herald continued to lag behind by some distance. Weekday averages for ABC News appear to have settled around 10,000 tweets, while only about 6,000 tweets per weekday share links to the Sydney Morning Herald; this is a notable drop-off from earlier times, when ABC and SMH often ran neck-and-neck.
The Conversation, meanwhile, is now comfortably established as the third most widely shared Australian-based news and opinion site on Twitter, though its numbers are certainly boosted by its disproportionately international contributor and reader base; if we took into account only the tweets by Australian users that contained links to The Conversation, it would most likely rank significantly lower than it does here.
Its top stories during April 2016, incidentally, represent a much broader spread of topics than those of ABC News, and few stories stand out particularly strongly: a factcheck on the safety impact of better pay for truck drivers received 850 tweets; an article about the black market in academic papers 580 tweets; a piece reviewing the benefits of EU membership for the UK 490 tweets; a warning by David Attenborough about the state of the Great Barrier Reef 410 tweets; and a piece about ancient Aboriginal star maps 370 tweets.
Meanwhile, our Hitwise data on the news and opinion sites most visited by Australian Internet users paints a rather different picture of the news market, as usual. Here, news.com.au continues to rule, and the Sydney Morning Herald maintains a strong second place, even though its ranking is increasingly under attack from Nine News, following that site's demerger from nineMSN.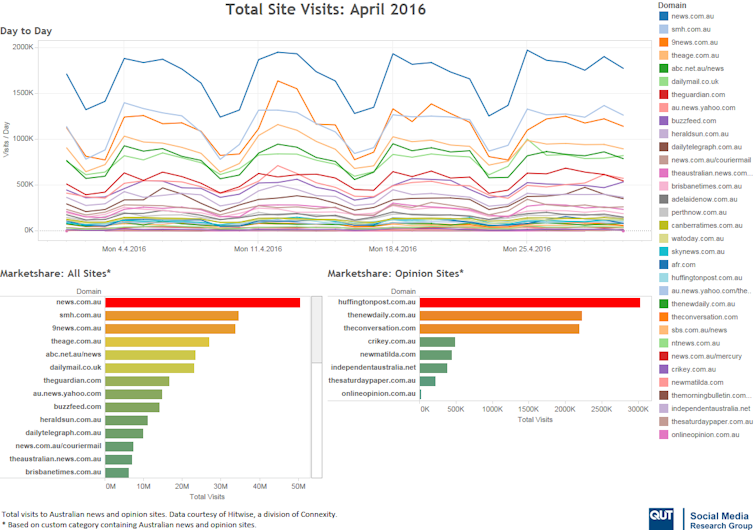 Indeed, Nine News is visited especially frequently during 12 and 13 April, but for all the wrong reasons: the majority of the attention during these days is almost certain to have been generated by the case of its 60 Minutes team being detained for their involvement in an alleged child abduction attempt in Beirut (with a smaller spike on 20 April as some of the team are released and begin their journey back to Australia).
Away from such isolated events, the data on total site visits in Australia provide a useful indication of the mainstream news sites that Australian political campaigners are likely to target with their major announcements over the next two months. Our ATNIX data, meanwhile, will show which of the articles that result from this campaigning received the greatest traction on Twitter – not a representative space that reflects overall political opinion in Australia, certainly, but one that tends to attract some disproportionately vocal and influential demographics in society.
Bring it on, as they say.
Standard background information: ATNIX is based on tracking all tweets which contain links pointing to the URLs of a large selection of leading Australian news and opinion sites (even if those links have been shortened at some point). Datasets for those sites which cover more than just news and opinion (abc.net.au, sbs.com.au, ninemsn.com.au) are filtered to exclude the non-news sections of those sites (e.g. abc.net.au/tv, catchup.ninemsn.com.au). Data on Australian Internet users' news browsing patterns are provided courtesy of Hitwise, a division of Connexity. This research is supported by the ARC Future Fellowship project "Understanding Intermedia Information Flows in the Australian Online Public Sphere".