For anyone based in Australia – and especially for those of us here in Queensland – the major domestic news story of March 2017 is no doubt the impact of Tropical Cyclone Debbie on the coastal communities of the central coast Queensland. So it's surprising that the cyclone fails to impact strongly on the Australian Twitter News Index for the month.
But as we have seen for many similar incidents, slow-moving, long-predicted developments rarely generate substantial engagement from the Twitter community. Twitter is better known for its instant coverage of rapid, unpredicted events – Debbie was well covered by the more conventional live broadcast channels of radio and TV instead.
As a result, the cyclone features only in two of the five most widely shared Australian news stories between 27 and 31 March 2017: ABC News' live blog of developments is shared in some 800 tweets during this time, while its before-and-after footage from Hamilton Island is shared in more than 700 tweets. But other, equally visible news stories in the Australian Twittersphere concern a new find of dinosaur footprints in north-west Australia, and Paul Keating's statement that neo-liberalism is dead (both shared in some 700 tweets).
Even Queensland news sources such as Brisbane Times and Courier-Mail are no more prominent on Twitter during this time than they usually are. This may also indicate that Twitter users sought their information directly from sources such as the Bureau of Meteorology or the Queensland emergency services rather than from news outlets.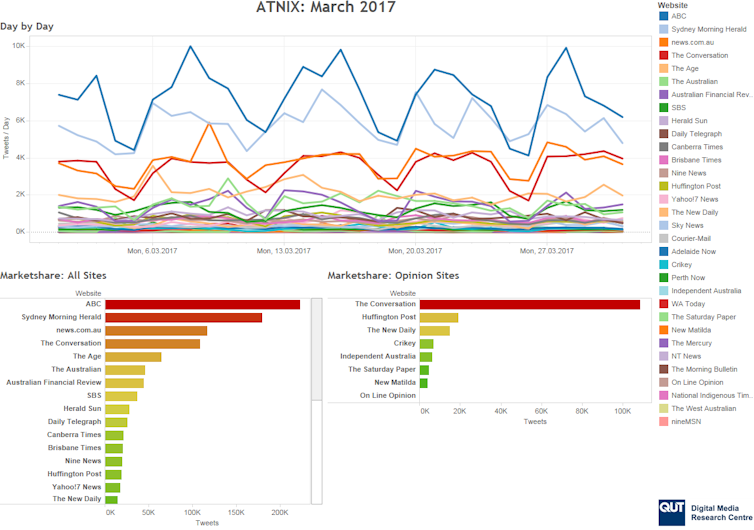 Over the course of the entire month, the picture is similarly mixed. Key stories from ABC News included an article on International Women's Day that reviewed some of the key remaining areas of inequality between women and men (1,700 tweets); an exclusive on the complex transnational company structure of Adani's planned Carmichael coal mine in Queensland (1,300 tweets); and an illustrated piece on old maps of Australia from the National Library's Trove collection (900 tweets).
At the Sydney Morning Herald, a feature on the United States' demand for Cambodia to repay its war debt was shared 1,800 times (most likely also by interested international readers); a new federal opinion poll showing Labor with a 10-point lead over the Coalition received 1,200 tweets; and its Women's Day article on abusive men claiming to be feminists was shared in 1,000 tweets.
Finally, news.com.au performed unusually strongly on 9 March, receiving around 50% more tweets than it would on an ordinary day. This is due for the most part to its coverage of WikiLeaks' latest release of classified CIA documents, which receives some 1,000 tweets that day.
It's yet another demonstration of what we have previously observed as the WikiLeaks effect. This is when stories by domestic news outlets receive increased international circulation because they are picked up by WikiLeaks supporters. We've seen similar dynamics, too, whenever Australian news sites cover teen bands such as One Direction or Five Seconds of Summer.
Such international effects are necessarily absent from our Hitwise data, which track visits to Australian news sites by domestic users only. Here, news.com.au remains steady (and clearly in the lead) on 9 March, as the WikiLeaks story fails to make an impact.
By contrast, however, we do see some increases in site visits to a number of outlets during the final week of March, as Cyclone Debbie makes landfall in Queensland. news.com.au and especially ABC News (as the national emergency broadcaster) are particularly prominent during this time.
The Courier-Mail and – less strongly so – the Brisbane Times see significantly increased traffic especially on Thursday 30 March, as the remnants of the cyclone pass over Brisbane and cause flash flooding as well as school and business closures.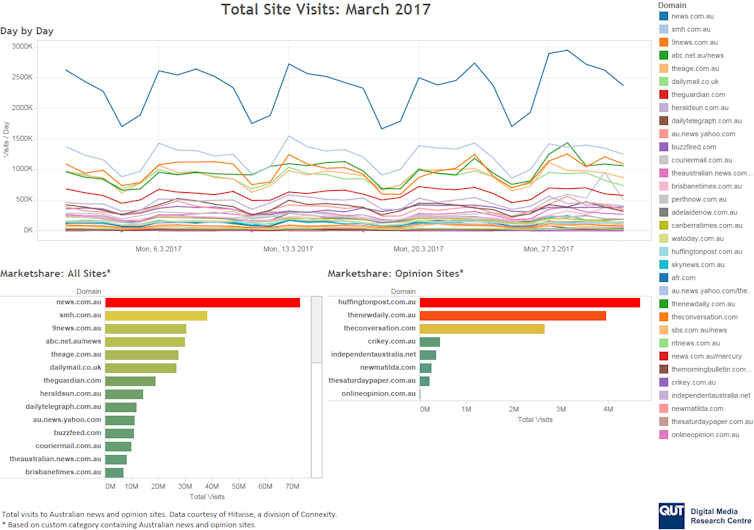 Background information on the Australian Twitter News Index: ATNIX is based on tracking all tweets which contain links pointing to the URLs of a large selection of leading Australian news and opinion sites (even if those links have been shortened at some point). Datasets for those sites which cover more than just news and opinion (abc.net.au, sbs.com.au, ninemsn.com.au) are filtered to exclude the non-news sections of those sites (e.g. abc.net.au/tv, catchup.ninemsn.com.au).
Data on Australian Internet users' news browsing patterns are provided courtesy of Hitwise, a division of Connexity. This research is supported by the ARC Future Fellowship project "Understanding Intermedia Information Flows in the Australian Online Public Sphere".