It's a big day in Australia for cycling fans. The 115th edition of the Paris-Roubaix one-day classic starts from Compiègne just after 11.00am local French time today (around 7:15pm AEST).
Paris-Roubaix is one of the most popular races on the world professional cycling calendar for Australian fans. As I have written elsewhere, Australian cycling has a deep connection with this 121-year-old race also widely known as the 'Hell of the North', and the 'Queen of the Classics'.
Australian history
The first Australian cyclists to tackle the infamously difficult Paris-Roubaix, did so in 1914 (19th edition), just before World War I put everything on hold until 1919. That group of pioneers included Iddo Munro, Don Kirkham, Charlie Snell, George Bell and Charlie Piercey.
Munro finished a very creditable 34th in 1914 (7 minutes behind the winner), followed by Snell 57th and Bell 64th. Piercey was forced to abandon after breaking a wheel, and Kirkham couldn't continue after breaking his bike. After Paris-Roubaix, Munro and Kirkham went on to ride in the 1914 Tour de France – Australia's first entrants in the biggest road race of them all.
The rest, as they say, is history - and what a fine history of Australian cycling feats on the world stage it has proven to be.
Since that first attempt at the famous Paris-Roubaix classic, a further 35 Australians have lined up at the start line over the years in search of personal glory or in support of others. This list has included some of our greatest ever cyclists – Russell Mockridge, Phil Anderson, Dean Woods, and Robbie McEwen to name just some.
Numerous preview pieces have been written about Australian riders in Paris-Roubaix – such is the ongoing appeal of the race in this country. However, few have looked closely at the race statistics.
For the serious cycling geeks, a full list of Australian Paris-Roubaix completions is provided at the end of this article. But a quick look over the figures also reveals some interesting facts.
By the numbers
The Australian presence in Paris-Roubaix over the years has certainly been successful. Our 82 race completions by 30 riders have yielded the following impressive results:
Two winners (Stuart O'Grady 2007, Mat Hayman 2016)
Seven other top-ten finishes (Henk Vogels 1997, 1998; O'Grady 2008; Hayman 2011-12; Heinrich Haussler 2009, 2016)
Eight top-twenty finishes (O'Grady 1997-98, 2003, 2005; Baden Cooke 2006; Mitch Docker 2011; Haussler 2013; Luke Durbridge 2016)
Most starts
16 = Mat Hayman
14 = Stuart O'Grady
11 = Heinrich Haussler
8 = Mitch Docker
7 = Baden Cooke
6 = Henk Vogels, Matt Wilson, Luke Roberts
5 = Allan Davis, Matt White, Luke Durbridge
4 = Stephen Hodge, Zakk Dempster, Matt Goss, Brett Lancaster, Chris Sutton
Most finishes
14 = Mat Hayman
9 = Stuart O'Grady, Heinrich Haussler
5 = Henk Vogels
4 = Stephen Hodge, Baden Cooke, Mitch Docker, Zakk Dempster, Luke Durbridge
DNFs (did not finish)
The most number of DNFs by Australian Paris-Roubaix riders have been:
5 = Allan Davis (2003-06, 2011), Luke Roberts (2006-07, 2010-12), Stuart O'Grady (1999-01, 2010-11)
4 = Matt White (1999-00, 2002, 2007), Matt Wilson (2002-04, 2012)
3 = Brett Lancaster (2007, 2009, 2012), Mitch Docker (2009, 2013, 2016), Matt Goss (2010-11, 2015), Baden Cooke (2010, 2012-13)
Of the 40 Australians who have started Paris-Roubaix, 10 individuals have failed to complete the race in their only starts (Charlie Piercey 1914; Don Kirkham 1914; Jamie Drew 2001; Corey Sweet 2003; Allan Davis 2003-06, 2011; Mark Renshaw 2006, 2008; Gene Michael Bates 2006; Cameron Wurf 2010; Simon Clarke 2011; David Tanner 2011).
Again, these names include some of Australia's most successful cyclists at the highest domestic and international levels - accomplished elite cyclists all of them, which gives an additional indicator of the difficulty of Paris-Roubaix.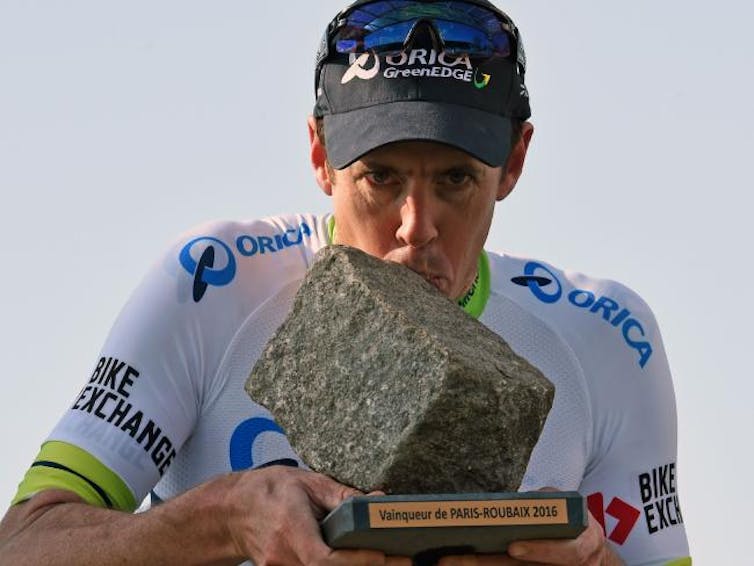 115th edition of Paris-Roubaix in 2017
Australian cycling fans will be delighted to see six of their countrymen will be starting in the 2017 Paris-Roubaix tonight. The Orica-Scott team is fielding a strong line up of very experienced campaigners and elite newcomers - the Australian riders are:
The other Australians on the start line include Will Clarke (Cannondale-Drapac) who is riding his second Paris-Roubaix, and Miles Scotson (BMC) in his first, and flying the national colours as the current Australian road champion.
People all over Australia will be watching the race live on SBS Viceland from 9:30pm AEST tonight, or catching the live stream earlier on the SBS Cycling Central website from around 7:15pm. The race is also being broadcast live in Australia on Eurosport (access via Foxtel channel 511), and growing numbers also follow along on Twitter (#ParisRoubaix).
My tips for this year's race:
By head: Peter Sagan, Ian Stannard, Luke Durbridge
By heart: Mat Hayman, Tom Boonen, Sylvain Chavanel
---
Australian riders completing Paris-Roubaix (Team, place, year)
Iddo "Snowy" Munro (34th 1914)
Charles Snell (57th 1914)
George Bell (64th 1914)
Russell Mockridge (42nd 1955)
Phil Anderson (Panasonic 19th 1985)
Dean Woods (Stuttgart-Mercedes 68th 1990)
Stephen Hodge (ONCE 70th 1990; ONCE 65th 1992; ONCE 57th 1993; Festina 41st 1995)
Allan Peiper (Tulip 22nd 1991)
Stuart O'Grady (GAN 46th 1996; GAN 16th 1997; GAN 20th 1998; Credit Agricole 18th 2003; Cofidis 18th 2005; CSC 1st 2007; Cofidis 5th 2008; GreenEdge 53rd 2012; Orica-GreenEdge 96th 2013)
Henk Vogels (GAN 10th 1997, GAN 10th 1998 Credit Agricole 43rd 1999; Davitamon-Lotto 23rd 2005; Davitamon-Lotto 28th 2006)
Mat Hayman (Rabobank 65th 2000; Rabobank 49th 2001; Rabobank 26th 2003; Rabobank 78th 2005; Rabobank 23rd 2006; Rabobank 113th 2008; Rabobank 21st 2009; Sky 24th 2010; Sky 10th 2011; Sky 8th 2012; Sky 52nd 2013; Orica GreenEdge 41st 2014; Orica GreenEdge 76th 2015; Orica GreenEdge 1st 2016)
Scott Sunderland (Alessio 44th 2004)
Heinrich Haussler (Gerolsteiner 25th 2005; Gerolsteiner 73rd 2006; Gerolsteiner 58th 2008; Cervelo 7th 2009; Garmin-Barracuda 32nd 2012; IAM Cycling 11th 2013; IAM Cycling 91st 2014; IAM Cycling 80th 2015; IAM Cycling 6th 2016)
Baden Cooke (FDJ 49th 2005; Unibet 17th 2006; Barloworld 31st 2008; Saxo 22nd 2011)
Luke Roberts (CSC 59th 2005)
Matt Wilson (FDJ 77th 2005; Unibet 66th 2006)
Matt White (Discovery 74th 2006)
Aaron Kemps (Astana-Wurth 79th 2006)
Chris Sutton (Slipstream 67th 2008; Garmon-Slipstream 95th 2009; Sky 69th 2010)
Matt Goss (Saxo 32nd 2009)
Wes Sulzberger (FDJ 61st 2009)
Mitch Docker (Skil-Shimano 47th 2010; Skil-Shimano 15th 2011; Orica GreenEdge 29th 2014; Orica GreenEdge 91st 2015)
Brett Lancaster (Cervelo 67th 2010)
Robbie McEwen (Katusha 73rd 2010; Radio Shack 48th 2011)
Adam Hansen (Omega Pharma-Lotto 106th 2011)
Jonathan Cantwell (Saxo-Tinkoff 92nd 2013)
Zakk Dempster (NetApp-Endura 107th 2013; NetApp-Endura 56th 2014; Bora Argon 92nd 2015; Bora Argon 24th 2016)
Luke Durbridge (Orica-GreenEdge 110th 2013; Orica-GreenEdge 90th 2014; Orica-GreenEdge 102nd 2015; Orica-GreenEdge 18th 2016)
Will Clarke (Argos-Shimano 112th 2013)
Michael Hepburn (Orica GreenEdge 133rd 2014)
Sources: McGann Publishing's Bike Race Info, and Pro Cycling Stats.
---