This article is part of a series Australia's place in space, where we'll explore the strengths and weaknesses, along with the past, present and the future of Australia's space presence and activities.
---
Rockets, astronomy and humans on Mars: there's a lot of excited talk about space and what new discoveries might come if Australia's federal government commits to expanding Australia's space industry.
But one space industry is often left out of the conversation: Earth observation (EO).
---
Read more: Why it's time for Australia to launch its own space agency
---
EO refers to the collection of information about Earth, and delivery of useful data for human activities. For Australia, the minimum economic impact of EO from space-borne sensors alone is approximately A$5.3 billion each year.
And yet the default position of our government seems to be that the provision of EO resources will come from other countries' investments, or commercial partners.
This means the extensive Commonwealth-state-local government and industry reliance on access to EO services remains a high-risk.
What is EO (Earth observation)?
You've almost certainly relied on EO at some point already today.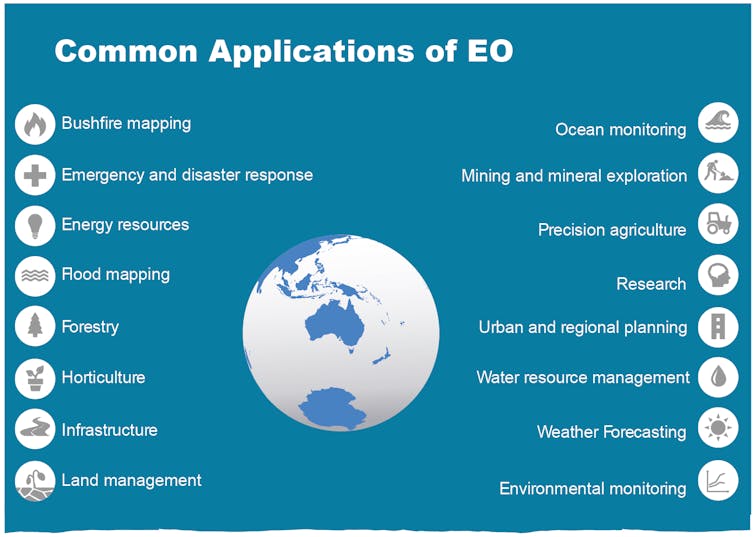 EO describes the activities used to gather data about the Earth from satellites, aircraft, remotely piloted systems and other platforms. It delivers information for our daily weather and oceanographic forecasts, disaster management systems, water and power supply, infrastructure monitoring, mining, agricultural production, environmental monitoring and more.
Global positioning and navigation, communications and information derived from satellites looking at, and away from Earth are referred to as "downstream" space activities.
"Upstream" activities are the industries building infrastructure (satellites, sensors), launch vehicles and ground facilities for operating space-based equipment. In this arena, countries such as Russia focus on building, launching and operating satellites and space craft. Others (such as Canada, Italy, UK) target developing industries and government activities that use these services. The US and China maintain a balance.

Australia spends very little on space
Although we rely so heavily on downstream space activities in our economic and other operations, Australia invests very little in space: only 0.003% of GDP, according to 2014 figures.
Other countries have taken very proactive roles in enabling these industries to develop. Most government space agencies around the world invest 11% to 51% of their funds for developing EO capacity. These investments allow industries and government to build downstream applications and services from secure 24/7 satellite data streams.
Historically, Australia has invested heavily in research and research infrastructure to produce world leading capabilities in the science of astronomy, space-debris tracking and space exploration communications.
In EO there are no comparable national programs or infrastructure, nor have we contributed to international capability at the same levels as these areas. This seems strange given:
our world leading status in applied research and extensive government use of these data as fully operational essential and critical information streams
all of the reports requesting increases in government support and enabling for "space" industry cite our reliance on EO as essential, but then don't present paths forward for it
there are now a number of well established and growing small companies focused on delivering essential environmental, agricultural, grazing, energy supply and infrastructure monitoring services using EO, and
we have a well organised EO community across research, industry and government, with a clearly articulated national strategic plan to 2026.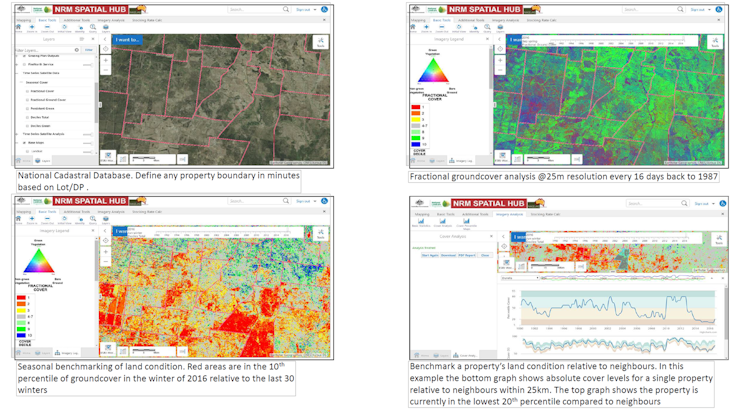 Building Australia's EO capacity
EO plays a vital role in many aspects of Australian life. Australia's state and Commonwealth agencies, along with research institutions and industry have already built essential tools to routinely deliver satellite images in a form that can be developed further by private industry and delivered as services.
But our lack of a coordinating space agency adds a layer of fragility to vital EO operations as they currently stand.
---
Read more: As the world embraces space, the 50 year old Outer Space Treaty needs adaptation
---
This places a very large amount of Commonwealth, state and local government activity, economic activity and essential infrastructure at risk, as multiple recent national reviews have noted.
Our federal government started to address the problem with its 2013 Satellites Utilisation Policy, and will hopefully build on this following the current rounds of extensive consultation for the Space Industry Capability Review.
Although our private EO upstream and downstream industry capabilities are currently small, they are world leading, and if they were enabled with government-industry support in a way that the Canadian Space Agency, the European Space Agency/European Commission and UK Space Agency do, we could build this sector.
If Australia is to realistically participate in the "Space 2.0" economy, we need to act now and set clear goals for the next five, ten and 20 years. EO can be a pillar for this activity, enabling significant expansion of our upstream and downstream industries. This generates jobs and growth and addresses national security concerns.
That should be a win for all sectors in Australia – and we can finally give back and participate globally in space.
---
Data sources for figure "Proportion of space budget spent on different capacities": NASA; ESA - here and here; JAXA; PDF report on China.