When Brian the farmer finished his poem the crowd went wild.
Small wonder he earned the People's Choice Award on the night. We were at a so-called poetry "slam" at a country hall in a place so tiny it registers only as a "locality" rather than a town.
The poets came from among the audience: farmers and tree-changers, plus a couple of blow-ins like my partner (related to a local) and myself. A few read poems in free verse, but the majority – including Brian – read bush ballads that celebrated the district, its identities and their adventures.
That's more or less what bush ballads have always done.
The origins of bush balladry
The term derives from Australian poet Adam Lindsay Gordon's Bush Ballads and Galloping Rhymes (1870), which established a model in classic poems like From the Wreck and The Sick Stockrider.
From the 1880s, poets associated with the Sydney Bulletin developed the form as a means of telling national stories, most famously Henry Lawson and A.B. "Banjo" Paterson – although there were many others, including Will Ogilvie, "Breaker" Morant and the melancholy Barcroft Boake, who hanged himself with his stockwhip.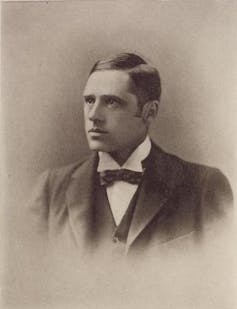 Such balladry was by no means unique to Australia. Ballad poetry was widely popular in all English-speaking countries and among all classes, many of whom learnt it at school or for elocutionary training.
The fashion for literary ballads came in the wake of Romanticism's love affair with all things natural and down-to-earth, including folk poetry and proletarian song. From the creative anachronism of Coleridge's Rime of the Ancient Mariner (1798) to the music hall rhythms of Kipling and C.J. Dennis, 19th- and early-20th-century poets adapted the ballad form to a multitude of purposes.
Ballads at The Bulletin
Bush ballads may look folky, and certainly they've been sung over the years by folkies, but they're a modern, literate poetic form, and not the organic creations of a pre-industrial peasantry – although many country people have written and continue to write them.
Their popularity was a function of rapid advances in newspaper production and distribution. Most of The Bulletin's bush bards were city-based writers and, in the years leading up to Federation, their version of rural life consecrated the bush as an ideological marker of Australian difference. If they celebrated the male bush worker as the national type, such as Paterson's pastoral vision in Clancy of the Overflow, Lawson struck darker notes in The Ballad of the Drover and Past Carin', the latter depicting a woman's despair.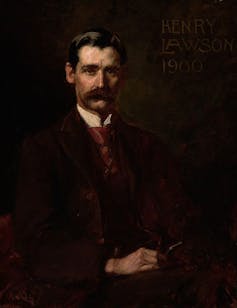 Political scientist Benedict Anderson has argued that newspapers and literary texts can offer a nation the textual basis for an "imagined community".
But Australia wasn't the only country where balladry about heroic frontiersmen helped construct national identity. New Zealand had its balladeers, one of whom, David McKee Wright, went on to become literary editor of The Bulletin.
Canada's version of Banjo Paterson was Robert Service, best-remembered for The Shooting of Dan McGrew (1907), a melodramatic favourite of parlour reciters.
The USA has a tradition of frontier balladry that bears comparison with our own. The Californian Gold Rush poet Bret Harte was a major influence on Lawson, and it's worth noting that the Bar-D Ranch cowboy poetry website includes a number of Australian bush ballads as "classics" of the American genre.
Indeed, it's just possible that The Man from Snowy River was inspired by a Wild West entertainer, Texas Jack Jr, who premiered in Sydney a little over a month before Paterson's poem appeared in The Bulletin on April 26 1890.
The ranks of bush balladists rapidly thinned after the first world war as Australia's self-image shifted, although genuine bushies like Edward Harrington and Harold "Duke" Tritton took the form to the middle of the 20th century. More literary poets such as Mary Gilmore, John Shaw Neilson, Douglas Stewart, David Campbell and, especially, John Manifold adapted ballads to their own uses; others, such as Kenneth Slessor, detested them for their narrowly parochial appeal.
Bush ballads in the modern era
These days almost no professional poets write ballads.
Les Murray, who sometimes does, reckons "When Sydney and the Bush meet now/there is no common ground".
Even so, most bookshops, if they have a poetry section at all, will at least stock selections of Lawson and Paterson. Until Crocodile Dundee trumped it four years later, the film of The Man from Snowy River (1982) was the highest-grossing Australian movie of all time. The Man has since appeared at the 2000 Olympics and at a travelling "Arena Spectacular".
Still, it's fair to say that the ballad tradition – or bush poetry, as the Australian Bush Poets Association (ABPA) prefers – has mostly retreated to the bush. There, bush ballads have been quietly folded into the country music scene, where they've become as much a performance art as a literary one. If you think it's just a hokey pastime for ageing rustics and self-styled "characters", you might be surprised by the ABPA website, which claims "an amazing resurgence of Performance Bush Poetry".
Which brings me back to that poetry slam in the bush – in which a small, increasingly diverse local community let its hair down and re-imagined itself through words. After the locals had shared their poems with each other, it ended in good country style with a bring-a-plate supper. It was such a hoot I feel like writing a ballad in celebration.