This week's ATNIX was always going to be centrally about one thing: Australian Prime Minister Julia Gillard's extraordinary, sustained, and (it seems?) largely unscripted attack of Opposition Leader Tony Abbott's misogynistic worldviews (as she describes them).
The fact that, as I write this from a Copenhagen hotel room, the 15-minute video of what can only be described in modern language as her pwning of Abbott is listed as the second most prominent video even on the Danish version of YouTube speaks volumes about the extent to which footage of the speech has gone viral throughout the world. As has been reported, even supporters of President Obama in the US are now imploring him to take the fight to Mitt Romney in the next election debate with the unrelenting ferocity that Gillard had shown in her speech.
So, let us turn to our Australian Twitter News Index to see just how much domestic and international traction articles related to the speech have received – and to examine whether any other stories managed to cut through the noise.
ATNIX Week 41: 8-14 Oct. 2012
First off: with the video and related stories going viral, this was one of the bigger weeks for ATNIX to date. With some 145,000 tweets linking to Australian news sites, the volume of shared news links jumped by more than 30,000 since last week – and as is often the case, we can assume that a significant proportion of these will have been shared by international users. The result is extraordinary: for the first time in seven weeks, links to the ABC Website's news sections managed to outnumber those to the Sydney Morning Herald – and for the first time since we've been running ATNIX, they do so by several thousand tweets.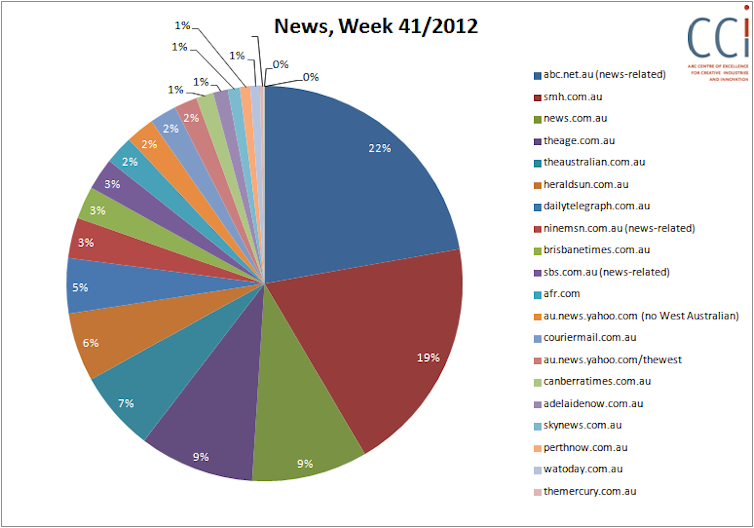 Opinion links are also up, and by almost 50% compared to last week – as a result, the more than 29,000 tweets which linked to Australian opinion and commentary sites and sections constitute an all-time record for ATNIX, well above the record of 24,000 such tweets which we set in week 34. Here, the SMH retains its dominant position, although the ABC's The Drum (at abc.net.au/unleashed) puts in a particularly strong performance as well.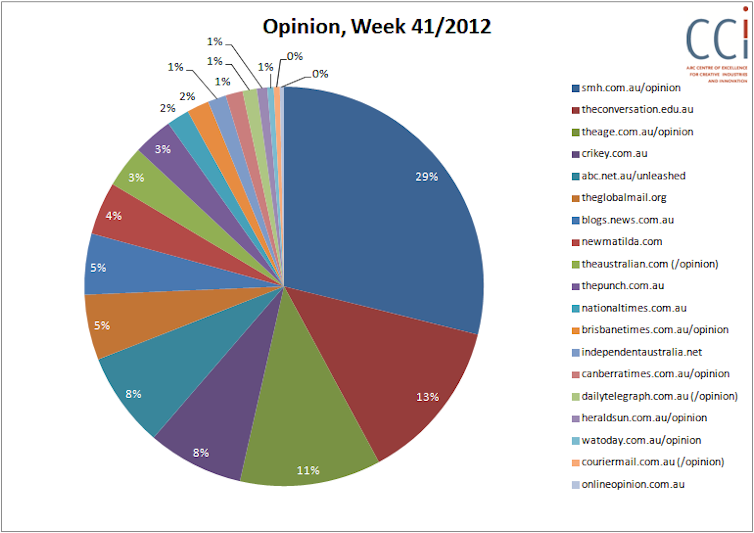 The real surprise here, however, is non-profit long-form journalism site The Global Mail: for as long as we've been running tracking ATNIX, the site had been languishing in the very minor placings – largely as a result of its stylish but badly overwrought design. Last week, only some 300 tweets shared links to the site, for example – but following a comprehensive redesign for better accessibility, that number has increased by a factor of more than five: more than 1,550 tweets linked to The Global Mail during week 41/2012. It remains to be seen, of course, whether this is will be more than a blip in the site's otherwise dismal ratings as prospective users express their relief at the redesign – but GM staff should feel cautiously encouraged by this result.
But the real story of ATNIX for week 41/2012 is in the daily numbers, of course - and the star performer (next to Gillard herself) is ABC News. On two consecutive days, it receives a record level of more than 8,000 links from tweets – and the main target of these links, included in some 6,300 tweets over the course of 9 and 10 October, is the full, 15-minute video of Gillard's attack on Abbott. Other stories pale by comparison: at some 600 links, the next highest ranked story during those two days receives less than ten per cent of the Gillard video – but all but two of the top ten ABC links during these two days deal with Gillard and/or Abbott. The only exception are two stories relating to a 7.30 piece on self-immolation as a form of political protest in Tibet.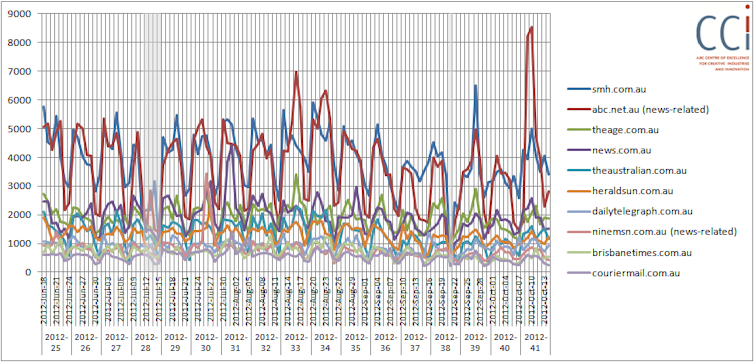 We should note that the carryover of such heightened levels of activity into a second day is very rare – and in this case clearly indicates the global virality of the story: as Twitter users in other timezones continued to share the video, its popularity (and the incidence of links to the ABC site) continued through a whole 24-hour news cycle. In fact, while only adding a little less than 400 more tweets to its tally, the video remained the most tweeted item on the ABC News site even on 11 October.
But while the ABC clearly wins the news race – with a simple post which does no more than present the Gillard video itself, incidentally –, amongst the opinion and commentary sites and sections the week is more of a free-for-all. Most of the leading sites squeeze in a sizeable spike or two, but it's the Sydney Morning Herald which leads the pack and records its second best one-day performance in the time we've run ATNIX.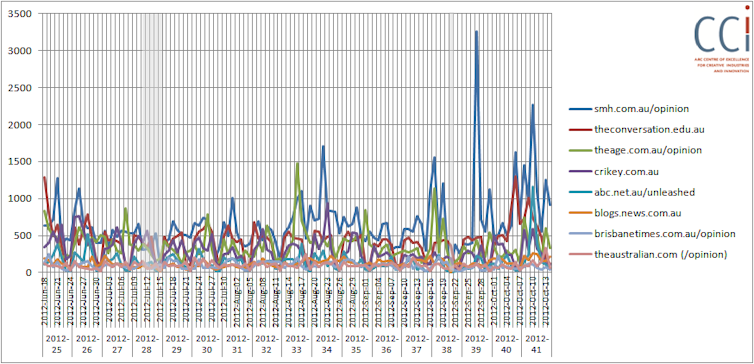 Indeed, the SMH spikes work well as a documentation of the rapid pivot in the Australian misogyny debate, from Alan Jones to Tony Abbott: while on Monday, Mike Carlton's "Prissy Shrieks of Fear and Loathing", a portrait of Jones, adds to its performance from the previous Saturday by picking up another 350-odd links, by Wednesday Jones is ancient history, and the Gillard/Abbott stoush is front an centre.
Columnist Paul Sheehan's rather oddly written piece which criticises Gillard for playing the 'gender card' leads the day, receiving some 700 tweets; a second article, by political editor Peter Hartcher, takes the same line, and picks up some 300 more links. Many of them, it's worth noting, are far from supportive, so tweeting about them cannot be seen as endorsement – indeed, many readers took issue especially with a line in Sheehan's piece which pointed out that Abbott had "raised three daughters, something [Gillard] was unable to do" which was subsequently excised from the article.
By Saturday, though, the wind had turned even at the SMH, and author Julia Baird provides a counterpoint to the senior editors' attempts at 'mansplaining' away Gillard's attack: her spirited defence of the speech is linked to by close to 600 tweets that day.
The discussion in the Sydney Morning Herald's opinion pieces is emblematic of a wider debate which would quickly become the second(ary) story of the week: the Canberra press gallery's almost unanimously negative reaction to Gillard's speech, which appeared well out of step with the highly positive reviews which it received in media coverage around the world, and from many everyday Australians.
What also appears to emerge here, as the SMH coverage itself already hints at, is a substantial disconnect especially between many senior Australian editors and journalists on the one side, and more junior, often independent, opinion writers on the other. If charges of 'groupthink' are to be levelled at the press gallery in the future, their coverage of this week's events are likely to take pride of place as Exhibit A from now on.
And the criticism has been widespread. Much as Baird's article in Saturday's SMH provides a counterpoint to the prevailing post-speech media narrative, so is the Wednesday spike for the ABC's The Drum section driven by journalist Anne Summers's positive response to Gillard's speech (some 720 links), and by independent columnist Tim Dunlop's critique of the Australian news media's coverage of both the Jones/Gillard and the Gillard/Abbott debate (some 610 links). Author Susan Mitchell adds her views on Crikey, driving its spike on the same day by drawing some 220 tweets which linked to her article.
Something tells me this debate isn't over yet. What's next?
Standard background information: this analysis is based on tracking all tweets which contain links pointing to the URLs of a large selection of leading Australian news and opinion sites. For technical reasons, it does not contain 'button' retweets, but manual retweets ("RT @user …") are included. Datasets for those sites which cover more than just news and opinion (abc.net.au, sbs.com.au, ninemsn.com.au) are filtered to exclude irrelevant sections of those sites (e.g. abc.net.au/tv, catchup.ninemsn.com.au). For our analysis of 'opinion' link sharing, we include only those sub-sections of mainstream sites which contain opinion and commentary (e.g. abc.net.au/unleashed, articles on theaustralian.com.au which include '/opinion' in the URL), and compare them with dedicated opinion and commentary sites.
See the posts tagged 'ATNIX' at Mapping Online Publics for a full collection of previous results.