The latest edition of our Australian Twitter News Index arrives in a somewhat more timely fashion than the previous one did. Unfortunately, though, our data are somewhat compromised by the fact that regular scheduled maintenance on our Twitter data servers took place on Tuesday and Wednesday of last week – which means we missed a good chunk of the debate around the Royal Commission into child abuse in institutions, and particularly around Catholic Cardinal George Pell's press conference about the matter. Very unfortunate, but there's little we can do about it, I'm afraid.
ATNIX Week 46: 12-18 Nov. 2012
Because the Twitter API makes it easier to backfill missing data on minor than major tracking terms, such outages tend to affect our data on the most widely linked-to Australian news sites more strongly than those on the minor sites. Despite the major stories about the Royal Commission, therefore (which would usually boost the numbers of the leading sites disproportionally), the overall distribution of links across our news sites remains little changed from last week.
Notwithstanding the server outages, we captured some 133,000 tweets linking to these news sites during week 46; that's down 17,000 from last week, and gives us a rough estimate of the volume of tweets we missed during the outage. With those caveats, the tweets we did capture distribute across the leading sites in a nonetheless familiar pattern: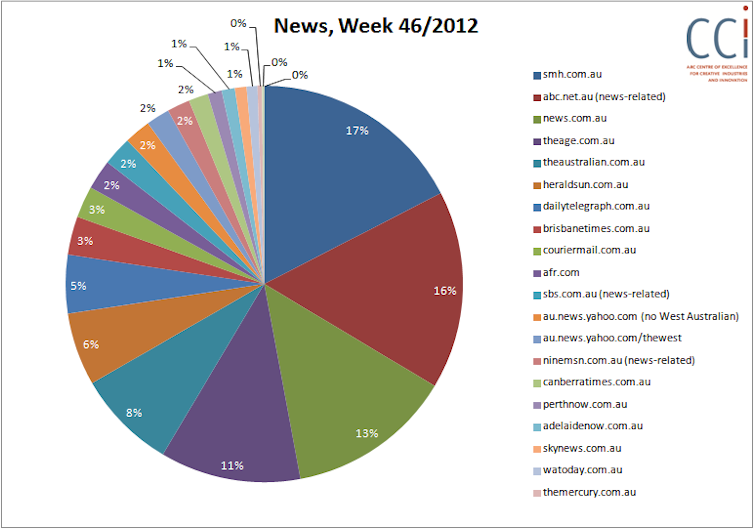 The comparatively small share of tweets pointing to the Sydney Morning Herald and ABC News is an artefact of our outage; by contrast, the comparatively strong showing of news.com.au this week is genuine, as the persistent hair growth spammer which had plagued our dataset over the past few weeks has finally moved on.
The distribution of tweets across our opinion and commentary sites may also underestimate the marketshare of major sites, and chiefly the SMH. The total number of opinion tweets we captured this week is down slightly from last week, at 18,500, but it is very likely that without the outages we would have captured a substantially larger number of such tweets, especially on Tuesday and Wednesday.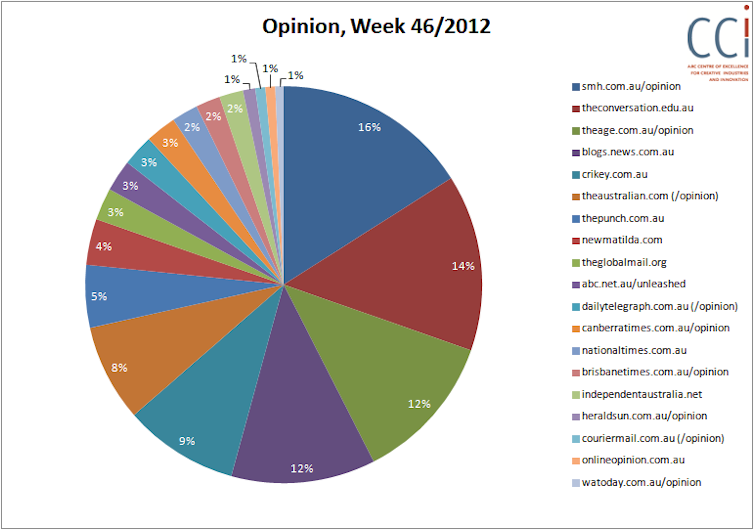 Given these limitations, then, our analysis this week must necessarily focus on the days for which we do have good data – starting with Monday. Here, we see a strong spike in sharing activity for several leading sites (including the SMH, ABC News, and news.com.au), which would most likely have carried through into the following day; by 8 a.m. AEST on Tuesday (before our servers were shut down), at least, Twitter news sharing had already well surpassed the activity levels set that time on the previous day.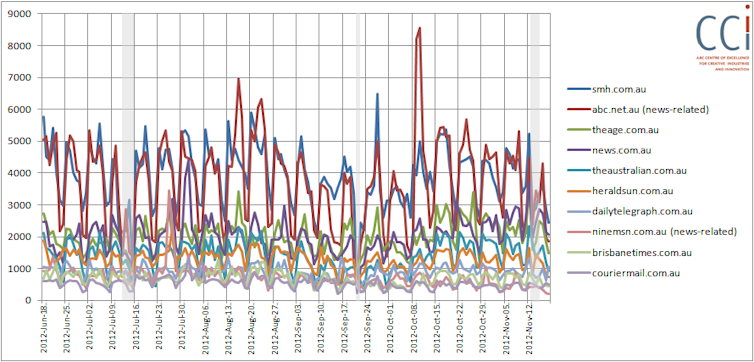 While Monday is too early in the evolution of the child abuse crisis to be exclusively dominated by that story, there nonetheless is substantial focus on the issue. Some 270 links to the Sydney Morning Herald reference an article about calls for Cardinal Pell to close the religious order St John of God because of the scandal, while ABC News articles about Tony Abbott's and Tony Windsor's support for a Royal Commission receive some 140 and 130 tweets, respectively. A further 200 tweets link to the live stream of ABC News 24, which provided live coverage of Prime Minister Julia Gillard's announcement of the Royal Commission. Pieces on Gillard's consideration of an inquiry, and subsequently on her announcement of the Royal Commission, also serve as the most linked stories at The Australian that day.
The following days' data are too problematic to examine in any detail; by Friday 16 Nov., however, we can trust our data again, and see another pronounced spike in activity especially for SMH and ABC News. By this time, however, the Royal Commission has already been announced, and even Cardinal Pell's press conference is no longer at the centre of Twitter discussion. Instead, the SMH spike is driven by the reaction to a tweet by well-known Crikey psephologist blogger Possum Comitatus, which was widely retweeted on the day:
Tony Abbott just said this on Gardasil http://t.co/Sb5SKHcx Meanwhile, the reality was actually this http://t.co/2FXVbk8T
The tweet juxtaposes an SMH article from 2006 (which has then-PM John Howard overruling his Health Minister Tony Abbott about Abbott's intended delay to the start date of the government's cervical cancer immunisation programme) with Abbott's tweet on Friday morning, taking the credit for the immunisation programme. It's highly unusual to see such a comparatively ancient link trouble our weekly news index – but it demonstrates the potential of social media for fact-checking the statements of politicians. Some 260 of the tweets pointing to the Sydney Morning Herald site on Friday pointed to the 2006 article, turning it into an unlikely lead story by a substantial margin.
The simultaneous spike in ABC News links, on the other hand, continues to focus on its Royal Commission coverage: here, the leading Friday story is a piece about the support which police whistleblower Peter Fox had received on Twitter, following his Lateline interview. This also continues a long-term trend which sees articles with relevant to social media being shared especially widely on social media, of course.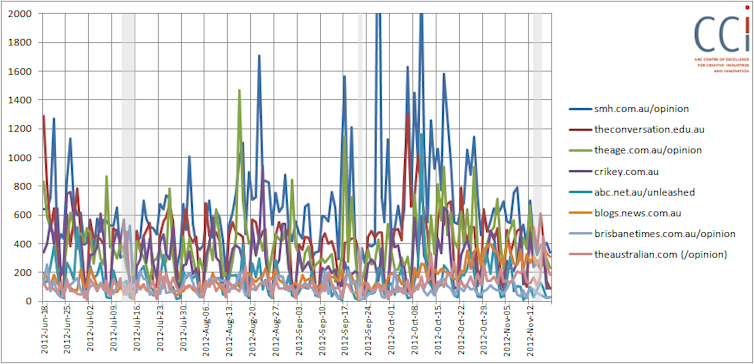 The patterns for opinion sites and sections are less pronounced; the minor spikes on Monday and Friday are due for the most part simply to the server outage-induced lull in between. There is, however, an unusual spike in links to the otherwise fairly underrepresented opinion section of The Australian, and this spike provides a final postscript to the Abbott story: a 2006 opinion piece in The Australian, which describes Abbott as 'a national dill' over his opposition to the cervical cancer vaccination programme, was shared by several Twitter users – including prominent blogger Grog's Gamut and Health Minister Tanya Plibersek – and accounted for some 250 of the 450 tweets referencing The Australian's opinion section on Friday.
Message to politicians: sometimes Twitter users have very long memories.
Standard background information: this analysis is based on tracking all tweets which contain links pointing to the URLs of a large selection of leading Australian news and opinion sites. For technical reasons, it does not contain 'button' retweets, but manual retweets ("RT @user …") are included. Datasets for those sites which cover more than just news and opinion (abc.net.au, sbs.com.au, ninemsn.com.au) are filtered to exclude irrelevant sections of those sites (e.g. abc.net.au/tv, catchup.ninemsn.com.au). For our analysis of 'opinion' link sharing, we include only those sub-sections of mainstream sites which contain opinion and commentary (e.g. abc.net.au/unleashed, articles on theaustralian.com.au which include '/opinion' in the URL), and compare them with dedicated opinion and commentary sites.
See the posts tagged 'ATNIX' at Mapping Online Publics for a full collection of previous results.