Australia must have a strategy to ensure the country's prosperity and boost its international standing in science, technology, engineering and mathematics (STEM), Chief Scientist Professor Ian Chubb said at the Maths and Science Education symposium last Wednesday, or we risk being left behind.
The symposium, organised by The Conversation and the Office for Learning and Teaching and held at the University of Canberra, featured five academic panel members as well as debate with policy advisers, academics, authors and students on the state of science and maths education in Australia.
In his address, Professor Chubb discussed the development of an overarching national strategy targeting education, social impact, knowledge, innovation and influence within the STEM sectors.
Professor Chubb spoke to The Conversation after the symposium about the outline of the STEM strategy.
What spurred development of the national STEM strategy?
Basically, we need one and we don't have one. We were interested in Australia's performance in STEM areas so we looked at how the country, on average, compared to countries that outperform us, and what kind of characteristics those countries had.
The majority had some sort of national strategy which directed funding consistent with the strategy. We currently don't have anything like that at all – but we do have lots of programs. We make the argument that we need one or we'll be left behind - and when a nation has to make serious choices about spending, we need a framework to guide us effectively.
Is there a country comparable to Australia we can look to as a good example of what the strategy should provide?
If you look at the ACOLA [Australian Council of Learned Academies] report on country comparisons, which came out a couple of weeks ago, there are examples of nations which do better than we do. One of the points the report makes is:
Most nations are closely focused on advancing STEM and some have evolved dynamic, potent and productive strategies. In world terms Australia is positioned not far below the top group but lacks the national urgency found in the United States, East Asia and much of Western Europe, and runs the risk of being left behind.
The National Science and Technology Council in the US put out a five-year plan for STEM in May this year. The Council has a coordinating role in:
interagency research and development strategies to form investment packages that are aimed at achieving multiple national goals.
I think that really summarises what Australia needs. The Americans do it very well.
The strategy mentions operating with a 'social licence' built upon a 'compact' with society. Why is this important?
What we're saying is that science will be most effective when it operates with a social licence. This would mean that it works in the community's interests according to some rules - such as having a high level of ethics - and because the community wants it, it will be more likely that it is funded properly.
I think a strategy is a way of clarifying the end point - the reason for doing all this work. Surely, that is to make Australia a better place for everybody who lives here. If that is the end, what are the means?
I think that the "means" are research, innovation, education and so on. To get the maximum benefit from all of those "means", their value has to be clear – whether that is understanding better the natural world, or a better product or service that comes from applying knowledge.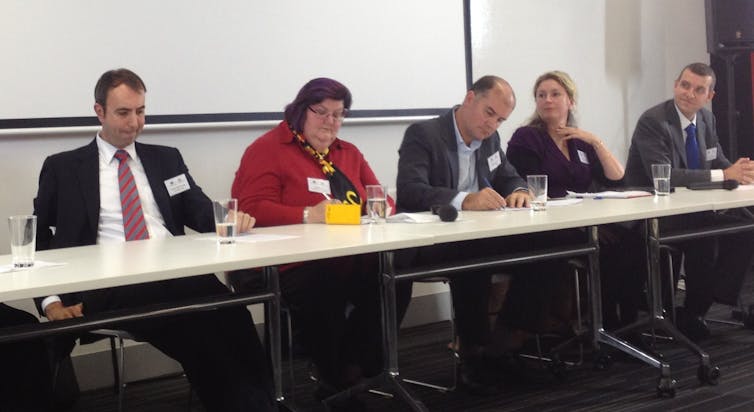 At the Maths and Science Education symposium we heard a wide range of topics from the panel, from getting kids into science early to changing attitudes towards teachers. What main points did you pick up from the day?
I heard that there is a number of interesting things being done, from studies of primary school children and how they learn to online learning. But the question is: how do we get the inspiration displayed at the symposium implemented on a scale that it will make a real and enduring difference?
One of the things that we need to do is identify what we do really well and expand this. Part of our problem is we have lots of small programs, and while many of those programs have good outcomes, they impact a small number of people.
The message I got was great things are already in progress but the scale is still too small, and the question for government is how do we increase the scale to begin changing the culture of the country?
Speaking of changing our culture, there's an opinion abroad that if someone studies science but doesn't work in that discipline, something's failed. That is ridiculous. A broad science education means a person has career options in multiple sectors of the economy and we should be really pleased if they go off and work in a non-science field. They will add value.
We need to change the attitudes of the educators and the attitudes of the employers. For example, a science graduate might be expected to approach a career in journalism differently from someone who has a degree in journalism.
The background of a science education means that they think about evidence, that they don't take statements at face value, that they are constructively sceptical, they analyse evidence carefully, validate and replicate and then use it.
These are characteristics inherent in a science education. If people want to work in science that's great, but if they decide to move to something else they have the skills and talents that acquired and honed as a consequence of an education in science.
And will be valuable members of the workforce wherever they choose to use their skills.