Since 1995, there has been a concerted government policy push encouraging new migrants to settle away from the major cities.
The Federal Government has ramped this up further, announcing in the 2011 Federal Budget an additional 16,000 places would be allocated to skilled migrants who would live and work in regional Australia.
There are some very good reasons to direct new arrivals away from cities, such as ongoing concerns about the impact of rapid population growth on congestion and the environment.
But is channeling even more migrants into the local economies of regional and rural Australia a justifiable policy? Are there sufficient economic opportunities to support larger numbers of migrants?
We have examined these questions in a paper, which has recently been published in the Journal of Population Research.
Going bush: regional population strategy
Australia's migrant population is highly urbanised, with 2006 Census data showing 83% residing in major urban areas, and 53% in Sydney and Melbourne alone.
Since 1995, successive governments have implemented a raft of regional migration schemes aimed at encouraging a more balanced spatial distribution of newly arrived migrants.
The Federal Government has been actively promoting migrant settlement in regional Australia as part of its first-ever Sustainable Population Strategy for Australia policy, released last May.
A selective success story
Our research considered 2006 census data and defined regional and rural Australia as consisting of all populations of less than 100,000 people.
Our main findings are that the migrant population as a whole in regional and rural Australia is attaining stronger economic outcomes than in the past, and has closed the gap to reach broadly similar levels to the Australia-born populations of these regions for labour force participation rates, unemployment rates, median incomes, and the percentage of the employed in highly-skilled jobs.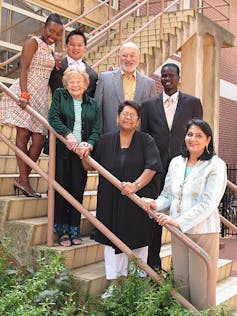 The increasing emphasis on skills and education in migrant selection would appear to be an important contributing factor to these improved labour market outcomes.
The percentage with a university education among migrant males who were recent arrivals (2002 or later) in Australia was nearly double that for earlier arrivals, while for females it was about 1.5 times higher among recent arrivals than among earlier arrivals.
With their similar labour market outcomes but much higher levels of education, migrants in regional and rural Australia are more likely to be overeducated in their occupation than are their Australia-born counterparts.
The generally improving strength of the economy, the mining boom, and improved institutional structures to assist migrant employment outcomes are other factors that would have contributed to migrants' improved economic outcomes in regional and rural areas.
For men more than women
The gender gap in labour market outcomes is noticeably wider among migrants, even more so for more recent arrivals, than among the Australia-born. Further research into gender equity of employer nomination patterns for skilled migrants to regional and rural areas is needed.
The high unemployment rates of females in the two largest Asian birthplace groups in regional and rural Australia, India and the Philippines, are especially concerning, and point to a need for community-specific research and targeted interventions to assist their economic integration.
The improvement in the socio-economic outcomes experienced by the migrant population of regional and rural Australia, in our view, strengthens the case for increasing the proportion of migrant settlers going to these regions and may enhance the prospects for attracting future applicants for migration to these regions.
This article was co-authored by Simon Massey, who works as an Advocate for Compassion Australia and research assistant at Macquarie University.