Stories about abuses in Australian vocational education and training (VET) continue to appear some six months after the federal government announced reforms that were meant to clean up the sector.
Lured by government subsidies, registered training organisations (RTOs) are enrolling people into VET courses that do not match their needs and for which there is a dubious case at best for taxpayer support.
Without fundamental changes to the funding and regulation of VET, the abuses are almost certain to continue. The current arrangements have two weaknesses that should be urgently addressed:
a lack of transparency in who is doing what; and

a regulatory framework that focuses too much on how, and not enough on what, training is provided.
A tangled web
Spruikers selling VET courses have become a familiar sight in shopping centres across Australia. Many are engaged as brokers, not even directly employed by the RTO that will be providing the training. Their interest is in signing up as many people as they can, not finding the most appropriate course for the learner's needs.
RTOs are free to rebrand, change their name, or take over other training brands as they see fit. They are also largely free to sub-contract their delivery to another entity – which may not even be a registered training provider.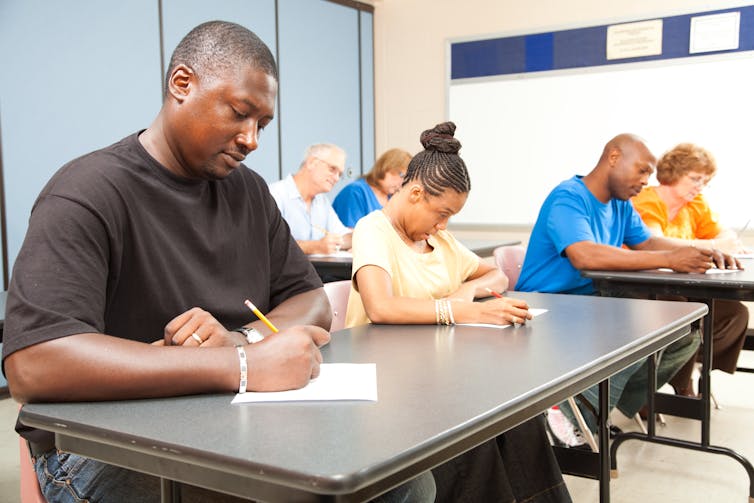 Process-driven regulation
The weak VET regulation framework contrasts with the National Quality Standard for Early Childhood Education and Care, introduced in 2012.
Under the National Quality Standard, each provider receives an overall rating and a rating for each of seven quality areas. To maintain their registration, childcare services need to report to the regulator on a range of inputs – from minimum staffing ratios and qualification levels for early childhood workers to available floorspace – and outputs, such as reviewing each provider's learning plans.
While extensive (many RTOs would say onerous), the regulatory process in VET – overseen by the Australian Skills Quality Authority (ASQA) – does not have the same focus on regulating inputs and outputs. ASQA's resources are spread thin, with responsibility for more than 4500 RTOs (more than 3000 of which are privately operated), while overall per-student VET funding has fallen 25% between 1999 and 2011.
Most significantly, the VET regulator does not set minimum hours of delivery or minimum durations for courses. Instead, there are guidelines. It is left to the RTO's discretion.
In principle, this supports learners by facilitating "competency-based progression", allowing faster learners to complete their courses more quickly. Supposedly, it also encourages RTOs to innovate, by adopting non-traditional methods like online learning. In practice, it is a licence for profit-driven RTOs to shortchange students (and the taxpayer).
In Victoria alone, where the VET market was opened to private providers in 2009, public funding to for-profit providers grew from A$138 million to A$799 million between 2008 and 2013.
RTOs are also not directly audited for the outcomes of their students. Instead, the regulator requires each RTO to have a plan for validating their assessment practices and reviews these plans.
The frequency of review is also a key difference between the childcare and VET sectors. Depending on their overall quality rating, each provider in early childhood education will be assessed at least once every one to three years.
ASQA subjects RTOs to audit on registration or when it seeks to add new qualifications to its scope. After the first two years, follow-up compliance audits occur only if ASQA assesses there is a risk of the RTO failing to comply with the standards for RTOs.
Restore a sense of value to vocational qualifications
Maintaining community confidence in the value of VET qualifications is essential for a functioning labour market.
The Certificate III is the cornerstone vocational qualification. The Australian Qualification Framework specifies that a Certificate III should take between one and two years to complete. This may be extended up to four years if it is undertaken in combination with extensive workplace learning.
The trade certificates received by electricians, mechanics, plumbers and other people completing apprenticeships are at the Certificate III level. Research shows that a Certificate III qualification is the first level of post-school qualification that consistently increases the chances of graduates finding work and earning more money.
ASQA has expressed concern at the very short time in which students could complete their courses at some providers. In 2013, ASQA found that one-third of RTOs were allowing students to complete the Certificate III in Aged Care in less than 15 weeks. A similar review in 2015 found that 20% of RTOs were allowing students to complete the Certificate III in Child Care in less than 26 weeks.
Aged care and child care are prominent sectors with highly organised employer groups, professional associations and unions. The scope for abuse in less visible sectors – such as business, fitness and information technology – is even greater.
A lot is demanded of Australia's VET system. It is expected to be a place where young people leaving school can pursue non-academic pathways, where workers can retrain and gain new skills to keep pace with a changing economy, and where people marginalised by the traditional education system (particularly Indigenous learners and migrants) can get a second chance.
If governments are not prepared to increase standards and funding for VET, then a fairer way of administering the system might be to restrict the entitlement and access to subsidies and VET FEE-HELP to certain categories. Here, young people, the unemployed and workers in need of retraining should be given the highest priority.