It looks safe to say that the biggest British TV moment of 2015 will have been the final episode of The Great British Bake Off. More than 13 million tuned in to watch Nadiya Hussain's tear-jerking victory speech – and she made headlines all over the world.
Twee and kitsch Bake Off may be, filmed as it is from a marquee in the grounds of a posh country house with bunting fluttering around the contestants, but there's no doubt that its appeal transcends age and gender.
Another such show climaxed at the start of December on BBC Two, with a tad fewer viewers. Four amateurs vied to be crowned Top Potter in The Great Pottery Throw Down, or at least make judge Keith Brymer Jones cry with joy (as he has managed at least once per episode, to the bewilderment of all).
Eminently watchable, the challenges in this production have included blindfolded potting, crafting spectacular porcelain chandeliers, and the hilariously innuendo-fuelled pulling of cup handles. Matthew Wilcock, a young art teacher from North Yorkshire, walked away the ultimate winner.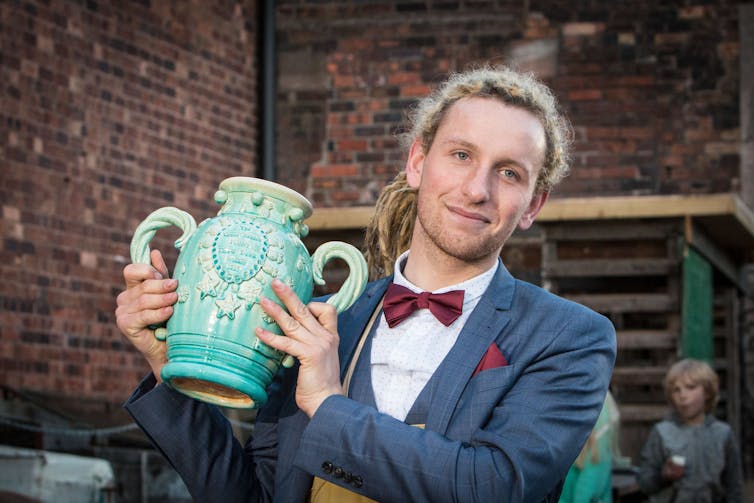 Spin-offs continue to multiply with abandon. We've already had six series of Bake Off, three of The Great British Sewing Bee, and two of The Big Allotment Challenge. And next year the format turns professional, with Bake Off: Crème de la Crème seeing teams of professional pastry chefs compete for glory. Go back to previous decades and the annual battle for the most viewers on TV was often between Coronation Street, Eastenders and Only Fools and Horses, not puff pastry and macarons.
We seem to be utterly compelled by shows about extremely mundane, even retro exercises such as baking, sewing and throwing pottery. And as an increasingly dematerialised, even deskilled society, this interest hints at a contradictory relationship to skilled practice and the crafts.
Risking all
David Pye, a skilled bowl turner and designer of industrial furniture, made a telling distinction in 1968 between the "workmanship of certainty", and the "workmanship of risk".
He held the former to be increasingly prevalent in industrial society, characterised by mass production processes which leave little room for in the moment creativity and don't demand close attention to material idiosyncracies. One iPad, after all, resembles exactly any other iPad.
On the other hand, Pye held the workmanship of risk – craft – to be prominent in the material production of every human society until remarkably recently. Craft involves a perenially precarious balance of judgement, skill, and technique. As Pye put it:
An operative, applying the workmanship of certainty, cannot spoil the job. A workman using the workmanship of risk assisted by no matter what machine-tools and jigs, can do so at almost any minute. That is the essential difference. The risk is real.
In contrast to those iPads, two hand-thrown cups, or two hand-stitched garments will never be exactly the same. And, as The Great British … series have shown us, they often fail in heart-breaking, mystifying, and gut-wrenching ways.
Given this, it's not particularly hard to see why a series such as the Allotment Challenge has struggled for viewers. Critics claimed it was too slow-moving or, as one put it, "as exciting as watching tomatoes dry".
The title screen of The Great Pottery Throw Down shows the dramatic disintegration of a beautiful clay pot. Where is the scope for such drama and nail-biting tension in the realm of allotment gardening? Gardening is inherently a slower process: much is left to the vagaries of the elements, and months pass between the sowing of seeds, harvesting, and preservation.
Rotten tomatoes
On the other hand, anyone who has watched the Throw Down over the last six weeks will be aware just how drastically risky pottery, like baking, can be. When the pots are taken out of the oven, this cruel viewer, at least, is secretly hoping for at least one dramatic breakage.
Make your clay too dry and it'll leave enormous cracks, too wet and it will collapse. Judge the speed of the potter's wheel wrong and your clay will cave and crumple. Fail to remove air from the clay, or have too much variation in the thickness of vessel walls, and it will explode or crack when baked in 1200°C heat. Apply the wrong alchemy of powdered minerals for decoration and, after firing, you'll be left with a dull, colourless dud.
A rotten tomato on the other hand is, well, a rotten tomato.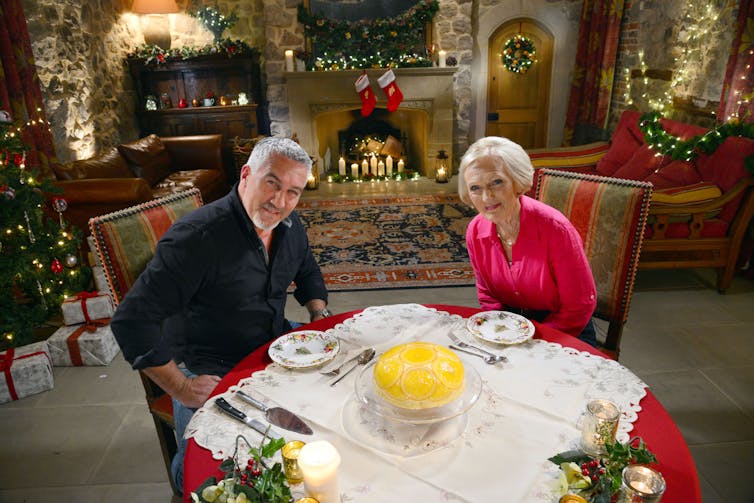 So what does our compulsion to watch the "workmanship of risk" in our millions tell us about crafts in contemporary society? One conclusion could be that in the hurried world of modern capitalism, microwaveable ready meals, next-day (or soon drone) delivery, IKEA-equipped houses and sweatshop-produced high-street clothing, there is still a deep-grained compulsion to appreciate timeless, artful skills.
But this appreciation is not wrapped up in an easily-derided romanticism, but rather speaks to the immediacy that such crafts demand – the highs, the lows, the uncertainty. If Bake Off had been filmed in the so-called "bakery" of a major supermarket chain, then there would be absolutely nothing compelling left to watch. Strive as we may for lives of convenience, at each step we are met with the irrepressible surfacing of an appreciation for the unique, the skilful, and the exquisite.