Review: Dark Emu
---
Lights come up on an orb receding back in space, an echo perhaps taking us back in time, or into the cosmos, into the dreaming to the Emu in the Sky. Dancers, in groupings of three or five, move stage right to left, undulating up from the ground and wavering like kangaroo grass.
It is a good beginning; a rippling, textured synthesis of movement, music and design, which audiences have come to expect from Bangarra's particular brand of dance-theatre. But at the end of 70 minutes I'm left wanting more than this.
Bangarra's newest full-length work, Dark Emu, currently in its premiere season at the Sydney Opera House, is a response to Bruce Pascoe's award-winning book, Dark Emu, Black Seeds: Agriculture or Accident?. Pascoe's book has been widely embraced for its argument that Indigenous Australians were already farming when European colonists arrived.
---
Read more: Friday essay: Dark Emu and the blindness of Australian agriculture
---
The colonial claim to terra nullius (literally "nobody's land") has long been overturned. This is in part clear from the continuous Indigenous cultural practices happening all around us today despite the devastation of colonisation, from the dances that companies like Bangarra draw inspiration from, to practices of fishing and cultivating food. In this sense, Pascoe's argument is nothing new.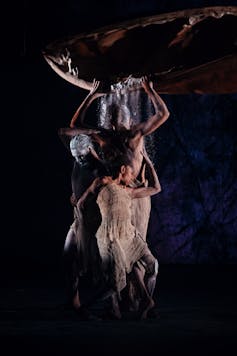 However, Dark Emu (the book) offers a much more important lesson. Working from records of early settlers, Pascoe showed that even the new colonists recognised the widespread food production and housing construction practices of the Aboriginal peoples. The hunter-gatherer myth they had adopted was only a convenient and insidious lie.
The reverberations of Pascoe's book work in two directions: one, back in time to correct the historical record; the other forward, into our future, to command us to learn from traditional knowledges of country in order to avoid catastrophic climate and land mismanagement in Australia.
How do you turn such a monumental work of scholarship into dance? The performance is divided into 14 sections, including "Bogong Moth Harvest", "Whales of Fortune" and "Baiame" – the Emu creator spirit. There is some excellent imagery and dancing here: standouts for me were relative newcomer Yolanda Lowatta in a solo, "Rebirth Ritual," and Beau Dean Riley Smith's punching, energetic spear dance. But I also had a vague feeling I'd seen it all before.
---
Read more: In Bangarra's Ones Country, new voices show the many faces of Indigenous Australia
---
Stephen Page, Bangarra's long-time artistic director and choreographer of Dark Emu (with Daniel Riley, Yolande Brown and the company dancers), writes in the program notes: "It seems to me that Dark Emu reflects an important political and spiritual moment, a growing movement of reconnection to Country … We saw a rich hunting ground of ideas in the text."
I have no doubt this is true, and I imagine that the conversations in the rehearsal studio among Bangarra's committed team of dancers and artistic collaborators were deeply resonant for the artists involved. However, for audiences, little of this richness translates. Rather, the themes of agrarian knowledge and practice seem relegated to numerous props (giant seed pods, smooth river rocks) and projections. Pascoe's nuanced recuperation of precolonial history is reduced to a more generic narrative of invasion and devastation.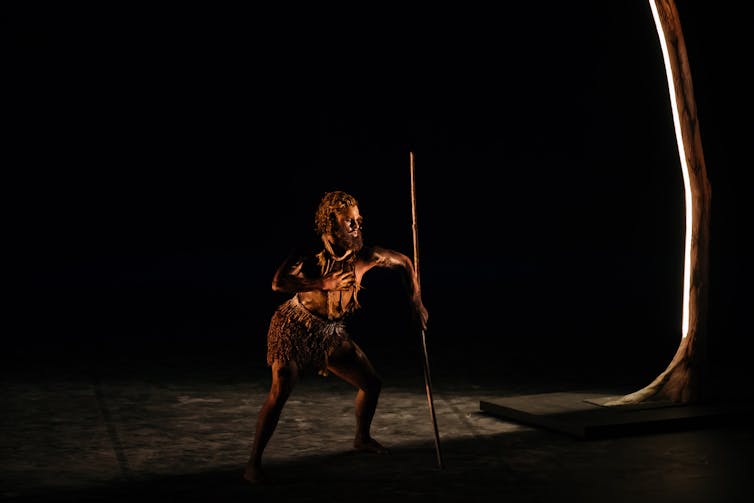 The question becomes, then, what can dance do? What stories can dance tell?
Dance is really good at communicating on an affective, feeling-full level. When people say, I don't really get dance, I want to say, there is nothing to "get". You have to feel it.
The choreographer's medium is the human body, in space and time. We are all highly skilled bodies from being in the world, experiencing movement and sensation as we go about our everyday business. I can't move like Bangarra's dancers — few can — but I can get a distant sense of what it is to circle up from the floor, and spiral in close around another body; or step with deliberation but lightness and elasticity in the distinctive high-stepping Yirrkala style.
Such movements — the use of a spiralling and undulating spine, the circling flexed-footed leg of a rond de jambe en l'air, slow-motion transitions between sections, huddled groupings of the ensemble — make up Stephen Page's trademark Bangarra style, born of the dancers' training in ballet, American modern dance and the company's ongoing association with the Yirrkala community. We see these trademarks in various iterations over the sections of Dark Emu.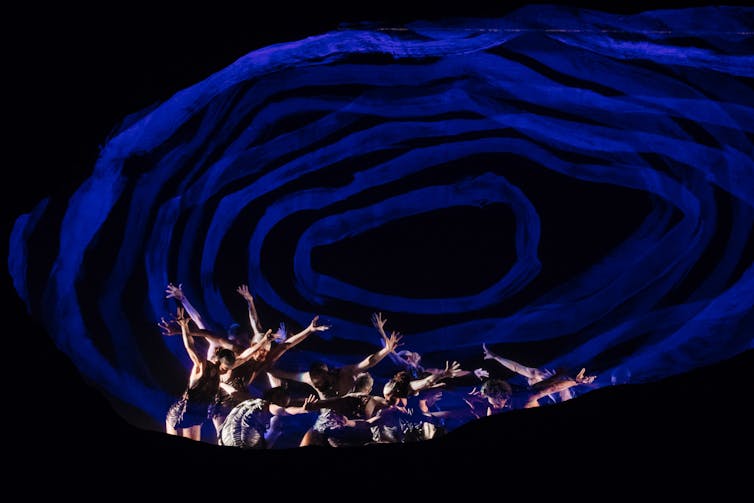 Choreographers work to find a new, distinctive movement language that is their authorial vision. Bangarra is approaching its 30th anniversary next year (27 years with Page at the helm), which is an almighty accomplishment for any dance company these days.
But the strongly identifiable movement style that Page has created is both a great triumph – putting him in line with some of the early modern dance pioneers of the 20th century such as Martha Graham and Merce Cunningham – and a kind of curse. Any specific story in Dark Emu becomes subservient to this movement style rather than the genesis of the movement coming out of the story. Beautiful, yes. But if you want to join, as Page says, "a growing movement of reconnection to Country", I think you might still need to read the book.
---
Dark Emu will be staged until July 14 in Sydney, before touring Canberra, Perth, Brisbane and Melbourne.