Presidents Raul Castro and Donald Trump both canceled trips to April's Summit of the Americas in Peru, avoiding a potential confrontation – though U.S. Vice President Mike Pence and Cuban Foreign Minister Bruno Rodríguez lobbed insults at each other in their stead.
Relations between the United States and Cuba have grown tense under the Trump administration, which tightened economic sanctions against the Communist Caribbean island in 2017.
"We do not want U.S. dollars to prop up a military monopoly that exploits and abuses the citizens of Cuba," Trump declared in June 2017. "We will enforce the ban on tourism. We will enforce the embargo."
Those who follow Cuba-U.S. relations closely, as I have for 40 years, may recall that Trump has not always been so antagonistic toward Havana. Back when he was a real estate mogul, he was happy to overlook the embargo – twice, in fact – for a chance to open a Trump-branded hotel or golf resort in Cuba.
Trump Tower Havana
In September 2016, when Trump was the Republican presidential candidate, Newsweek magazine revealed that in 1998, Trump Hotels and Casino Resorts hired a consulting firm to explore business opportunities on the island.
Reportedly acting with Trump's knowledge, representatives from Seven Arrows Investment and Development Corp. traveled to Cuba, which was then led by Fidel Castro.
There, they met with government officials and business leaders. The goal, a former official with Trump Hotels and Casino Resorts told Newsweek, was to get a jump on the competition if President Bill Clinton opened up Cuba to U.S. business. Ever since President John F. Kennedy imposed an economic embargo on Cuba in 1962, the Cuban market has been closed to most American companies, including the hospitality sector.
Because their business trip violated the embargo, Seven Arrows advised the Trump organization to disguise its payment to them as a charitable project, according to documents obtained by Newsweek.
The story broke in the homestretch of the 2016 U.S. presidential campaign. In his defense, Trump argued that although Trump Hotels and Casino Resorts had paid for the exploratory trip, it had done nothing wrong because it did not ultimately invest in Cuba.
Trump was courting conservative Cuban-Americans at the time. Because they generally oppose any dealings with the Castro regime, the Newsweek story was a political problem.
Soon after the article's publication, Trump was in Florida making campaign promises to "reverse" President Barack Obama's Cuba policy, which had relaxed restrictions on travel and re-established diplomatic ties.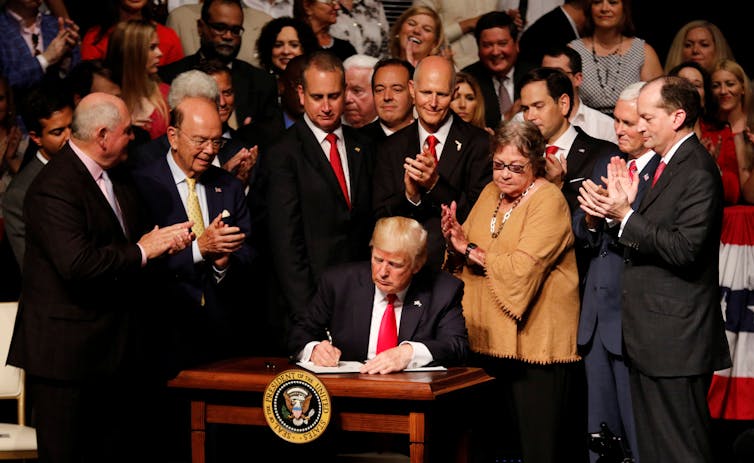 Golfing and bird-watching in Cuba
But just months before the Newsweek report, Trump had been actively seeking to take advantage of Obama's opening to Cuba, which created a wide range of exceptions to the embargo, including allowing U.S. companies to do business on the island.
Between 2012 and 2015, several Trump Organization executives responsible for developing golf properties traveled to Cuba repeatedly. According to Businessweek magazine, they claimed to be going to the island for golfing and bird-watching.
Businessweek asked Donald Trump's son Eric, then an executive vice president at the Trump Organization, whether these trips had a business purpose.
"In the last 12 months, many major competitors have sought opportunities in Cuba," he replied. "While we are not sure whether Cuba represents an opportunity for us, it is important for us to understand the dynamics of the markets that our competitors are exploring."
Eric's dad was more direct when asked to comment on the Bloomberg story. "They had some meetings," Donald Trump admitted to Jim DeFede, an investigative reporter for CBS Miami.
In fact, two business consultants reportedly introduced the Trump executives to possible partners in Cuba and even prepared sketches of what Trump Tower Havana might look like. Miguel Fluxà, chief executive of Spain's Iberostar Hotels and Resorts, which operates 17 hotels in Cuba, also said that the Trump Organization was trying to negotiate opening its own hotels there.
In early 2016, Wolf Blitzer interviewed candidate Trump and asked if he would open a hotel in Cuba.
"I would, I would," he said, before apparently acknowledging the legal limitations imposed by the embargo. "At the right time, when we're allowed to do it."
American hotels in Havana
Trump's surprising November 2016 victory put any possibility of a Cuba property deal on ice. To avoid potential conflicts of interest, the president's attorney pledged that the Trump Organization would enter "no new foreign deals" while Trump occupied the White House.
In June 2017, Trump announced new sanctions tightening the U.S. embargo on Cuba. They specifically target the country's tourist industry, effectively prohibiting U.S. hotels from doing business on the island.
Trump's regulations also ban U.S. visitors from patronizing hotels or services run by the Cuban military's tourism holding company, GAESA, which controls 40 percent of the hospitality business in Cuba. Americans cannot stay at hotels managed by European hotel groups like Iberostar or Meliá, either, if those companies are partners with GAESA.
As a result, the only American hotel company currently operating in Cuba is Marriott International, which was given a license by the Obama administration in 2016 to renovate and manage several Havana hotels. Its contract would be illegal under current regulations. Airbnb is also authorized to work in Cuba because it connects visitors with privately-owned home rentals.
Mainly, though, foreign hotel chains are reaping the benefits of Cuba's booming tourism industry. The number of foreign visitors is projected to reach 5 million in 2018, up from 2.5 million in 2010.
The Spanish hotel group Meliá, which currently runs 33 hotels in Cuba, will soon open seven more. Iberostar is planning another 12.
But there's no Trump Tower Havana on the horizon. With its former CEO in the White House, the Trump Organization is missing out on Cuba's business bonanza.
Of course, thanks to President Trump's sanctions, his American competitors are, too.