I really enjoyed sitting down with my kids and watching the Olympic Games. In the process of watching amazing sporting triumphs we also learnt multiple ways to gamble, all at the tap of a finger.
During Channel Nine's Olympic prime time broadcast we learnt about TomWaterhouse.com, who makes online gambling suave; Unibet.com; and then Bet 365, which, as Samuel L. Jackson tell us, is "the world's biggest online sports betting agency".
For those who prefer face-to-face gambling, we also learnt that Crown is a fine, upstanding organisation that props up our society by investing in tourist attractions, employing people, growing the economy, training young people….and generally just makes us happy!
For those families who missed the Olympic viewing, your kids still have various opportunities to be taught that gambling agencies are "good" – when watching the football, or even when visiting hospitals such as Melbourne's Royal Children's Hospital and The Alfred, which display large signs to promote Tattersalls.
As a public health physician, I naturally encourage kids to play sport more than watch it. But even in grass roots sport our kids will still have ample opportunity to learn about gambling. The gambling industry is a major financial contributor to (and advertiser at) community sporting clubs throughout Australia.
So when did the gambling industry become the community's fairy godmother? After all, the the gambling industry is responsible for:
Most responsible parents would not allow such companies to educate their children and promote their wares. So why does the Royal Children's Hospital promote Tattersalls? And why do advertising regulators allow a glut of gambling advertising when kids are likely to be tuned in?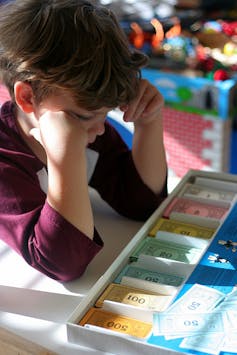 Perhaps we're being too prudish. Gambling agencies don't expect kids to gamble after seeing their ads (although I am not sure they have an ethical code that would prevent them from taking money from child gamblers if it was allowed).
But while advertising to kids and sponsorship of children's charities might not cause kids to rush to the TAB or pokies, it does allow the industry to legitimise its product and insert itself into the DNA of the community. The industry's moral high ground makes it difficult to challenge its negative societal impact without a retort like "don't you care about our sick kids?".
Furthermore, today's kids are tomorrow's gamblers. I'm sure most kids who watched the Olympics, play local footy and go to AFL games would consider gambling a normal and positive part of our culture. Our kids grow up thinking that gambling is harmless.
We should be suspicious of companies, such as Tattersalls, which fund hospital services the government says it can't afford. But the government is also to blame for chronically underfunding these sectors and leading them to rely on the gambling industry. Surely socially responsible sponsors can be found for sporting clubs and hospitals rather than relying on problem gamblers.
Perhaps the greatest concern is that advertising, promotions and sponsorship by the gambling industry remains largely unregulated. This isn't surprising, given the regulator – the government – receives billions of dollars from problem gamblers each year.
But wait. The gambling industry tells us it cares. During the Olympic coverage, between gambling ads, there was an industry-sponsored ad to "help" problem gamblers.
Is it really trying to stop problem gambling – a major source of their profits? Not likely. These adverts imply that gambling is good, we should all do it, and don't worry, as only losers - like that guy in the ad - get into trouble.
In the face of powerful vested interests, what can be done to limit promotion of potentially harmful products to our kids?
Firstly, it's time for government to limit advertising of gambling products to children. Secondly, hospital boards and charities should consider adopting codes of conduct around accepting money from companies whose products are harmful.
Finally, if charities must accept funding from agencies such as Tattersals then contracts should preclude these donors from using this support to promote their brand through signage and other promotions.